Anker is a powerhouse when it comes to innovative Charging solutions. The new GaNPrime Series Anker 727 Charging station is sleek, stylish, and compact. It combines enormous power output of 100W with support to all of your gadgets, coupled with some Easter eggs.
Take a quick look at the all-new Anker 727 sleek charging station below.
Anker 727 Charging Station: Overview
The all-new Anker 727 Charging Station is the epitome of reliable and secure power delivery. There are two USB C and two USB A ports. The USB C lets you QuickCharge your USB C-enabled devices. The USB A ports are helpful to power up your non-QC devices. With the GaN technology, all the USB ports can have a combined output of 100W, enough to charge your MacBook Pro. Moreover, you will also get two 110V AC outlets that let you keep your laptops and monitors up and running.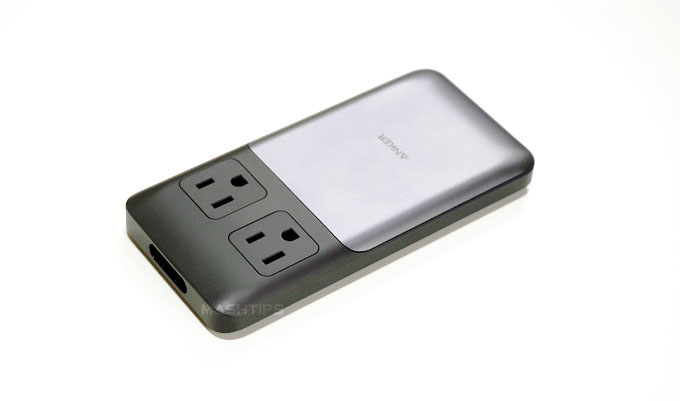 The Anker 727 Charging Station comes with the ActiveShield 2.0 and the PowerIQ 4. The Power IQ4 sees to it that the device adjusts power delivery for each of the connected devices. The ActiveShield 2.0 monitors the temperature and adjusts the power output for better efficiency. The best thing about this smart gadget is that it draws minimal power. The power station produces minimal heat thanks to the inbuilt GaN or Gallium Nitrate semiconductor chip. This reduces power loss in the form of heat energy. Hence, the Power Station gives you efficiency with expending limited power.
There is more to talk about the Anker 727 Power station, including its charging capabilities and performance. Next up, we'll be dealing with the design, charging mechanisms, and overall performance as we go on.
Related: 20 Best iPhone USB-C Charger Adapters and Cables for iPhone 12
Anker 727 Charging Station: Specifications
Before dealing with the design and stability, it's wise to look at the overall specs of this great charging Station. The Anker 727 Charging Station is more or less a dedicated power strip that can come in handy anytime. Be it your home or office. This power strip is efficient in power delivery, portable, and relatively convenient.
| Specification | Anker 727 Charging Station |
| --- | --- |
| Max Output | 100W Max |
| Number of USB-C Ports | 2 USB-C Ports |
| Number of USB-A Ports | 2 USB-A Ports |
| Number of Outputs | 6 |
| Dimensions | 6.3 × 3.11 × 0.7 in / 162 × 79 × 18 mm |
| Weight | 15.8 oz / 448 g |
Design and Build Quality
Dimensions: 6.3 x 3.11 x 20.7 inches
Weight: 15.8 Oz
The Anker 727 Charing Station looks freakishly compact and stylish. It's roughly the size of a phone. Look at the picture below. It's so compact that it fits almost anywhere. You could use it to charge your smart gadgets while on the go.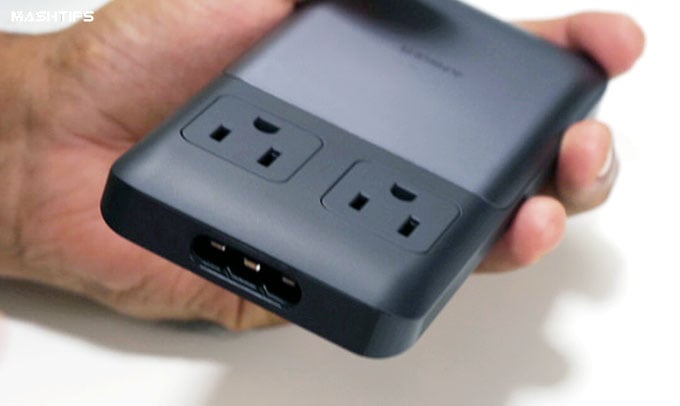 The durable plastic outer body is smooth and stylish. On the top, you'll find two AC 110V outlets. There isn't anything else on top except a glowing "Anker" logo. We missed a wireless charging pad in the power station.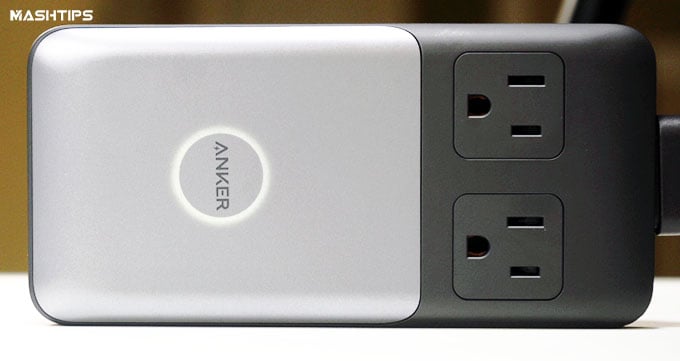 When it comes to the main connection, you'll get a durable 5ft main power cord. The three-pin cord is connected to the device's main power port.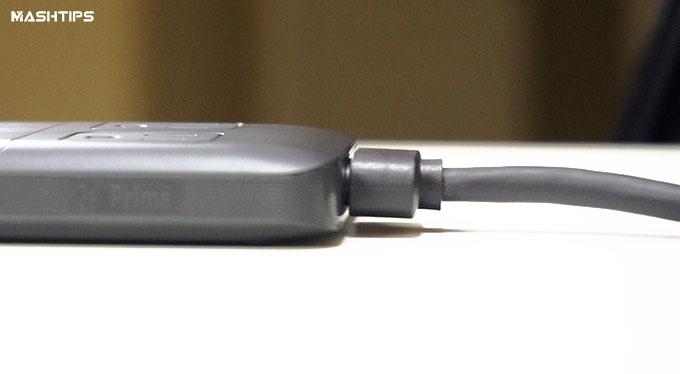 You'll find the USB output ports opposite the main power port. There are two USB type C and two USB A output ports to charge your smart gadgets. The USB Type C ports offer a max power output of 100W. On the other hand, the standard USB A dock offers 12W max power output.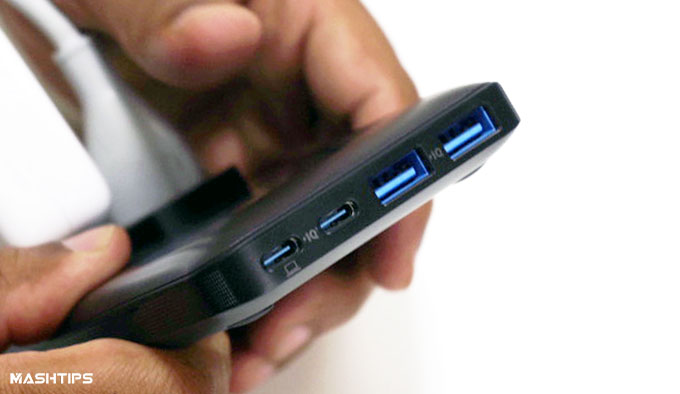 A thing to note is that the combined output depends on the devices connected at that instance. Also, we've missed a cable manager, something that could hook or arrange the USB cables in place. But that's not a big issue because you could quickly get a third-party cable management tool from Amazon.
Overall, the compact design and stylish housing make the Anker 727 a great contender in this league yet.
Related: 7 Best USB C Wall Adapters with Power Bank for iPhone, iPad, and Android
Connectivity and Charging
Max. Output: 100W
2x USB C (100W)
2x USB A (12W)
2x AC Outlet (110V)
The Anker 727 Charging Station is a power 100W charging strip that comes with a total of 6 power ports. Out of this, you'll be getting two AC 110V outlets. The rest are the USB power ports that let you charge your smartphones and other gadgets.
With the USB C port, you can charge your MacBook Pro to 50% in around 40 minutes, which is exemplary. The standard USB A ports, on the other hand, offer a power output of 12W, ideal for your phones without fast charging.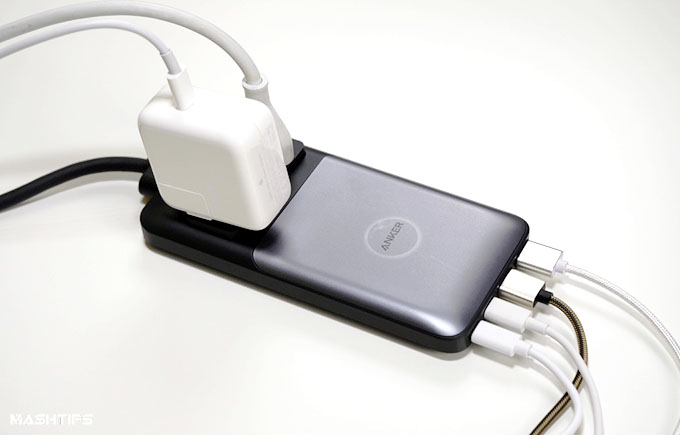 The ports offer power delivery based on the limits of the connected devices. The thing I liked about the AC outlet is that these come with a pop-up mechanism. The power outlets pop up when you plug in AC adapters to them.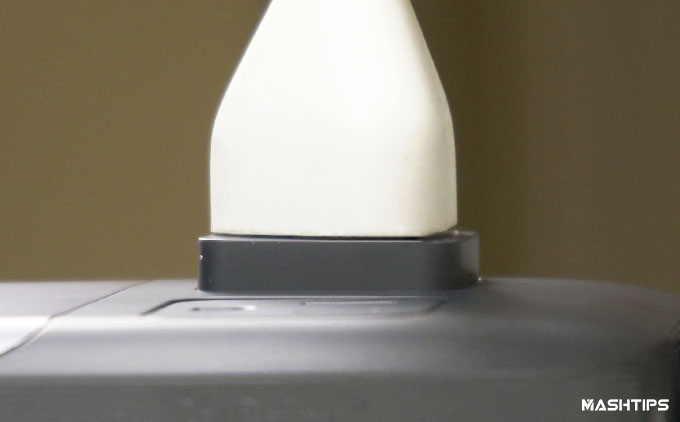 A thing that I felt missing is a dedicated cable management tool. It could've been better as they could've helped you cut out unnecessary clutter. We'll need to take a look at how well the Power Station works when it comes to power delivery and charging.
The USB Type C offers a maximum power output of 100W, but that's the single port charging output. When you occupy both the Type C ports, the charging output reduces to 65W/30W. When connected with Type C and Type A, the power output reduces to 45W/12W, respectively.
On a similar note, increasing the number of connected devices reduces the power output, but that's okay. And yeah, the power delivery depends upon your device's maximum power, so that is even. You could also trickle charge two laptops connected at the same time. The thing I found interesting is the small LED indicator that flashes when the power delivery reaches the peak threshold. It blinks when the charger output peaks at around 90W to 100W.
Related: Anker PowerExpand Elite 13-in-1 Thunderbolt Docking Station for MacBook Review
Anker 727 Charging Station: What's in the Box
Let's look at what we'll get with the complete delivery. With the full package, you'll be getting:
Anker 727 Power Station Unit
5ft Main Power Cable
User guide
Pricing and Availability
The Anker 727 Charging Station is a great charging solution if you're looking for intelligent, secure, and reliable power delivery. The device features four USB ports along with two AC outlets. This is by far the most power-efficient charging strip in town right now.
If you're looking to get your hands on the Anker 727 Charging Station, then rush to Amazon as right now, it is available at a great deal of $99.99.
Final Verdict
The Anker 727 Charging Station is a convenient charging station that offers reliable and secure charging to almost all your smart gadgets. It has a stylish and compact design and excellent peak power delivery.
The charging station performs well in almost all conditions, and thanks to the GaN semiconductor chipset, you get energy-efficient charging operations all the time. Apart from all the pluses we've listed, we felt the power station lacked a wireless charging pad. Other than that,