Are you the kind of person who leaves the desk without signing out or locking your computer? You are taking a big risk by letting your PC accessible for anyone in the office or house. If you forget to sign off your Windows 10 PC usually, here is a perfect thing that works for you. Your PC gets locked automatically when you leave the desk. How cool is that?
Let us see how to set your Windows PC to lock automatically when you are away or leave your desk for a longer time.
Automatically Lock Windows 10 When Away with Dynamic Lock
There is probably only one gadget that you carry wherever you go – your smartphone. Windows check for your phone to confirm whether you are nearby or away to lock the PC automatically. First, you need to pair your Android or iPhone to the Windows 10 PC before setting up Dynamic Lock. Make sure your Windows 10 has Bluetooth connectivity in order to set up Dynamic Lock.
To connect your phone with Windows 10 PC, enable Bluetooth pairing on your computer from the Action Center. Scan for your PC name on your phone and select to pair.
On your PC, a popup will ask to confirm pairing. Click on the Allow button.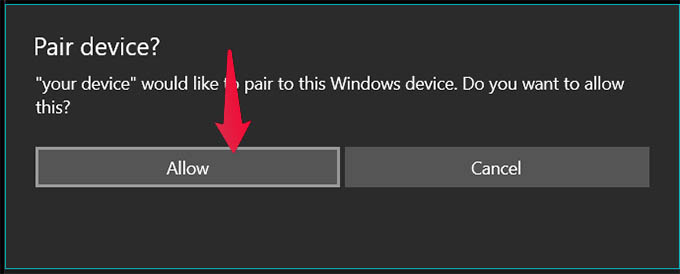 Now on your Windows 10 PC, open Settings by pressing Windows Key + I or Start > Settings.
Click on the Accounts option.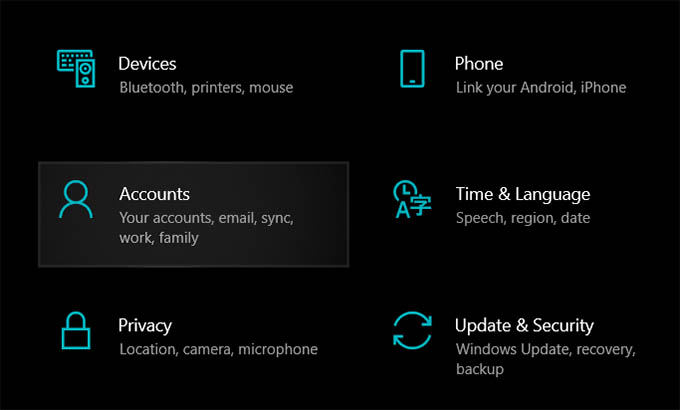 There you will find Account settings options on the left pane. Go to Sign-in options among others.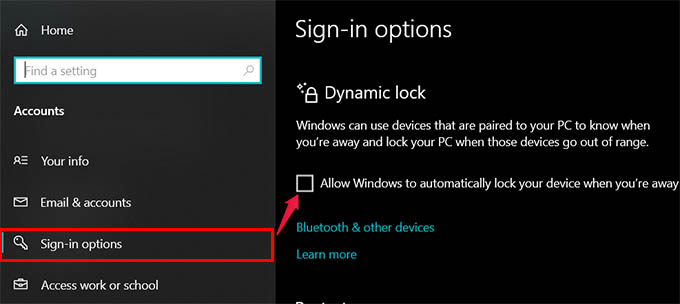 Scroll down the main screen until you see Dynamic Lock.
Now, click on the checkbox against "Allow Windows to automatically lock your device when you're away."
You will see an icon showing and PC and phone linked. This means that the Dynamic Lock is all set and your PC will lock automatically when you are away.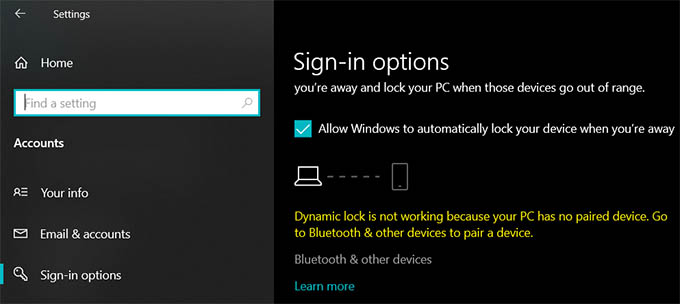 Are you seeing the following message? "Dynamic Lock is not working because your PC has no paired devices. Go to Bluetooth & other devices to pair a device"? Then click the link "Bluetooth & other devices" right below and pair your phone with the PC from Bluetooth settings.
After pairing go back to the Dynamic Lock settings and enable the option.
Related: How to Control Mouse Pointer with Keyboard on Windows 10
There you go. Now you are all set with the Windows 10 Dynamic Lock. Want to see how it works? While your phone is connected to your PC, get up and simply walk away. Within one or two minutes, your PC will lock automatically. When you walk away, make sure not to be within the Bluetooth range limit. If your PC detects your phone, it will prevent auto-locking.