Apple Watch has a bunch of sensors to track your location, heart rate, moving speed, etc. When you search for the best running app for Apple Watch, you can see most of the running apps utilizing these sensors to bring you a lot of information. The best running apps for Apple Watch can display the track, heartbeat, calorie burned, etc,. These apps can motivate you by allowing to share the details with community and constant feedback.
Here we've gathered a list of the best apps around to help you keep track of your runs.
Nike Run Club
We'll start with the Nike Run Club. If you need constant challenges and other incentives to keep yourself motivated, the Nike run club is the best running app for Apple Watch users. This Apple Watch Running app has a large feature set like GPS run tracking, audio-guided runs, custom distance challenges, and customized coaching plans for your goals. You can also add your friends to the app and challenge them to runs – all great running app to keep you motivated.
What we loved the most about Nike Run Club was its audio-guided runs or AGRs as they call it. Wear your headphones on the run and hear motivational and inspiring words from professional Nike coaches and elite athletes. A curious feature that'll help you push your limits even further.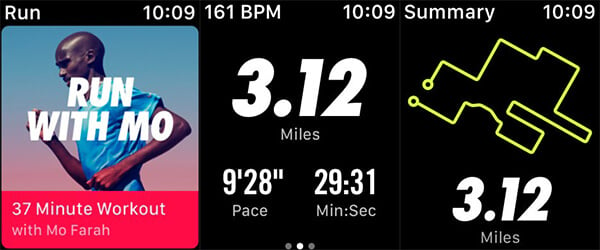 In addition to the features above, Nike Run Club also claims full support for Apple Watch Series 4. Like all other running apps, the Run club will display your running distance, GPS route, elevation along with heart rates. Nike Run Club currently has an average app store rating of 4.8 with over 232k ratings. The app is a bit on the larger side with a 235 MB download size.
Download from the App Store: Nike Run Club
Map My Run
Map my run is a runner app developed by Under Armour, Inc with over 600 included in-app activities. Aided with audio feedback, Map my Run allows you to push yourself burn off those evil calories. Other features include a large set of predefined routes around you to explore, sync with Apple Health. Map My Run Apple Watha app has an inbuilt MyFitnessPal utility to monitor your daily calorie intake.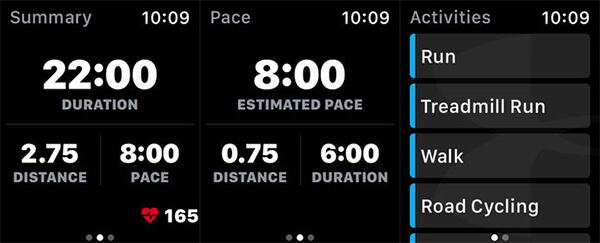 Map My Run also has an activity feed that allows you to share your runs and challenges with your friends. There's also a premium MVP subscription which gets rid of adds and opens up a lot more features like the live location. The live location feature keeps track and sends info of your current location to anyone who you choose to. The premium subscription has a price of  $5.99/Mo or $29.99/Yr. Map My Run currently has an app store rating of 4.8 with over 294k ratings. The app weighs around 280 MB.
Download from the App Store: Map My Run
Runkeeper—GPS Running Tracker
Runkeeper developed by FitnessKeeper is another running app for the Apple Watch. This running app for Apple Watch records a wide array of workouts including running, walking, biking, hiking, and more. The running Apple Watch app also lets you set goals regarding what you want to achieve, whether it's losing a little bit of weight, run further, burn some calories, and more.
Runkeeper also has a listen to audio feature, which like the previous two apps, provides motivation, direction, and encouragement on your runs. You can keep your eyes on the road without the distraction of your phone or watch. The run mode divides the screen into three parts, the top segment for the duration and also for displaying the GPS signal, the middle segment for switching between distance ran and your current pace while the bottom segment shows the heart rate.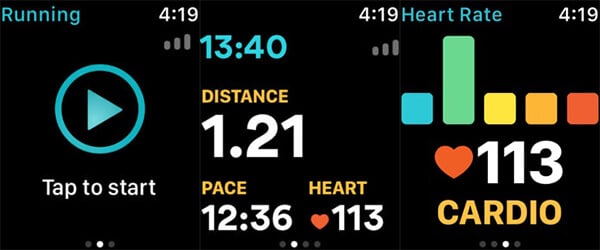 Runkeeper syncs with Garmin, Fitbit, and other styles with ease. There is also a premium version named Runkeeper Go at a monthly subscription cost of $9.99. The premium version allows you to take advantage of race-training plans from the ASICS Institute of Sport Science, provide detailed progress insights, and also displays prescribed workouts and live tracking.
Like other Apple Watch running apps, Runkeeper doesn't show the run history in the Watch itself; you'll have to pick up your phone for that. It's not really a setback as the watch screen is rather too small for any detailed analysis anyway. Runkeeper currently has 124k ratings on the app store with an average score of 4.8.
Download from the App Store: Runkeeper—GPS Running Tracker
Strava: Run, Ride, Swim
Strava is not only an Apple Watch running app but also maps cycling and swimming. Strava Apple Watch app allows you to compare your running, cycling, and swimming performance over the course of time, letting you be at constant competition with yourself.
There is also a leaderboard called segment leaderboard listing the best runs on popular stretches of road in the app. This Apple Watch app is really good for motivating yourself to keep getting better, all the while climbing the leaderboard. Strava works on both iPhone and Apple Watch, letting you keep track of your progress.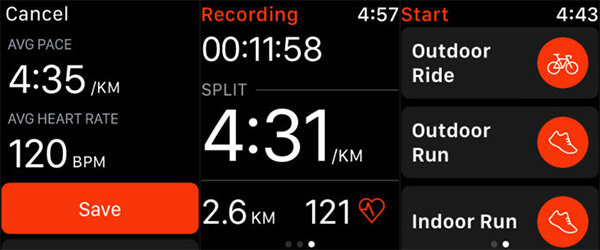 Don't let the app name fool you, Strava doesn't limit itself to runs, swims, or cycling. It also tracks hikes, cross-fits, gym training, surfing, and many more! Like all other apps in this article, Strava also has a premium offering called Strava Summit and opens up a lot more insights and features if subscribed.
The subscription starts at $7.99 and has larger plans depending on what you are looking for. Strava has all the tools and insights that you need to reach your goal and train smarter and a rating of 4.8 in the play store. Try it out!
Download from the App Store: Strava: Run, Ride, Swim
Runtastic Running Tracker
Runtastic Running Tracker is another running app with support for Apple Watch. With a lot of features under the hood, Runtastic Running Tracker is a perfect companion for your runs. Runstatic Apple Watch app has a voice coach from where you can get real-time directions and suggestions to optimize your running patterns. The running and marathon plans adapted to your fitness level and a leaderboard for friendly competitions. The main screen displays three options, one to choose your workout, one to enable voice guidance. The last one for enabling live tracking, which makes your current location available to your family in real-time.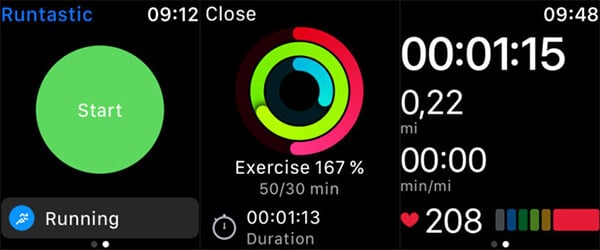 Should you choose to upgrade to a Premium Membership, you'll get access to features that are disabled in the free app, including sending customized and personal messages through the Runtastic community, a story run mode, and interval training. The premium costs at $9.99 a month, and if you want to go all the way and commit, the annual membership costs $49.99.
Download from the App Store: Runtastic Running Tracker
Also Read: 10 Best Apple Watch Chargers Straps & Accessories
Endomondo
Edomondo is another one of the fitness tracking apps tailored for the Apple Watch with a rather simplistic approach. The Running tracker for Apple Watch displays duration, distance, current pace, and the heart rate in the main screen. This Apple Watch running app doesn't look as good as the other running apps and also doesn't store the history of your runs.
Endomondo also lacks local map routes, voice guidance, and other features that are boasted by the other apps. What you have here is an app that's as minimalistic as it can be. Distance, heart rate, duration, and pace – that's all it offers. That's not necessarily a bad thing if what you need is a simple app with nothing but the very essentials.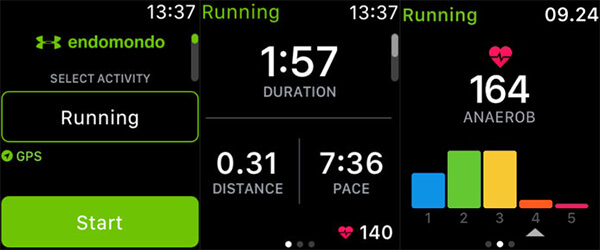 What we did love about Endomondo was how easy it was to set up and use. And there are no "keep fit" and "let's go running" annoying notifications every few hours in the pretense of keeping you motivated. Endomondo currently has an App Store rating of 4.3 and is a 332MB download. A bit on the larger side, but we're not complaining. It also has a premium version priced at $1.99 per month.
Download from the App Store: Endomondo
RunGo – The Best Routes to Run
RunGo is an Apple Watch app mainly catered for the visually impaired with its built-in voice guide. RunGo has a list of over 100,000 routes all set to go, or if you can't find what you're looking for, you can add any number of manual routes.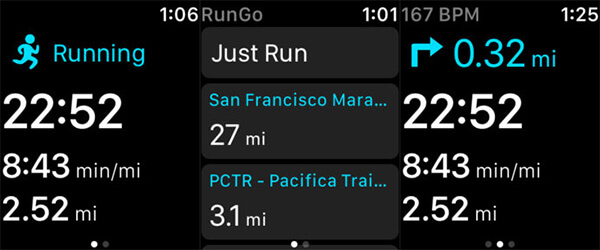 On the basic app, you'll have access to the pace, elevation, and heart rate while the premium version opens up live tracking and interval timing. The monthly subscription is the lowest we've seen at $1.99 and yearly at $14.99. The app store rating stands at 4.7, and the app is around 86MB, the smallest we've seen.
Download from the App Store: RunGo – The Best Routes to Run
Best Apple Watch Running Apps
An Apple Watch has a lot of capabilities, much more than you're ever likely to use. But one that's bound to be useful in tracking your workouts – especially running. Running is, by no doubt an excellent workout for the body and mind and running apps definitely adds to its quality. Duration, pace, and heart rate are exceptionally useful for developing your own unique workout style. While there's not one running app that fits the needs of everyone, we hope that we have certainly made it easier for you to choose from a massive horde of workout apps in the App Store.