Running apps keep tabs on various health and performance indicators, including speed, distance, heart rate, and burning calories. They also include pre-programmed training runs that may be completed through GPS. To be more specific, running apps provide a platform for you to save data about your training, running, and other forms of physical activity and nutrition.
We have tried out and listed the best running apps on Android and iPhone for you to try out before you put on your running shoes next time.
Strava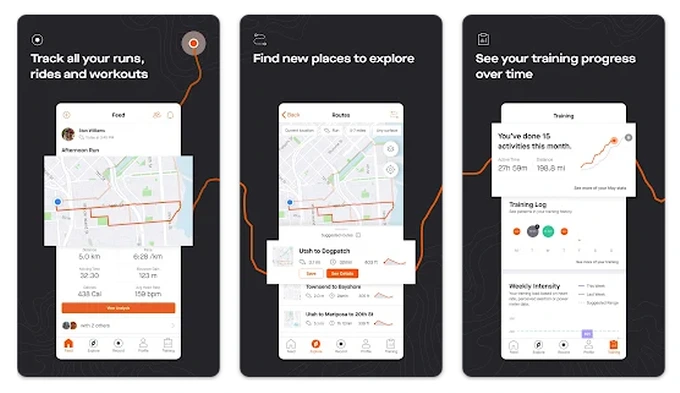 Strava is the perfect tool for you if you enjoy both the community-oriented and competitive sides of running. It's a great way to stay motivated by comparing your times to those of your other Strava users or your own group of friends. In addition to that, it comes with a safety function known as the Beacon, which broadcasts your location to up to three people simultaneously.
It's possible to use Strava to organize group contests, such as the quickest 5K or the most kilometers in a given period of time, to motivate one another. Strava is compatible with any mobile device running either iOS or Android, as well as the Apple Watch.
Pros:
Best for Competitive Runs
Performance Analysis
Community Oriented
Cons:
Not suitable for beginners
The free version has fewer features
Key Features: Beacon Safety Broadcaster | Community-Powered | Fun Contests | Apple Watch compatible
Download Strava: Android | iPhone (Freemium)
Related: How to Hide Starting & Ending Location of Your Strava Activities
Nike+ Run Club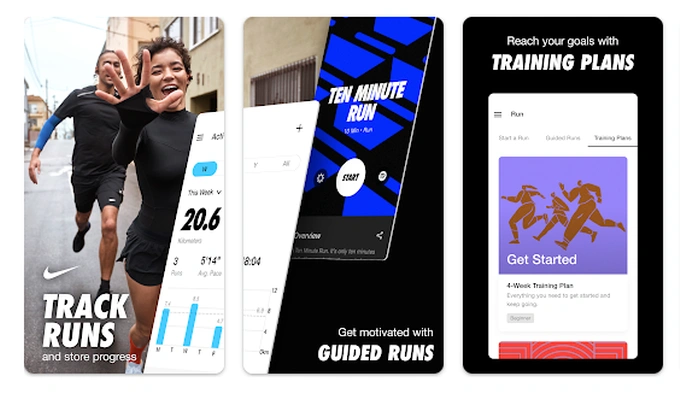 The Nike+ Run Club app is amazing and includes everything you need. GPS monitoring, audio-guided exercises, weekly or monthly distance challenges, and tailored coaching sessions are all included in this free app.
Access running-specific playlists on Apple Music or Spotify by connecting your accounts. If you're the type of runner who enjoys chatting with other runners while you're out on a run, you're going to love the opportunity to compete against your friends and encourage one another.
The Nike+ Run Club app is ideal for runners who use Apple Watches and who want to receive data and feedback while they are exercising but do not want to carry a smartphone with them. Additionally, it can be used on Android-based mobile devices.
Pros:
Guided Runs
Personalized plans
Cons:
Works only with Apple Watch
Inaccurate GPS
Key Features: Quick Glance Stats | Audio-based Coaching | Personalized Recommendations
Download Nike+ Run Club: Android | iPhone (Free)
MapMyRun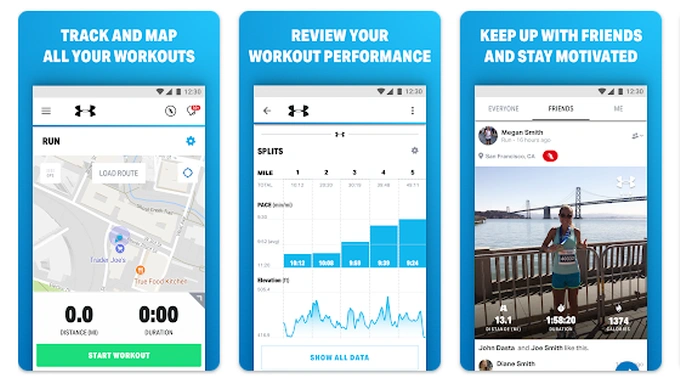 It was originally designed to assist runners to keep track of their routes, but the most recent version has lots of new and useful capabilities. You may use it to keep track of your runs, identify new routes to run in your neighborhood or around the world, and get an analysis of your performance metrics.
Running shoes can be added to Gear Tracker, and the app will inform you when it's time to buy a new pair if you don't know when to do so. You can also become a member of the MapMyRun community in order to make friendships with other runners and keep yourself motivated through the completion of exciting tasks.
MapMyRun works with hundreds of apps and devices both on iOS and Android.
Pros:
Can find local routes
Syncs with Smart Shoes
Gear Tracker Feature
Cons:
Subscription required for most features
GPS is inaccurate at times
Key Features: Real-time Voice-based coaching | Smart Shoe Support | Local Route Finder | Gear Tracker
Download MapMyRun: Android | iPhone (Freemium)
Related: 7 Best Running Apps for Apple Watch to Keep You on Track
Runkeeper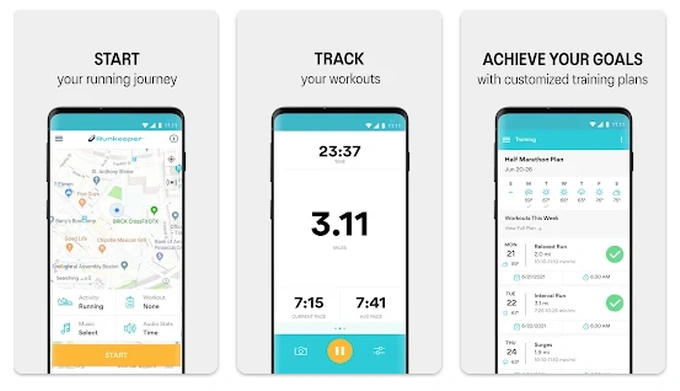 This app caters to all levels of runners, from those just starting out to those who have completed multiple marathons. You can switch up your normal jogging routine by adhering to one of Runkeeper's pre-created routes, as well as using the GPS functionality to keep tabs on the distance you've covered, how fast you're going, and how much total time you've spent running.
Runkeeper also allows you to create objectives and monitor your progress to keep you going. You can also keep track of your fitness-related activities such as biking or walking. Training for a race can be made easier with Runkeeper's customizable training plans, which include useful reminders to help you stay on track. It is also compatible with your Apple watch and other apps and devices like Fitbit.
Pros:
Great Community Support
Suitable for all users
Cons:
Increased Battery usage
Premium features need a subscription
Key Features: In-App Goal Setting | Virtual Challenges | Beginner-friendly | Wearable Sync Support
Download Runkeeper: Android | iPhone (Freemium)
C25K Trainer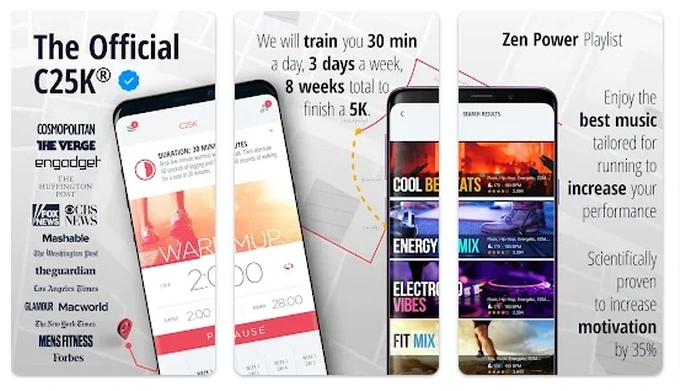 Couch to 5K is an app that provides you with a set of pre-designed training routines, takes you through three exercises per week, and monitors both your progress and the routes you take.
For those who are new to running, this is the perfect introduction to the activity because it progressively increases your strength and endurance while teaching you how to make regular jogging a habit. In addition, while you are running, you will receive voice feedback, which will keep you encouraged to continue with the exercise. C25K is compatible with any mobile device running iOS or Android.
Pros:
Extremely Beginner friendly
Audio-based coaching sessions
Habit building possible
Cons:
Not very good for experienced runners
Need to wait for audio cues
Key Features: Helps in Habit-building | Beginner-Friendly | 5K race training
Download C25K Trainer: Android | iPhone (Freemium)
Related: 8 Best Workout Headphones for Running
Running by Daily Burn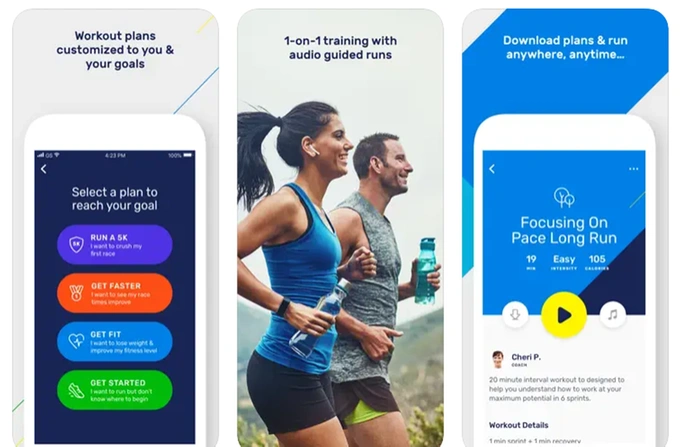 Daily Burn is well-known for providing exceptionally inspiring coaching, and the company's new running app is exactly the same. Every runner can benefit from in-ear coaching with Running by Daily Burn. Run at your own pace or against the clock in a variety of settings, including on the treadmill, the road, or the track. You may also set a time limit or a distance to run by yourself, and the app will keep track of your pace.
Before you begin using Running by Daily Burn, the application will ask you about your running objectives (do you want to improve your speed, increase your endurance, or win your first race?). and inquire how many times a week you are able to devote to working out. This provides the app with a solid understanding of the kinds of runs it should select for you to do.
It's also easy to get up and go, with supervised warm-ups to stretch out your muscles and reduce injuries, and the chance to share your best performances with other athletes for a little additional competition.
Pros:
Customized Running Sessions
Personalized Coaching
Cons:
Only Available for iOS
Most feature only on the Pro version
Key Features: Guided Training Sessions | Beginner Friendly | Audio-based Coaching | Best Suited for Apple
Download Running by Daily Burn: iPhone (Freemium)
Runtastic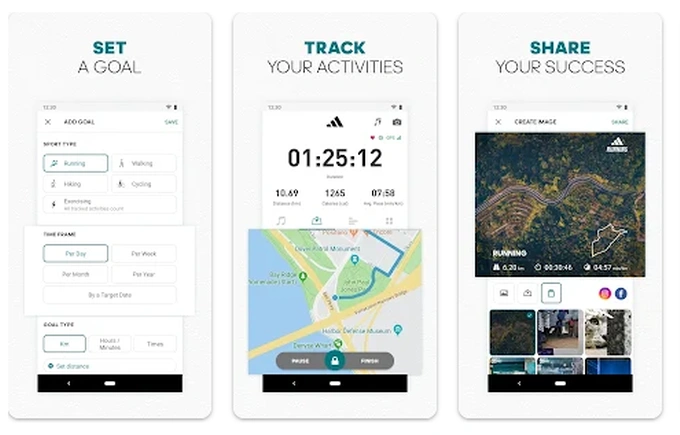 This app keeps track of all your runs and provides training methods for marathons and other races, so you can use it to help you achieve your goals in the next marathon you compete in. Keep yourself motivated by trying to break personal records by saving routes and stats on your device.
Use the app's built-in social media sharing features to share your run's results with friends on Facebook or Twitter. This app is compatible with mobile devices running iOS and Android and can sync data with other applications and devices, such as Garmin watches and the MyFitnessPal app.
Pros:
Supports more than 120 activity tracking
Community Support
Syncs with other third-party apps
Cons:
Premium features are more
Low volume for voice-assisted coaching
Key Features: Post Activity Log to Social Media | Community-powered Contests | Easy to use Dashboard
Download Runtastic: Android | iPhone (Freemium)
Related: 11 Best Brain Training Apps for iPhone
MyFitnessPal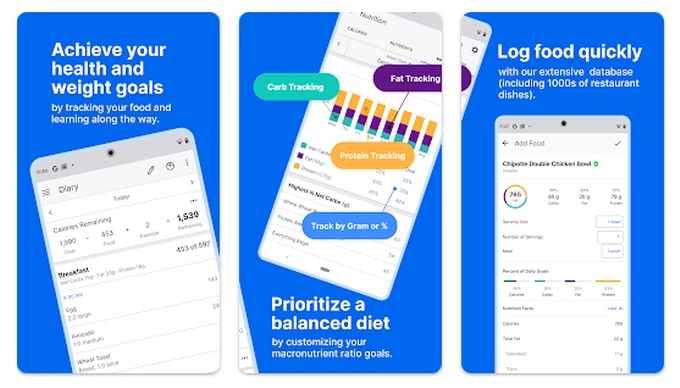 MyFitnessPal is a great tool if you're trying to lose weight by running and want to track your progress. You are able to keep track of all of your runs and calories in a simple spot, and it informs you of how many calories you have left according on the targets you set for your total daily calories.
The app allows you to connect with friends and track your progress in terms of fitness and weight loss. This helps to maintain each other involved and ensures that you stay motivated. MyFitnessPal can be downloaded for free on iOS and Android smartphones, and it syncs with a variety of other applications and tracking devices, such as Fitbit, Strava, Runkeeper, and Runtastic.
Pros:
Great Online Community
Customizable goal-setting
Tracks most of the activities
Cons:
Underestimates calorie requirements
Many features absent from Free version
Key Features: Custom Training Sessions | Third-party App Sync | Apple Watch Support
Download MyFitnessPal: Android | iPhone (Freemium)
Charity Miles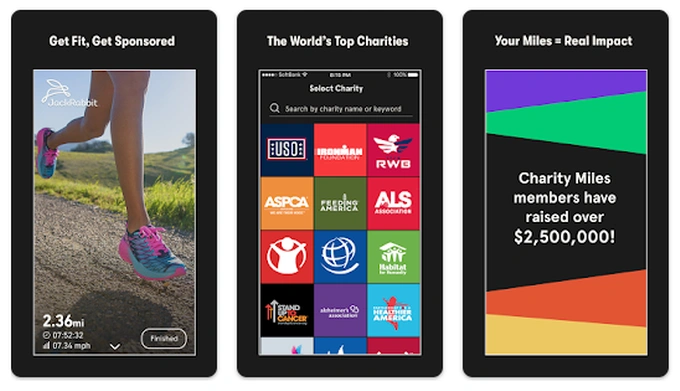 Charity Miles is an app that allows you to donate money to a charity of your choice for every mile that you run. This makes your runs more meaningful and helps keep you motivated. After downloading and selecting your preferred charity, you may begin generating funds for that cause by simply walking, running, or bicycling a predetermined number of miles each day.
You can also combine your fundraising efforts by forming teams with other runners who share your passion. Charity Miles will periodically send you reminders to run and keep fundraising so that you may maintain your motivation. Any iOS or Android device can be used to access the Charity Miles app.
Pros:
Promotes social causes
Supports different devices
Cons:
Not as good for fitness tracking
Less friendly UI
Key Features: Charity & Goodwill Contribution | Motivates People | Communtiy Support | Basic set of features
Download Charity Miles: Android | iPhone (Free)
Related: 10 Best Workout & Fitness Apps for Apple Watch
PUMATRAC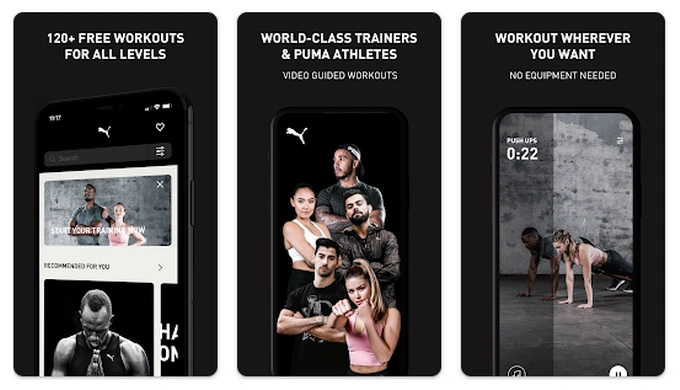 PUMATRAC has an intuitive user interface and provides all the benefits of a standard running app, in addition to numerous additional features that provide a more comprehensive analysis of your workouts.
The application gathers additional data, such as the weather, the time of day, or the day of the month, which may have an effect on your run, and then analyses the data to come up with personal insights. For instance, you might discover that you have the most success running on Friday mornings before ten o'clock, or that you can improve your pace by running while listening to rock music.
Pros:
Gathers additional information
Music Apps integration
Easy-to-use interface
Cons:
The free version lacks features
Key Features: Detailed Analysis based on External Factors | Spotify Integration | Great UI
Download PUMATRAC: Android | iPhone (Free)
Related: How to Measure Your Walking Steadiness Using iPhone and Reduce Risk of Falling
All these running apps for Android and iPhone include features like as pre-programmed routes, simulated runs, audio coaches, support networks, social and competitive activities, and customizable running regimens. They also provide useful data in the form of graphs and charts, so you can track your progress and make modifications as needed.