You might not know this but wired headphones sound better than wireless headphones (or earbuds) when you hook them up to your phone, computer or other devices. Thanks to technological advancements and innovation, however, you can crank up the audio quality of wireless headphones on your Android smartphone by simply changing your device's Bluetooth audio codec. It is pretty easy to do and quite straightforward; we will walk you through the steps involved in this tutorial.
But before we do so, let's take a little class on the history of Bluetooth devices, what codecs are and how they affect the audio quality of your wireless headphones and earbuds.
How Wireless Bluetooth Headphones Work
With wired headphones, audio from your phone is sent to the speakers through the wires via the 3.5mm headphone jack. The mechanism of operation of wireless earbuds is, however, quite different. Here's how they work.
When a wireless audio device is connected to your smartphone via Bluetooth, the sound from your phone is first encoded and then transmitted to the headphone. Your wireless headphones/earbuds then decompress the encoded audio and play the sounds into your ears.
All these happen almost immediately (within microseconds) and thus there is usually no delay in the speed of audio play and transmission. What suffers, however, is the quality of audio.
The encoding and decompression of audio signals between your smartphone and wireless headphones are facilitated by "Bluetooth codecs" (or "Codecs"). There are several types of Bluetooth codecs and they are programs that help transmit high-fidelity data (read: audio signals) at the lowest time possible. This time is measured in seconds and is often referred to as "Bit rate" — the number of bits processed per unit of time.
Related: Best Bluetooth Audio Receiver for Home Entertainment
Bluetooth Codecs
As mentioned earlier, there are different types of Bluetooth codecs. The list below contains the common Bluetooth codecs, their properties, as well as little details on how they affect the quality of sounds on your wireless audio devices.
1. Sub-band Codec (SBC)
SBC is the lowest and least advanced codec used by wireless Bluetooth devices. It is referred to as a "Universal codec" because Almost all smartphones and wireless audio devices support this codec.
The audio quality and performance of this codec, however, isn't the best when compared to other codecs below.
2. aptX Codec
Developed by one of the world's leading chipset and telecommunications company, Qualcomm, the aptX codec comprises of the following sub-codecs: aptX, aptX Low Latency (LL), and aptX HD.
These group of codecs is major found on devices that have Qualcomm chipsets in them and also on high-end wireless headphones. For the best sound quality, if you use a wireless Bluetooth device that supports the aptX codec, you should ensure that your device is also transmitting audio to it via the same codec.
Most times though, your smartphone will switch to the highest codec that your wireless headphone is compatible with.
3. Advanced Audio Codec (AAC)
AAC is another high-performance codec that is able to transmit detailed audio without messing up the audio quality due to compression.
AAC codec, however, is a power-intensive codec. Its transmission quality and performance have also been proven to be sometimes unstable, particularly on Android smartphones. They are optimized for use on iOS devices.
4. LDAC Codec
Developed by SONY, this codec is capable of transmitting high-quality audio signal with minimal loss. LDAC sports three types of mode: Normal, Connection, and Priority.
In the Normal mode, the data transfer rate is up to 660kbps and up to 330kbps in Connection mode. Priority mode's bit rate measures up to 990kbps. The LDEC codec, on paper, is able to perform three times better than both the aptX and SBC codecs — only when it streams in Normal and Priority mode though.
A test performed by SoundGuys revealed that both aptX and SBC codes outperform LDAC when it transmits data from your phone to headphones in the Connection mode (i.e. at 330 kbps) which is its default mode.
That's some basic information the Bluetooth audio codecs that powers the seamless transmission of audio signals to your wireless headphones. Now, read further to learn how to tweak your Android device's Bluetooth audio codec.
Related: How to Pair Apple Watch with Bluetooth Headset/Soundbar
Change Bluetooth Audio Codec of Your Android Device
The option to change the Bluetooth audio codec of your Android device isn't a straightforward one. The option to make the modification is present in the Developer options section of your device.
That said, let's dive straight into it.
Launch the Settings menu on your Android device.
Select System.
Tap the About phone option.
Scroll to the bottom of the page and tap Build number seven (7) times.
Navigate back to the System page and tap Developer options.
Scroll down the Developer options page. Locate and tap 'Bluetooth audio codec'. This will reveal the available codecs supported by your device.
Select the Bluetooth Audio Codec of your choice.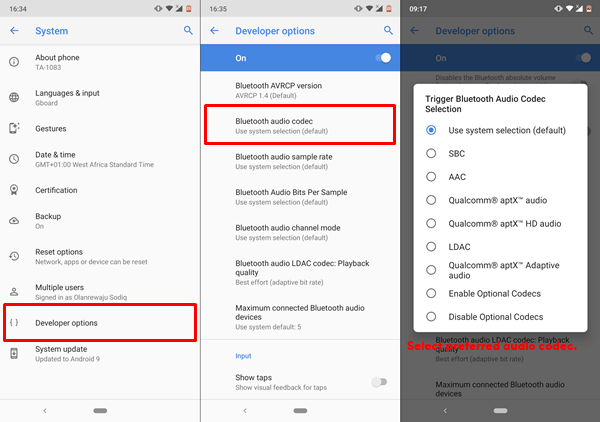 And that's it.
NOTE: For optimal performance, ensure that your wireless audio devices also support the audio codec you choose on your smartphone. If you change your phone's audio codec to LDAC, your wireless headphones also have to support LDAC codec.
We have written a detailed buying guide for smartphone wireless headset. You should definitely check it out.
Boost Your Phone's Audio Quality
Changing the audio codec can boost the sound quality produced by both your smartphone and wireless headphones. It is pertinent to state that the quality of audio files and wireless devices could also affect the quality of sound production. As such, we recommended that you only buy high-quality wireless devices.