The audio industry has never been more alive. The growing amount of competition is driving quality into the entire spectrum. Audio sub-segments are now thriving, including the flourishing wireless audio market. Among the big box brands, there are some newer brands in the audio market. They make quality TWS wireless headphones with jawdropping features at a fair cost.
One such new face is that of EarFun. Their first pair of wireless earbuds garnered plenty of industry praise and were celebrated by the critics for their combination of formidable audio performance, uncompromising features, and having an accessible price point.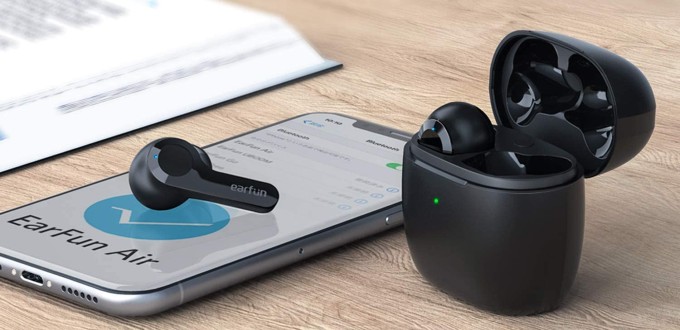 For 2020, they've released a new pair of noise-canceling TWS waterproof earbuds called the EarFun Air that has received industry recognition before their release. Below we'll go over the features of the new Air and why you should give them a serious look if you're interested in quality but without the baseless hype and high prices from some of the usual suspects.
Design and Ergonomic Fit
While the Apple Airpods may hold the title of popularity king of wireless audio, the new EarFun Air are waterproof TWS earbuds that can respectably hold their own. These teardrop-shaped buds have a fit and finish that will satisfy the value-conscious who expect a feature-rich audio performance wrapped in confident hardware.
As far as the competitive budget segment is concerned, the Air delivers with flying colors, enough to be recognized at CES 2020 and go on to receive the iF Design Award.
In the context of price, the design and feel of the EarFun Air exude refinement. The Air dons a combination aesthetic of matte surface covering the functional touch sensor, and an enveloping glossy body where the tasteful branding is embellished. Though the primary material is a conventional plastic, they don't feel cheap or hollow, even with their Air-like lightness.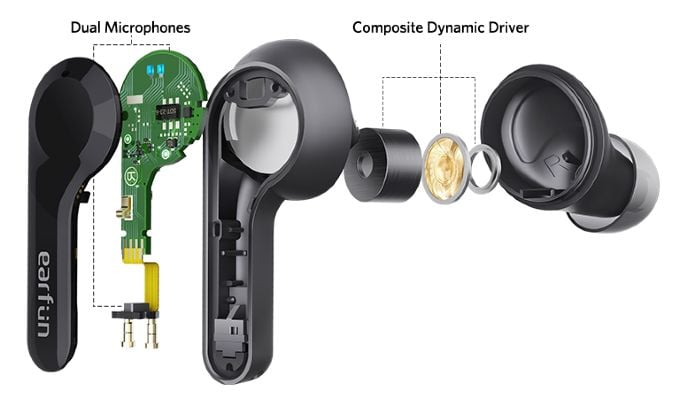 The ergonomic shape has a universal feel, maintaining a comfortable fit, and feels secure when it matters. This ergonomic fit results from using a thousand ear samples tested by EarFun in their pursuit to achieve something suitable for everyone. Buyers have the option of grabbing a pair in a bold white or sharp black.
Audio Performance and Microphones
The EarFun Air may retain a subtle and understated design, but the audio experience is where the magic lies. These finely profiled TWS Bluetooth earbuds produce a most pleasant sound signature. Behind the housing sits a pair of low-distortion composite drivers that have been tuned to handle a wide variety of genres with dynamic confidence.
Maintaining a competent control throughout the frequency ranges, the low-end can punch and rumble without losing definition. The highs have a tonal accuracy while being crisp and clear.
When you're not jamming to new Spotify releases or bingeing Netflix's latest intellectual property, you're using the Air's enhanced 4-microphone setup to take work calls or catch up with friends. EarFun placed great emphasis on the ability to tame noisy environments by focusing on the capabilities of the embedded noise-canceling mics. Rightfully so, how often are we in loud environments where being able to hear and be heard is a must?
Touch Controls
When you're wearing the EarFun Air, you can access intuitive controls to navigate tunes and calls. An industry feature that you typically don't find in this price segment is play/pause functionality. The Air manages to offer this on both earbuds, a thoughtful touch. Tapping twice on either earpiece will start or stop current playback. If you tap three times using the right earbud, it will skip to the next track.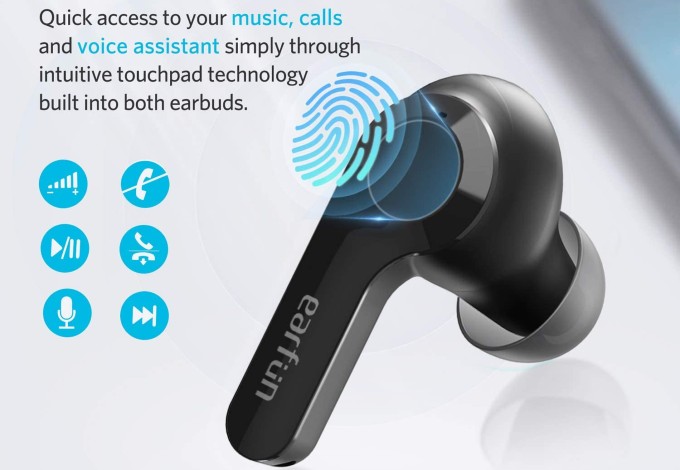 Changing volume is as simple as it should be on these new TWS earbuds. All you have to do is tap and hold on the right to increase the volume and use the left to do the opposite. At any point, you can activate the featured voice assistant (Siri, Google Assistant) with three consecutive taps. You'll find yourself tapping to answer, end, reject, or hold an incoming or in-progress call. Remembering each ear's tap sequences is key, but it's not as cumbersome as it may initially seem.
in-Ear Detection Technology
The Air also features in-ear capacitive detection technology that you experience with Apple AirPods. If you remove an earbud, it will automatically sense this and pause the music for you. Place it back in, and it automatically resumes.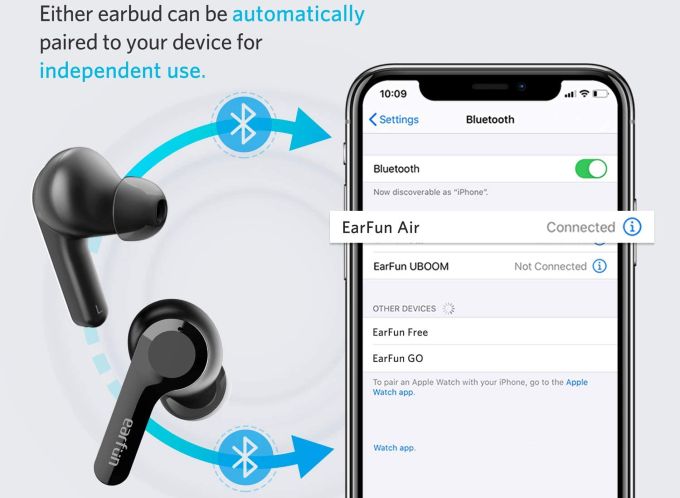 On occasion, you may decide to remove one earbud to respond to someone in your environment. EarFun designed the Air to allow you to use either side without the other for occasions that might require your attention or when multitasking. Super neat.
Connectivity and IPX7 Waterproofing
EarFun made sure to pack in the latest features that we should expect in this category; however, they've gone a step further. The Air features the ubiquitous but welcome Bluetooth 5.0 that has enhanced streaming quality and improved the distance and reliability of your device's connection.
These TWS earbuds receive industry-standard IPX7 waterproofing certification. But where most brands have settled in this regard, the research and design department at EarFun took it upon themselves to develop a proprietary technology that improves the sealing of the inner components at a level beyond IPX7 certification requirements.
EarFun calls it their Sweatshield™ technology, and it was recognized at the CES' annual tech fair earlier this year. This new sweat tech also earned it the iF Design Award. While the IPX7 is more than enough, it gives me an extra sense of confidence, knowing it's highly unlikely to get moisture inside.
Battery Life and USB-C Case
These award-winning earbuds sit snugly inside the included USB-C rechargeable case. On a single charge, you can expect up to 7 hours of playtime. In our opinion, this runtime covers a solid window of productivity and plenty for at least two gym sessions. Using the case, you're able to get another 28 hours worth of charge, totaling for a substantial 35 hours.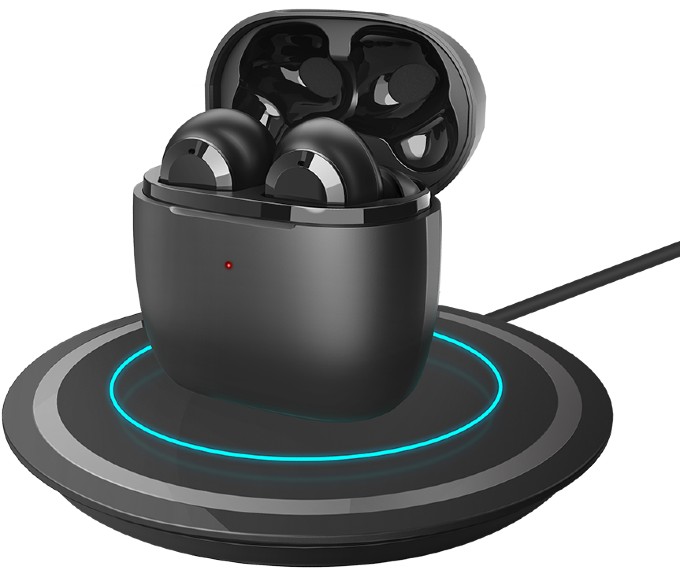 We love the Air's ability to get 2 hours of playback with a quick 10-minute charge. For a full charge, you'll need approximately 1.5 hours to achieve 100%. If you've temporarily misplaced your USB-C cable, the case is Wireless Charging Compatible and takes around 4 hours for a complete charge.
Value and Pricing
If you're looking for a feature-rich pair of TWS earbuds that offer impressive audio performance, the EarFun Air fits the bill. You're getting the latest Bluetooth 5.0 protocol, a USB-C rechargeable case with cable, IPX7 waterproofing with EarFun's proprietary Sweatshield™ technology, intuitive touch controls, 35 hours of total battery life, the option of single earbud mode, in-ear capacitive technology, volume controls, and an enhanced 4-way microphone.
Today's Deal: $16.00 Off
On top of that, the company offers an assuring 18-month warranty. For less than $60.00 from Amazon (Apply the exclusive 10% discount at checkout with discount code: EAFAIRBD), we think that's hard to beat, especially given the powerful and competent audio performance.