Hackers will try to get hold of your passwords in many ways. Phishing is one of them where they direct you to a login page that looks like Google's. if you enter your Gmail ID and password without looking at the URL, your password will reach into wrong hands. To avoid this from happening, Google can alert you whenever you are about to give your Google account password to some other website.
Let's begin.
How Google Password Alert Works
Google provides a tool called the Password Alert Chrome extension to rescue yourself from phishing scams. This tool alerts you whenever you enter the Google password anywhere other than google.com.
This Chrome extension restricts you to use the Google account details elsewhere on the web. Also, it prevents you from giving your Google email and password to a malicious website. Password Alert is super easy to use and comes at no extra cost.
Related: Google Wants Your Personal Data for Machine Learning: Clear Them from Your Phone Now
If you enter your Google password on a malicious site, you will get a prompt saying that your Gmail password has been exposed to a non-Gmail page as soon as you type the final characters. It means you must take immediate action and set a strong password for your account.
You also get a prompt if you use the same password for other sites. Google says it's a bad habit to use the same password across different sites.
Related: How to Remove Google Account from Android Phones
Enable Google Password Alert in Chrome
Setting up the password alert for your Google account is super easy. You need to take care of the installation part and the extension will take care of the rest.
First, install the Password Alert extension from the Chrome Web Store. Then, you will be asked to sign in to your Google account, even if you're already signed in.
Once done, the extension will start monitoring whenever you use your Google password in sites other than Google. Note that it works only with the Chrome browser. You will get an alert as you see below whenever you are about to give away your password hackers without knowing.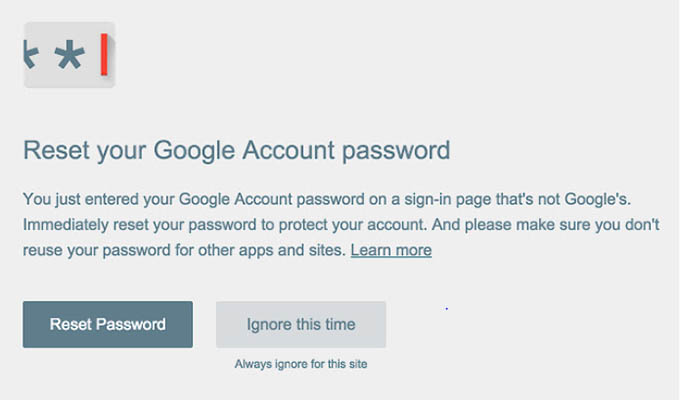 Related: 10 Best Password Leak Check Tools Online
Turn Off Google Account Password Alert
Password alert extension warns you whenever you use the Google account password elsewhere. If you use the same password on your other accounts like Facebook, Chrome will keep annoying you with the alert whenever you enter the same password. The only way to avoid this alert is to disable the Google password alert from Chrome.
First, open your Chrome browser, type chrome://extensionin the address bar, and hit enter.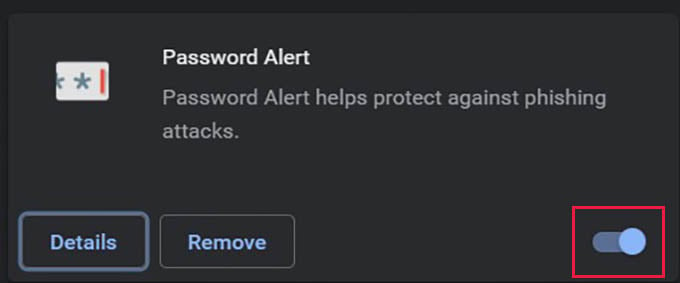 Now, toggle off the button against the "Password Alert" extension from the screen. This will disable the Google password alerts in your account and in the browser. Until you enable the extension again, you will not get any warnings when you use the same passwords on other websites.
Related: Keeper Password Manager & Digital Vault Review: A Safe Place for Your Passwords
How to Google Keeps Your Account Secure
Google reveals that approximately 2% of Gmail messages are intended to trick people and access their personal data. Here's how the Password Alert extension protects both the consumer and work accounts.
Password Alert for User Accounts: Chrome uses a thumbnail version of your password. As per Google, your password is remembered only for security reasons and not revealed elsewhere. The chrome extension can provide a real-time update whenever you log in to a phishing website using Google credentials.
Password Alert for Work Accounts: Once your Google for Work administrator has installed the Password Alert for employees in the domain, they will get alerts whenever a malicious event is detected. You can get more information on Google Help Center.
Related: 15 Ways to Protect Your YouTube Channel from Hackers
Your Google account should be secured in all ways to avoid any personal information leaks. Since your Gmail account has all your personal data, from birthdate to browsing history, you should use the Google Password Alert tool to avoid any phishing attempts.