Google Pixel phones come packed with Google apps from widely available apps like YouTube to Pixel exclusives like the Google Camera and Phone apps. There are many other Pixel exclusive apps behind the scenes though, combining to make a better Android experience. One such app is the Google Sounds app.
Google Sound app can be a ringtone or sound picker app exclusive on Pixel phones. Or at least, it used to be exclusive. You can now install the Google Sound app on all phones (theoretically), and here is how.
Install Google Sound App on Android Phone
You can get the APK files for free to use on all other Android phones that do not have Google Sound App feature inbuilt.
First, you need an APK which, now available on APKMirror: Download Google Sounds 2.2

Tap on the Download notification.

If you have never installed an APK using your browser before, you'll be required to allow the browser the ability to Install unknown apps.
Tap on Settings.
Turn on the 'Allow from this source' toggle on the next page.
Go back.

You should now see the package installer with the option to Install.
Tap on Install, wait for the APK to be installed, and tap Done. 
Most of the Android phones will allow you to download and install the SPK files directly on your phone without any rooting.
Also read: How to Get Sound Measurement with Android Decibel Meter Apps
How to Use Google Sounds App on Android Phone
The Pixel Sounds app is or Google Sounds app, not a standalone application. The app merely acts as a sound or ringtone picker and it does not appear on the app launcher. Follow the steps below to get all the features for google Sounds App;
Go to Settings on your Android device.
Tap on Sounds and select the default phone ringtone, alarm, notification, etc. to change it.
If you have no other ringtone picker app available, Android will default to the Sounds app.
If you do have another ringtone picker app available which is more than likely, select the Sounds app from the list of available apps.
This will launch the Google Sounds app.
As you will see, the app has a very pleasant design with understated bright colors, not very unlike Google's hardware products. The available ringtones, alarm tones, notification sounds, etc. are divided into several categories. There are more than 250 ringtones, alarms, and notification tones in the app to choose from.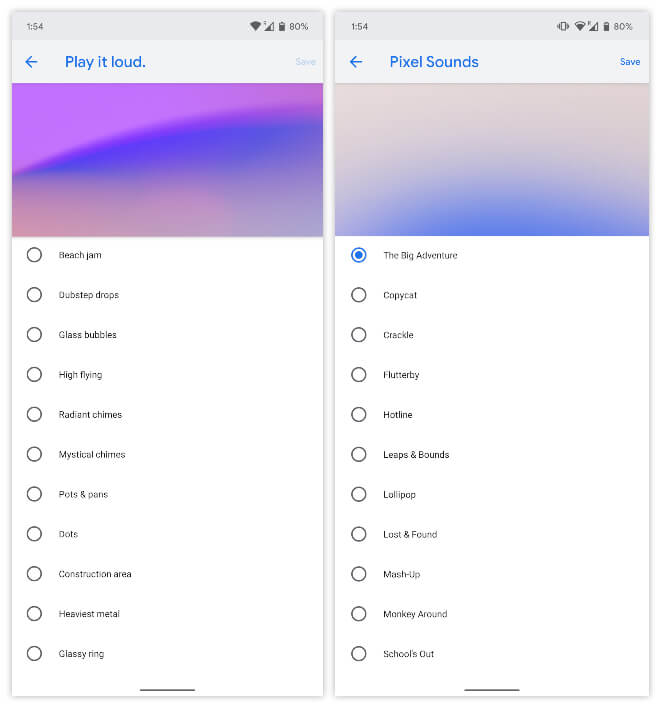 You can also select your own ringtones, that you have saved in the Ringtones folder, by selecting My Sounds.
Also read: How to Get Sound Measurement with Android Decibel Meter Apps
Did it Work on Your Android Phone?
Google's Pixel phones have never been flashy and they've never had any competitive hardware features either. It's all about the software and frankly, that has a record of being quite buggy too. But when it does work, there's not a better Android experience than the Google Pixel. And that ultimately boils down to the software because that's what differentiates the Pixel. Well, other than the minimal, understated Google design language.
The Sounds app is a very good example. On other phones, you get the boring sound picker to choose a ringtone or an alarm tone, etc. But on a Pixel, you get this beautiful sound picker app. It makes that boring and mundane task a slightly better experience. Hopefully, now you can get that same experience on your phone as well. The APK hasn't been ported to work on other phones, neither extensively tested. Therefore, your mileage may vary. Do let us know in the comments if it works for you.