Ecobee added two new models to its iconic smart thermostat lineup – Ecobee Smart Thermostat Premium & Enhanced. The Ecobee Premium is something beyond what we all think about a thermostat, and it's even a smart speaker with Siri & Alexa onboard. We have been using the Ecobee Smart Thermostat Premium for a while, and we liked and disliked a handful of things about it.
Here is our complete hands-on review of Ecobee Smart Thermostat Premium.
Ecobee Smart Thermostat Premium: Overview
Since the launch, the Ecobee smart thermostats have been one of the favorite thermostats for smart home enthusiasts. I wished to get one even when I was stuck with the Google Nest thermostat (which was, in fact, one among my favorites). Following Ecobee, the company had given a huge upgrade to its smart thermostat lineup with the all-new Ecobee Smart Thermostat Premium.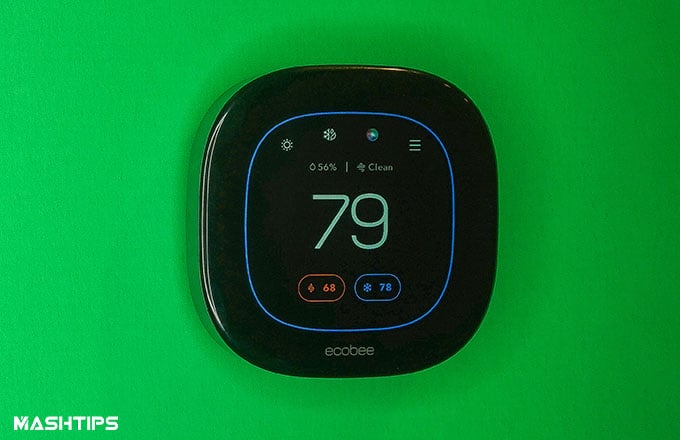 Ecobee launched two variants for the 6th gen. smart thermostat – Premium and Enhanced. We will talk about their differences soon. I got myself the expensive, feature-rich Premium model with many smart home features.
The first thing that caught my eyes was the native Siri support. This is one more addition to Ecobee's love for HomeKit. Additionally, the sensors and automated features added to this smart thermostat awakened me. Let's get into more details about the new flagship from Ecobee, the Ecobee Smart Thermostat Premium.
Ecobee Smart Thermostat Premium vs. Enhanced
Ecobee Smart Thermostat Enhanced is the entry-level thermostat, especially for those upgrading from the previous generation or a different thermostat. If you are looking for a fully-fledged smart home control with your smart thermostat, the Ecobee Smart Thermostat Premium is the best smart thermostat for HomeKit and Alexa users. Despite their similarities in looks and functionalities, below are how these models differ.
Title
Ecobee Smart Thermostat Premium
Ecobee Smart Thermostat Enhanced
Spotify, Bluetooth, and AirPlay
Title
Ecobee Smart Thermostat Premium
Spotify, Bluetooth, and AirPlay
Title
Ecobee Smart Thermostat Enhanced
Ecobee Smart Thermostat Premium: Specifications
The Smart Thermostat Premium from Ecobee is your essential smart home gadget, with features from voice controls to smart home monitoring. Check out the complete specifications of the Ecobee Smart Thermostat Premium below:
Specifications
Ecobee Smart Thermostat Premium
Display
4 in. full-color LCD touchscreen
540 x 540-pixel display
Sensors
Temperature
Humidity
Occupancy (Radar)
Proximity (Radar)
Compatibility
24VAC HVAC
Connectivity
WiFi (2.4GHz & 5GHz), Bluetooth 5.0, 915MHz radio
Power Consumption
Up to 3.5 VA
Smart Home Support
Apple HomeKit, Amazon Alexa, Google Assistant, Samsung SmartThings, IFTTT
Dimensions
4.09 x 2.9 x 4.09 inches
Color
Black with White
Buy
Buy from Amazon
Design and Build Quality
Color: Black
Material: Zinc Body
Dimensions: 4.09 x 2.9 x 4.09 inches
The new "Premium" smart thermostat is the biggest thermostat from Ecobee to date. The massive upgrade from the last versions is noticeable from its sturdily built metal-casing and a large touchscreen display. With the entire design being different from the previous model, replacing my existing thermostat was not quite easy, though.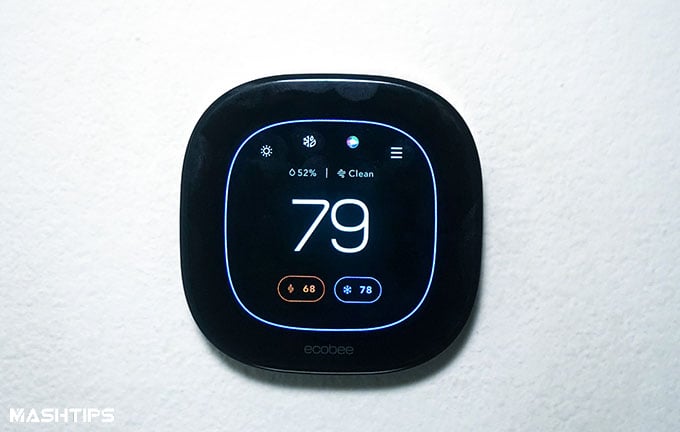 As said above, the major difference between the Smart Thermostat Premium and Enhanced is the build quality. The zinc metal body gives a premium touch and feels to the thermostat while helping the device from damage in the long run.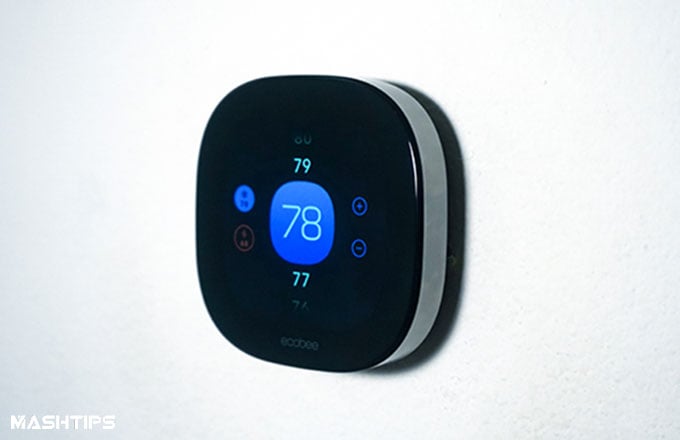 Installation was pretty easy, just as any other smart thermostat we had tried before. One thing to notice is that you cannot match the screw holes for your old Ecobee smart thermostat with this one. You will need to drill extra holes to mount it.
The mounting plate is so neat that it lets the thermostat sit on the wall subtly without any extra bumps. A trim plate also comes with the package to hide any old screw holes or paint patches, but it rather looked ugly to me. I skipped the trim plate and mounted the Ecobee Smart Thermostat Premium onto the mounting plate itself, which was pretty neat, though.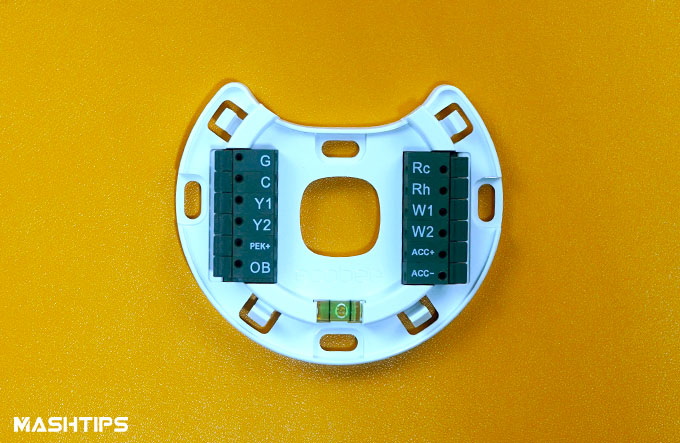 The package also contains a power extension kit if your household HVAC doesn't have a C-wire. This kit helps you install the thermostat easily without changing your household wiring.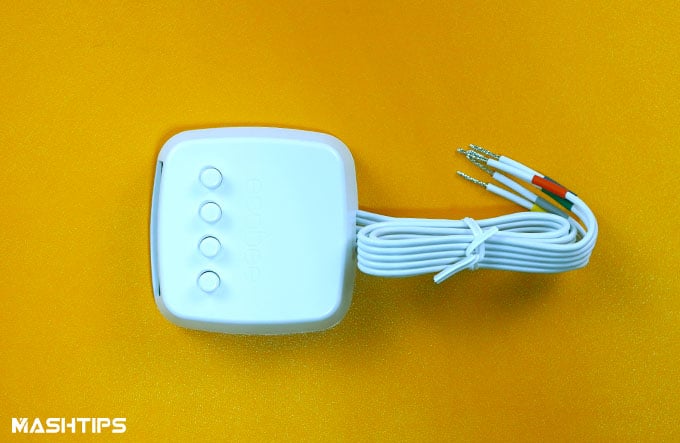 Ecobee bundles a smart sensor with the whole package, which works with the smart thermostat completely wireless. This tiny sensor can be placed anywhere inside your house, but preferably in your bedroom, as it detects occupancy for better temperature control and power saving.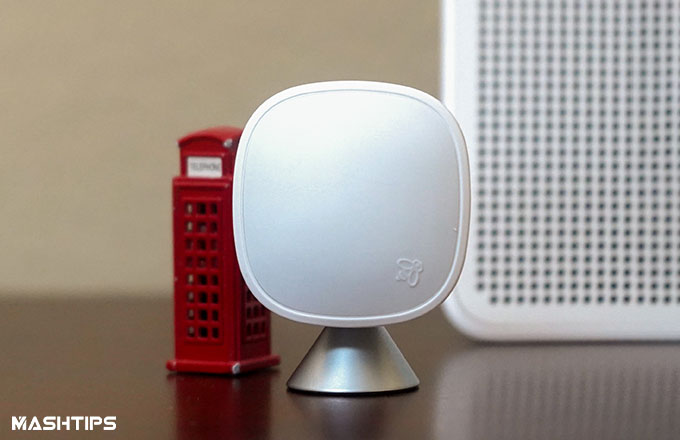 There is a magnet attached stand for the smart sensor for the sake of placing it inside your bedroom. You can also stick it against your wall using the adhesives from the package.
Display, Touch Controls
Screen Size: 4-inch LCD
Control: Touchscreen
Resolution: 540×540 PX
A bigger, brighter display is one of the attractions of the new Ecobee Smart Thermostat Premium. And that's what caught my eyes, too, in the first place. Displaying the current set temperature in the biggest font possible: something you will love too. Ecobee doesn't lack any utility with the new display, but my mind still wanders back to my old Nest Thermostat, which had a cute round dial with a screen.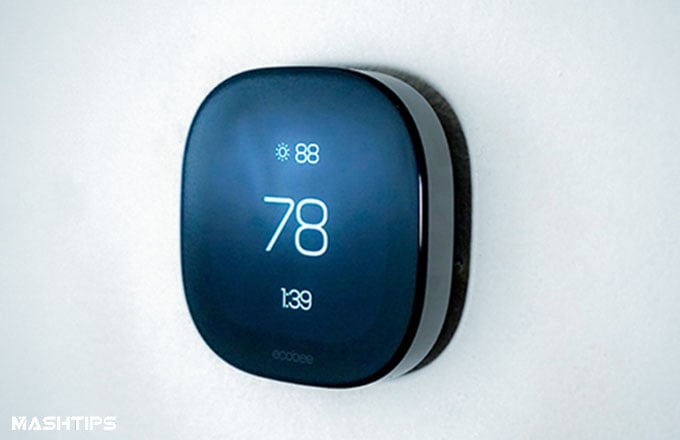 Swiping through the touch screen gave me the impression of a giant phone display embedded into the thermostat. The interface was quite smooth in showing the thermostat information. You no longer have to use the slider control to adjust your room temperature. The large, scrollable temperature values are buttery-smooth, making it easier for homeowners to set the desired temperature.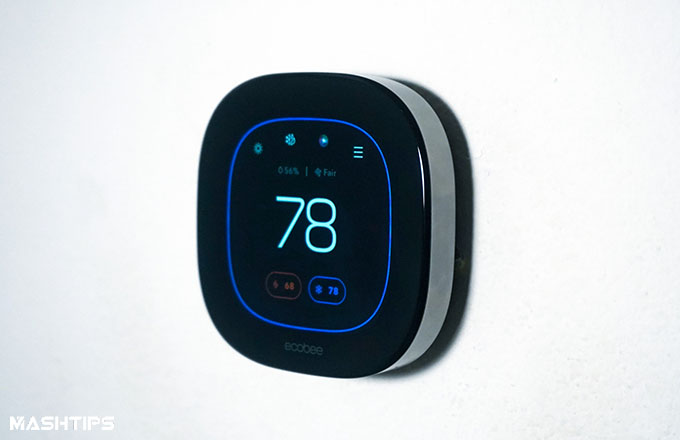 The radar sensor identifies when you are near the thermostat and activate the display with all menu controls on the screen. The screen goes back to standby, showing only the temperature, time, and weather outside when you move away. You can customize the delay and distance to automatically activate the display.
Voice Control and Built-in Speaker
Two microphones
Inbuilt speaker
Music streaming – Spotify, AirPlay, Bluetooth
Ecobee Smart Thermostat Premium isn't the company's first smart thermostat to house a speaker onboard. This time, it is part Alexa and part HomePod with inbuilt Alexa and Siri support. The speakers have improved drastically from the previous gen; they are good enough to listen back to the weather forecast and web results (don't expect any music listening experience if you ever try).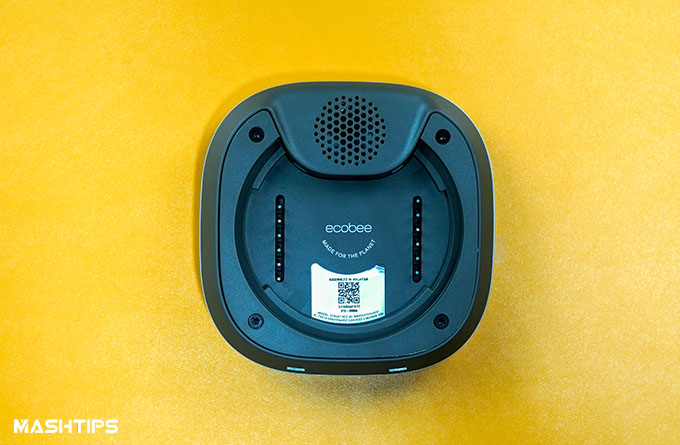 The Siri onboard needs a HomePod or HomePod mini speaker in your household to work. This integrates the speaker with your HomeKit ecosystem and lets you control everything from smart bulbs to garage doors from the smart thermostat. This is helpful as I can control my HomeKit accessories from the living room without walking into my bedroom, where I placed the HomePod mini. HomeKit's got all eyes and ears inside the house with my thermostat, too.
There are two microphones that pick up my voice commands. They work well for the commands I say from a little distance, say, 15 feet away. The voice command precision differed from the type of voice assistant I opted for. Let's talk about that in a bit.
Smart Home Controls: Alexa and Siri Onboard
Smart Home Support: Apple HomeKit, Amazon Alexa, Google Assistant, Samsung SmartThings, IFTTT
The Ecobee Premium smart thermostat supports tons of smart home ecosystems, from Amazon Alexa, Apple HomeKit, and Google Assistant to IFTTT and even more. I had tried the thermostat with both Alexa and HomeKit. Once integrated, the inbuilt speaker can take in commands for either smart assistant. Despite supporting smart home ecosystems, the new Ecobee Premium has inbuilt Siri and Alexa.
While Alexa can work without any Echo speakers connected, you need a HomePod or HomePod mini speaker around to summon Siri and ask questions. Apart from asking Siri or Alexa to drop or raise the temperature, you can ask any other question as if it is a fully-fledged smart speaker.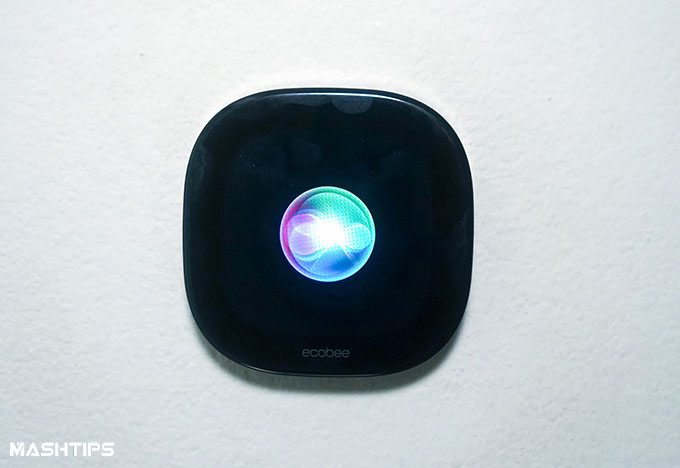 While asking Siri, you will see the Siri animation on the screen. Although it can answer your commands, there will be no information shown on the Ecobee Premium screen. It would have been a nice addition, at least for the weather-related questions. From the Home app on your iPhone, you can send intercom voice messages to the Ecobee speaker. Moreover, you can AriPlay music/media to its speaker from your iPhone or iPad.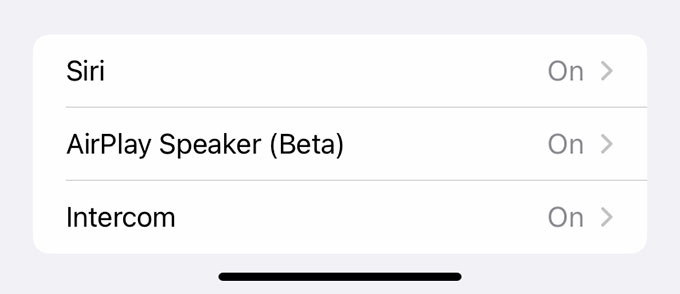 Ecobee Smart Thermostat Premium encases a handful of sensors for intelligent controls and home protection. The company adds a proximity radar sensor (not PIR) and an air quality monitor to the thermostat that helps the device activate the modes accordingly.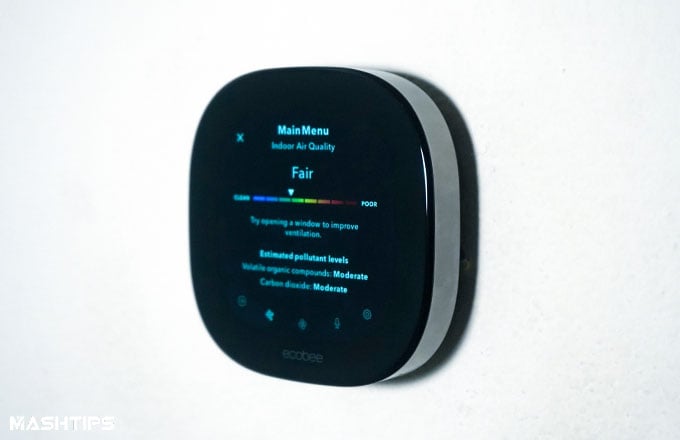 They both are really helpful, but the only problem with the air quality monitor is that it does not show the exact Air Quality Index values. You will only get an insight into what actions to take, which is very limited. Also, both sensors cannot be added to HomeKit or Alexa to trigger other smart home accessories. I would vouch for a feature allowing me to turn on my smart air purifier automatically when the Ecobee detects a drop in air quality. I hope the company might bring it in the near future.
The smart sensor you get along with the package is a real game changer. Indoor temperature, room occupancy, and motion – are all packed into this tiny wireless sensor. When paired, Ecobee knows when you are not home and adjusts the HVAC accordingly. Also, when you come back home, the temperature will be restored to your favorite.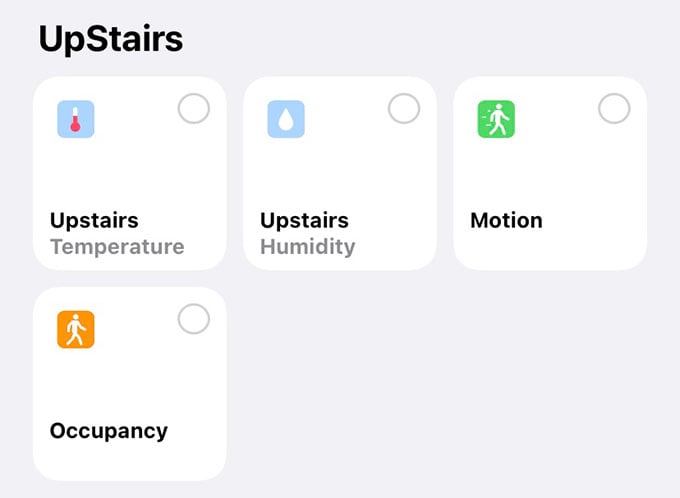 Good news to the HomeKit users! The smart sensor is exposed to the HomeKit ecosystem. This means you can utilize the smart sensors to trigger your HomeKit accessories without investing extra in HomeKit motion sensors and door sensors. For example, you can create Home Automation to turn on lights when you walk into your bedroom. The Ecobee Smart Sensor can identify the motion and trigger the lights based on how you set it.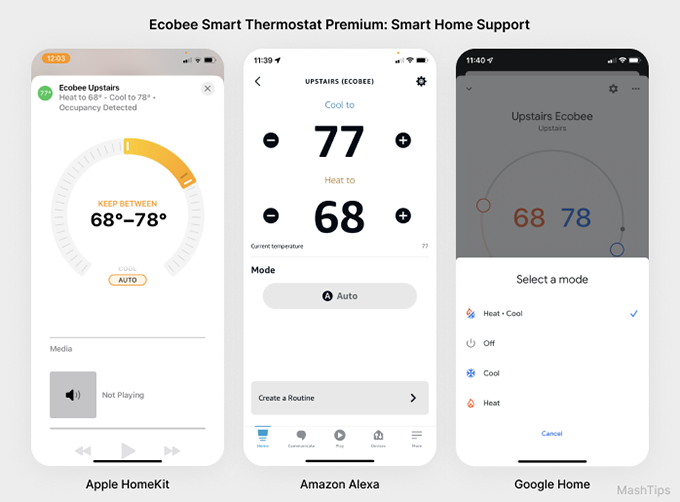 Being on such good terms with Amazon, I expected Ecobee to add extensive support with Alexa devices. To my disappointment, none of the additional sensors supported Alexa, and triggering Alexa automation was not possible too. Yet, you can control the Ecobee from the Alexa app on your phone. Same story with the Google Home; all you can do is set a mode (heating/cooling) for your thermostat and slide up or down the temperature.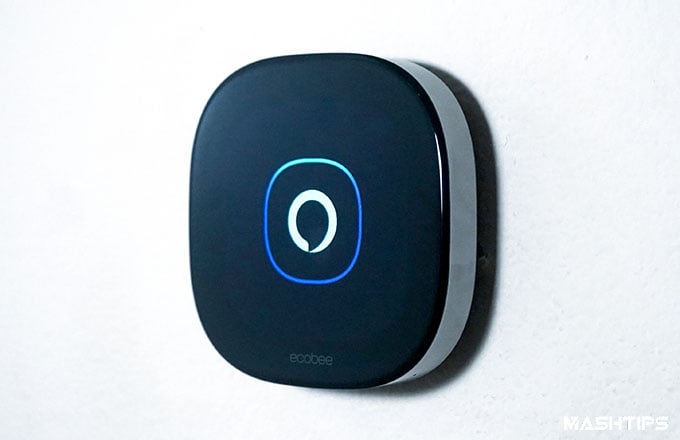 The smart sensor needs to be placed within 60 feet of the Ecobee smart thermostat. Perfect for placing in the bedroom while the Ecobee is installed in the hallway. The Ecobee Smart Thermostat Premium also supports up to 32 smart sensors if you want to adjust the room temperatures and save more energy in a smarter way.
Smart App Controls
App Supported Devices: Android, iPhone, iPad, Apple Watch
Ecobee has a dedicated app to control the smart thermostat Premium. The Ecobee app is where you begin to set up the smart thermostat over WiFi. Both Android and iPhone users can get the app from Play Store and App Store, respectively. Although the app was a bit buggy, the dual-band WiFi (2.4GHz & 5GHz) support was a cherry on top.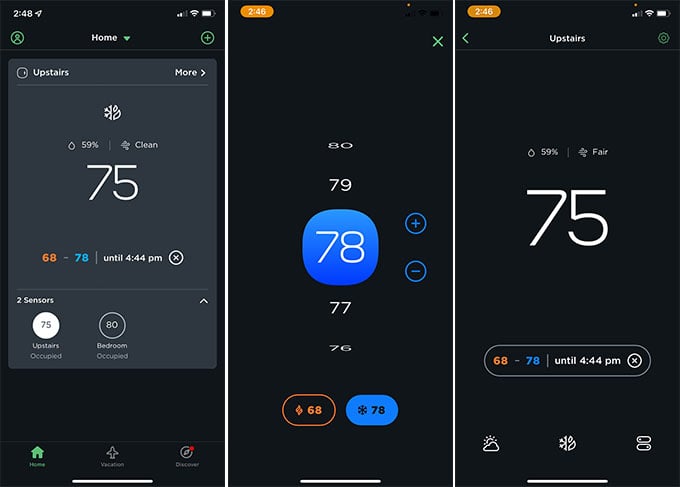 Once the setup is finished, the app provides a neat interface to control your smart thermostat. All the controls, sensors, air quality, temperature, and more can be found in the Ecobee app itself. One impressive fact about the Ecobee app is that you can even get it on your Apple Watch. You can change your room temperature just by using the Apple Watch on your wrist.
Home Security and Monitoring
Intruder alerts
Smoke and fire alarm
Air quality index
Thermal protection
Smart dehumidification
Ecobee Smart Thermostat Premium can act as a dedicated hub for the Ecobee Smart Security System. You can even pair the Ecobee SmartCamera with the thermostat to get intruder alerts and home security notifications on your phone when you are away.
The smart sensor and radar sensor in the Ecobee Thermostat can double as an intruder-sensing motion sensor for your home. This was one of the reasons I made up my mind to switch to the Ecobee from the Google Nest thermostat.
Although the air quality meter does not give out an AQI value, it can alert you whenever there is smoke or fire in your home. Additionally, the thermostat has inbuilt thermal protection for your heater. Smart dehumidification is triggered by over-cooling your AC whenever there's excess humidity inside your house.
Energy Saving Features
Smart routines
Occupancy and motion sensing
Window open sensing
Energy saving is the single most thing Ecobee has been advertising so far. The new Ecobee Smart Thermostat Premium has some smart additions to prevent your HVAC from running unnecessarily. The smart occupancy detection and motion sensing, the Ecobee Premium can know when you leave the house. It can lower the cooling/heating rate to save energy and back it up when you enter the house.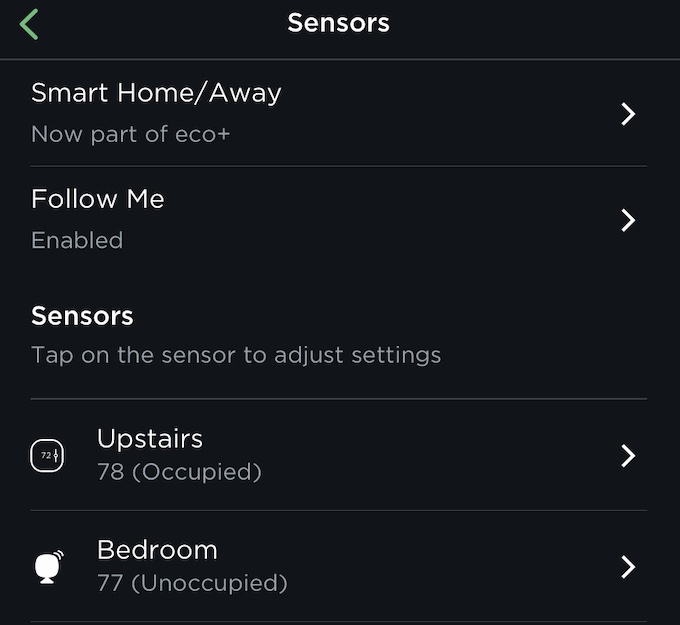 Apart from such smart routines and energy-saving methods, Ecobee Smart Thermostat Premium will pause the AC whenever it detects a window or door being open for more than a certain time limit. But there's a catch: you need to get Ecobee's door and window sensors for this to work. It sounds like something I wouldn't buy for every single window in my house.
Pros and Cons
Smart thermostats have taken over the old-school dials, and you might already own one. The new Ecobee Smart Thermostat Premium is definitely worth an upgrade, but there are some upsides and downsides that you should know first.
What we like:
Sturdy design with a larger screen
Built-in sensors and air quality monitor
Smart sensor for intelligent controls
Built-in Siri and Alexa
What we dislike:
Speaker is not that great
Expensive price tag
Built-in sensors not exposed to Alexa
Limited air quality index
What's in the Box
In the box, you get all the mounting essentials to install the Ecobee Smart Thermostat Premium. There is also one power extender kit to get C-wire for the thermostat in case your house doesn't have one. Below are what you get with the Ecobee Premium thermostat box: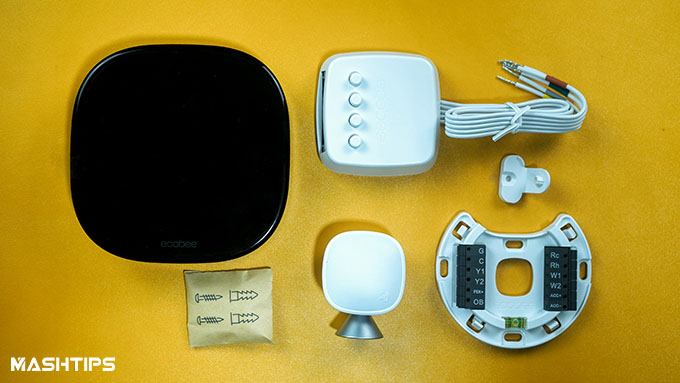 1x Ecobee Smart Thermostat Premium
1x Thermostat mounting plate
1x SmartSensor with a detachable stand and adhesive wall-mount

1x Wire labels

Screws and drywall anchors
1x Power Extender Kit (PEK)
1x Trim plate
1x Quick-start guide
Pricing and Availability
The Ecobee Smart Thermostat Premium comes at a price tag below $250, while the lower variant Ecobee Smart Thermostat Enhanced is available for $70 lesser than the Premium. The older Ecobee thermostats are available at a sub-$200 price tag while they all lack Siri support, speaker, and many other smart features exclusive to the Premium. You can grab one Ecobee Smart Thermostat Premium bundled with a Smart Sensor from Amazon right away.
Today's Deal: $30.00 Off
Today's Deal: $20.00 Off
Verdict: Should You Buy Ecobee Smart Thermostat Premium?
There's a lot going inside the Ecobee for a smart thermostat. With tons of smart features, security options, and compatibility with almost every smart home ecosystem, the Ecobee Smart Thermostat Premium is a great addition to any house with Alexa or HomeKit. Underline this: Ecobee Premium is one of the best thermostats for HomeKit users.
Your mind must already want it, but the first question is whether you need all such "smart" features. You should definitely go get one if you are looking for a wide range of smart home support, including Alexa and HomeKit. It can also act as a smart sensor hub for most of your home automation triggers. On the other hand, if you are new to smart thermostats, you can grab cheaper thermostats from Google, Ecobee, or Wyze.