Google allows to stream podcasts to your Google Home device. In order to make the process even more seamless, Google also recently launched their own podcast app on the Play Store. Though the app is not as refined and feature-rich as some of the older apps in the niche, I am sure a few updates in the coming months will make it a formidable competitor.
Now, let's see how you can stream podcasts to your Google Home device, and how you can pause and resume podcasts between your phone and the former.
Stream Podcast to Google Home
Because Google Home is a voice-activated device, all you have to do is speak the right command. Just say, Hey Google, play 'podcast name' podcast. Google will then use its search engine to find the correct podcast and play it for you.
Here are some useful commands that Google Home understands related to podcasts. Don't forget to say Hey Google or OK Google before speaking one of the below commands clearly:
To pause – pause or pause the 'podcast name'.
To resume – resume podcast or resume 'podcast name'.
To stop – stop or stop the 'podcast name'.
To listen to a podcast – listen to 'podcast name' or play 'podcast name'.
To continue from where you left on another device – continue listening to 'podcast name'.
To play next/previous episode – play next/previous episode.

There are some other simple commands that Google Home can understand for better podcast management like Next, Skip, and Previous voice commands.
Please note that Google Home will not allow you to stream podcasts from 3rd party podcasts players like Spotify and TuneIn, at least for now. I believe that Google will add them at a later point in time because there are so many apps that can do it right now.
Also, note that just because Google Home is playing a podcast doesn't mean you can't interact with it. While Google Home plays the selected podcast, you can still ask it questions or ask it to do things like to tell you the FIFA schedule for the day. Google Home will then pause the podcast automatically, answer your question, and then resume playing from where it left.
Pause and Resume Podcasts
Google Home is just the name of the device but the technology behind it is what's called Google Assistant. Google Assistant is also available on your Android smartphones. This means all search and play history is in sync between all your Google devices.
Listening to podcasts on Google Assistant-powered smartphone offers the same experience. The same commands that worked on Google Home will also work here. Simply launch Google Assistant by long-pressing the home button to or say OK Google, play 'podcast name'.
Now, say 'pause' to stop listening and you can then use the 'resume 'podcast name" command on Google Home to resume playing from where you left at your smartphone. It's that simple.
Also Read: 10 Best Smart Speakers with Google Assistant
A Better Alternative
Google Home can differentiate between different members of the family with its unique voice and associate the right Google ID with them. So, you don't have to worry about resuming the podcast from where your sister left instead of where you paused.
Even if you don't have a particular podcast in your music player, works with Google Play Music, for now, Google will find and play it. The problem is that Google Home will play the latest podcast by default so you will have to use the previous command to go back to the one you want to listen to. It will not begin with the first podcast on the list but the latest one.
There is a solution though. Google Home can also be used as a Bluetooth speaker. Just ask Google Home to turn on Bluetooth and make it discoverable. Connect your mobile and use your favorite app to listen and manage podcasts. You can also use Google Assistant. This will give you more control over your podcasts.
So, for example, when I say 'play the latest episode of 99% Invisible to Google Assistant on Android, here is what I see.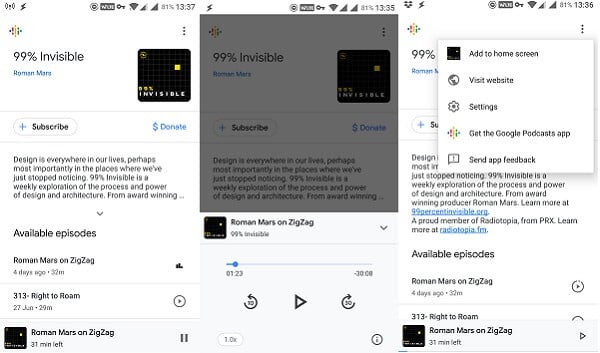 You can manage podcasts, play, and subscribe to it, visit the website or add a shortcut to your home screen. Then you can use Goole Home to either resume from where you left on your mobile phone as we discussed in point 1, or you can use Google Home as a Bluetooth device to listen to podcasts from via your Android phone.
As you can see, you have more control with the second option. Get the Google Podcasts App link on the menu will take you to Play Store. The app is nothing to brag about but does offer more options than Google Home device. Expect it to get better with time though.
Also Read: How to Set Google Home to Call with Google Voice Number
Stream Podcast to Google Home
Google Home and Amazon Alexa are in a race to dominate the households of tech-savvy individuals across the world. Google Home is winning the race because it integrates tightly with other Google services like search, music, videos, and podcasts.
When you talk about Google Home Podcasts support, there is more than one way to stream and listen to podcasts on Google Home. You can either use it to search and find podcasts that you want to listen to, resume playing from where you left off in other devices, or simply use it as a Bluetooth speaker. The choice is yours.
Google Home's real strength comes from all the data that Google Search has collected over the last few decades. This is what makes it so powerful and useful. How are you using your Google Home device?