Google Chrome lets you translate an entire webpage into English if it is already in a language that you do not understand. But what if you come across a document or word file that is in a different language? Google Docs in fact lets you translate ana entire document from a different language to English in just one click.
Let us find out how you can use Google Docs to instantly translate documents between languages with the most accuracy.
How to Translate a Google Document
Let's say you have received a requirements document from your manager and think you can understand it much better if it is in your native language. You can quickly translate a Google document using the built-in translation tool. Let's see how to do that.
Launch any browser on your computer and open the Google Docs you want to translate. Click Tools on the top menu bar.

From the list of options shown, click Translate document.
Now, a small pop-up window will appear on the screen. First, enter a title for the translated document in the provided box as it will be saved as a new file. Then, click the drop-down box Choose a language and select the desired language (eg. Spanish). After selecting the language, click Translate.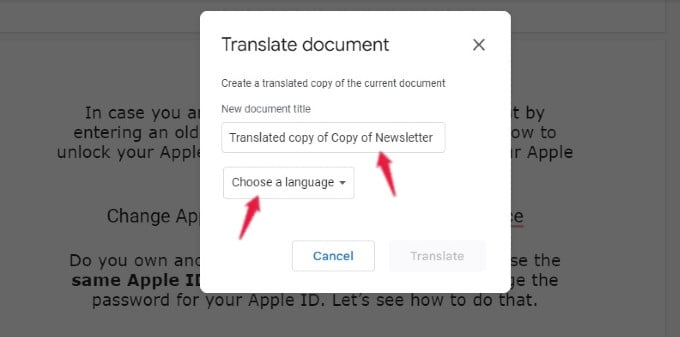 Now, the translated Google document will get opened in a separate tab in your browser. Since it is also stored in your Google Drive, you can view it anytime you need. You can also download the Google Doc as DOCX or PDF depends on how you want to do it.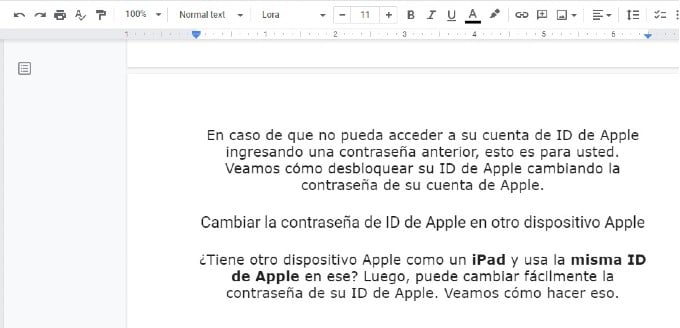 Using the built-in translation tool, you can translate documents in more than 100 languages, including French, Russian, Spanish, Italian, German, Arabic, and more. Even if you are working on MS Word on your computer, you can quickly import the doc file into Google Docs and get a translated copy instantly.
Related: 7 Best Google Drive Tricks for Students to Work with School Docs
How to Translate Document Using Add-ons
In case you are looking for other options besides the built-in translation tool, then you can try out some translation extensions for Google Docs. Some of these tools lets you translate paragraphs within the document without creating a new file. Thus you can get instant translation within your Google Doc without having to open a different document. To add a translation add-on to the Google Docs;
Open Google Docs in any browser and click Extensions in the top menu bar. In the Extensions menu, click Add-ons > Get add-ons.

On the popup window, type "translate" on the search box and press Enter key. Now, you can see the list of translation add-ons available for Google Docs.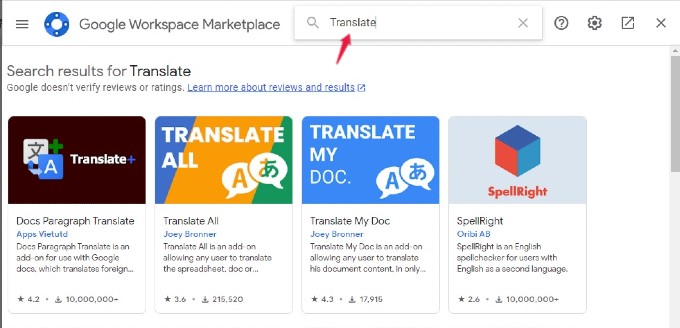 You can install them one by one to find out which one suits your needs. Many of them work using Google Translate, but the additional features, including paragraph translation and advanced spelling check, are some things you get with the add-ons.
Related: You Can Now Add Meeting Notes for Your Calendar Events from Google Docs
How to Translate Google Document on Mobile
The built-in translation tool is not available on the Google Docs app for Android and iPhone, and you need to use a computer for translating a Google Document. Of course, you can use the Google Translate app on your iPhone/Android to translate snippets or paragraphs from the document text.
Another working method is using the Translate app built on the iPhone. The languages in the Apple Translate app are limited to a few. That makes Google Translate a good option for mobile users to translate a Google Doc instantly.