When you go shopping with your friends, getting them from the crowd is not always easy. With Apple Watch, you can quickly switch the wearable on your wrists to a portable walkie-talkie and talk with your friends instantly.
Let us see how to use Apple Watch as a walkie-talkie to speak with friends.
How to Use Walkie Talkie on Apple Watch
Apple Watch uses FaceTime to enable Walkie Talkie. So, make sure your iPhone has the FaceTime app installed, otherwise the feature will not work for you. Also, make sure you have an active internet connection on your iPhone.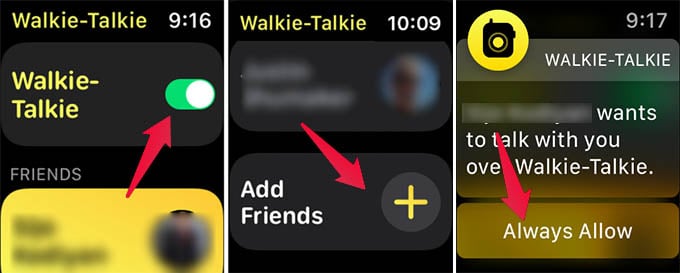 Open the Walkie-Talkie app on your Apple Watch.
Toggle on the "Walkie-Talkie" option.
Scroll down and tap "Add Friends."
Choose a contact to add as a friend.
Now, tap "Always Allow" on your friend's Apple Watch to accept add as a friend.
On your Apple Watch, select the contact you want to talk with.
Tap and hold the round yellow button that says "TOUCH & HOLD TO TALK."
Keep the button pressed while you are talking, and release when you are done.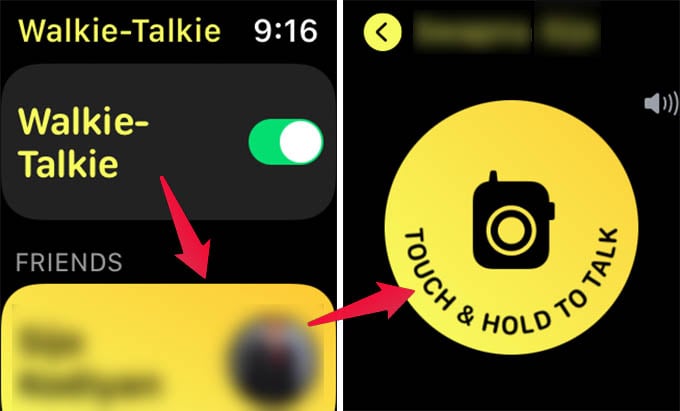 When you speak over the walkie-talkie using Apple Watch, your friend can instantly listen to you. There is no need of accepting or call attending in order to listen. This works just like the normal Walkie-0Talkie, except Apple Watch uses a cellular or Wi-Fi connection.
Your friends can speak to you too over Walkie-Talkie. If you want to remove a friend, open the Walkie-Talkie app, and swipe right the contact to find the remove button. Plus, you can use the digital crown to adjust the volume.
You can speak among your friends quite easily with the Apple Watch walkie-talkie option. In case you don't want others to chime you, you can toggle off Walkie-Talkie from the app.