Private Browsing or Anonymous Browsing technology is attracting most of the millennials to use the internet without creating an imprint for prying eyes. Through private internet browsing, sometimes turns into an essential feature when you want to be completely anonymous while browsing for any critical information from the web.
In private browsing, a person can cover up his/her activities done while accessing the internet. Not every individual wants to see his or her browsing history recorded more often and people call it with various names Incognito mode etc., used for covering many activities.
Related: How to enable private browsing in Google Chrome?
Many browsers come with the browser in private mode or incognito mode to keep your things on the internet somewhat unknown to others. One can easily keep their search data and browsing sites secret with the help of the in private browsing feature present in the internet browsers.
Like the desktop browsers, many Android browsers do come with private browsing mode. Now is the time to browse in private, as many agencies that are unknown to you might be stalking or spying your activities. Here are some of the best Android private browsing apps for you.
1. Orbot
Orbot allows Android users to connect with the Tor network. Moreover, its own encryption layer, the app encrypts your internet traffic when used. The traffic is hidden by bouncing it back through a number of desktops scattered around the world. Orbot runs like a VPN service, which is available free, unlike most apps.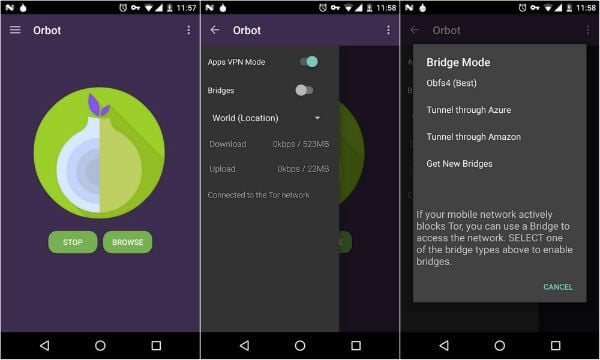 Orbot, one of the best private browser app for Android creates a mobile internet connection that is truly private. The websites will not be able to monitor you in any manner whatsoever. It prevents others to form a way to reach you based on your internet activities.
Key features: App encrypts internet traffic | Runs like a VPN service | Download Orbot from Play Store
2. InBrowser
Like Orbot, InBrowser is a feature-packed private browser and comes with TOR as well as offers an in-app video player. Whenever a user leaves the InBrowser app, all the activities done are erased in a matter of seconds. This Android private browser is an optimal browser allowing you to switch speedily between different tabs.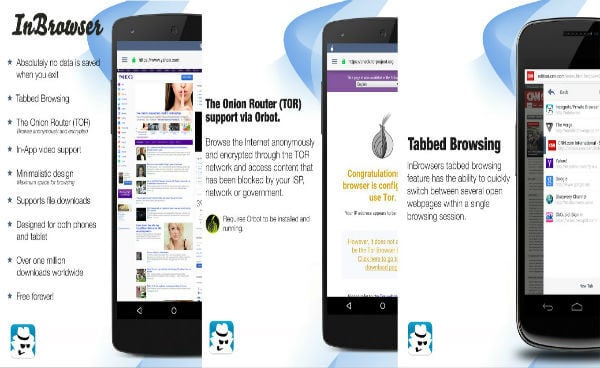 This anonymous browsing app inherits deep integration with LastPass to secure your passwords without any trouble. No junk and no ads are present on the app, just simple browsing experience is available for the users looking to browse in private. This private web browser is a great choice among all private browsing apps for Android.
Key features: All the activities done are erased | Easy switch between tabs | Deep integration with LastPass | Download InBrowser from Play Store
3. Dolphin Zero Browser
Every person wants privacy, with Dolphin Zero get a unique and diverse experience when private browsing on the internet. This private internet browsing app comes with enabled 'Do Not Track' feature by default and does not keep any record of the personally identifiable information. Coming with Adblock, you can browse seamlessly without any popups, ads, banners & ad-videos. The focus of the browser is mainly on the user experience and simplicity keeping the privacy at the top notch.

Dolphin Zero does not store the user's browser history and form data as well. While surfing the web, the data entered save by the app. You can use social networking sites without any worry for a saved password as well as cached data and files. Several sites ask for permission regarding the cookies and location information, with this app such request will not come up on any site.
Key features: "Do Not Track' feature by default | No popups, ads, banners & ad-videos | Download Dolphin Zero from Play Store
4. Ghostery Browser
Ghostery Browser gives you an instant update and status on the number of trackers present in a site that you are browsing. With the information, the browser also asks you whether to block or allow the trackers. This private browser app contains the biggest tracker database inheriting over 2,200 trackers and 4,500 scripts. This Ghostery Browser along with extra privacy options allow the user to clear cache and history quickly.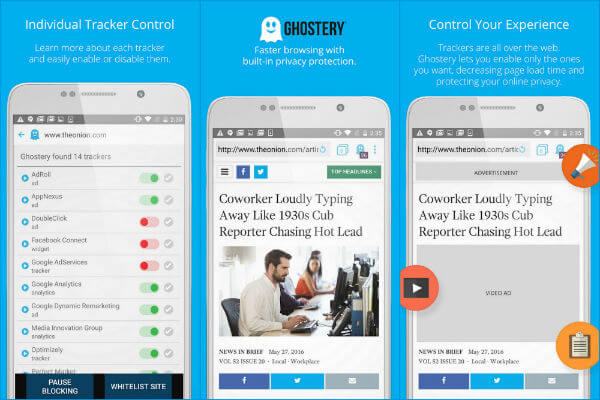 This secure browser app aims to make private browsing more transparent and eases the use with simple interface. Ghostery Browser provides fast page accessibility on the browsing websites. Browse in private with this app and manage whitelist easily without trouble.
Key features: Status on the number of trackers | Biggest tracker database | Clear cache and history quickly | Download Ghostery from Play Store
5. Frost Incognito Browser
Frost Incognito Browser is one of the widely used and accessed apps for private browsing. Coming with an ad blocker and always on incognito mode, the app is available free. The proxy of the browser allows you to bypass the blocked sites over Wi-Fi.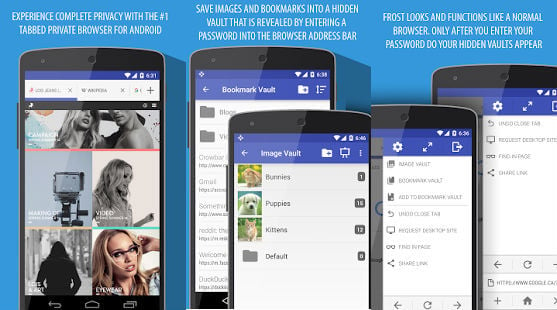 The app stops any act of snooping even if the app is open in the recent apps section. Frost Browser destroys web history as well as the cookies. No ads are there in web browsing and allow swift website loading. This browser packs a swerve of features that are rarely seen on several mobile browsers.
Key features: Adblocker | Always on incognito mode | Bypass the blocked sites over Wi-Fi | Download Frost Incognito from Play Store
6. CM Browser
CM Browser is one of the widely accepted best Android private browsing app. Many people know about Cheetah Mobile and their cool apps, CM Browser is one of them. Bringing a neat minimalist home screen along with unified address as well as a search bar. The browser is an open source application that is sized not more than 5 MB.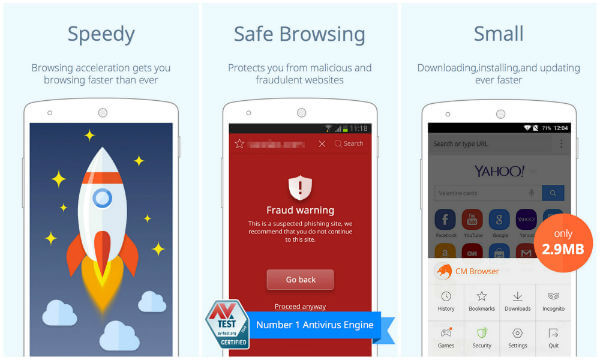 A preload mechanism is present in the app to speed up the browsing. CM Browser offers download protection scanning the files downloaded for malware. It also has a Do Not Track setting and offers prevention of frauds when browsing a site of fraudulent or malicious nature.
Key features: Open source | Download protection | Do Not Track setting | Download CM Browser from Play Store
Private browsing allows you to use the internet without any supervision. Whenever you browse in private, there is no history download or browser, cookies, form data or search data is stored in the browser.
Related: How to turn on private browsing in Mozilla Firefox?
It is easy to browse on an Android device, due to the presence of some best private browsing apps. As for secure browsers, there are many of them; we have lined some of the above to help you in the process. Why wait, install them and browse in private whenever you want to with ease.