Did you get a new Apple Watch? It is important to keep a backup of the old Apple Watch before you upgrade to the new Apple Watch. Before you switch to the new Apple Watch, you can backup the old Watch and restore data to the new Apple Watch when you walk through the new Apple Watch setup process.
Let's see how to backup the old Apple Watch and restore data to a new Apple Watch from the old Apple Watch backup.
How to Backup Apple Watch
Here we can create a backup of the Apple Watch. It is so easy, and we did this with Apple Watch 4. If you want to forcefully backup Apple Watch, you can follow the article here.
However, Apple Watch will take backup to the iPhone when you unpair the Watch from the iPhone. If you are going to upgrade your Watch, you can unpair from iPhone, and this process will create a backup on iPhone. Follow the steps below to unpair and store a backup.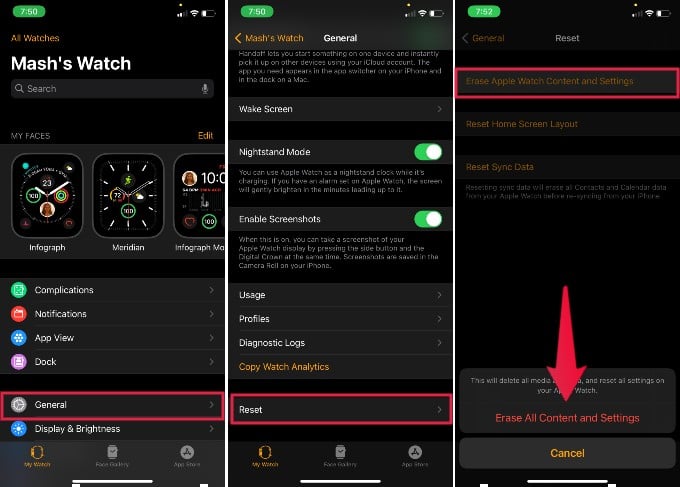 Open Watch app on iPhone.
Tap on General > Reset.
Tap on Erase Apple Watch Content and Settings
Confirm Erase All Content and Settings
Enter the Apple ID password to unpair Apple Watch.
Follow the screens to Unpair Apple Watch.

Now, Apple Watch creates a backup copy on the iPhone. The backup copy does not include Bluetooth pairing setting, credit card information, Apple Watch password, etc.
However, you will get almost all data backup except the sensitive information stored on Apple Watch. At this point, your old Watch is completely unpaired and removed from your iCloud ID.
Apple Watch Backup Includes
The backup will do all home screen layout, app-specific data, including your health, fitness history, system settings, notification settings, playlist, etc.
Built-in app data, app-specific information, and settings.
Home screen layout for Apple Watch
Watch Face Settings and customizations.
System settings, such as brightness, sound, etc.
Health and Fitness data, health history, workout, and activity.
Song playlists, albums, and music settings
Siri Voice Feedback setting.
Please see the Apple website for the complete list of data stored with Apple Watch backup.
Restore Backup to New Watch
Now, its time to set up the new Apple Watch. The backup data of your old Apple Watch will be stored in the iPhone memory. Before you start, make sure your new Apple Watch is charged enough, and follow the instructions below.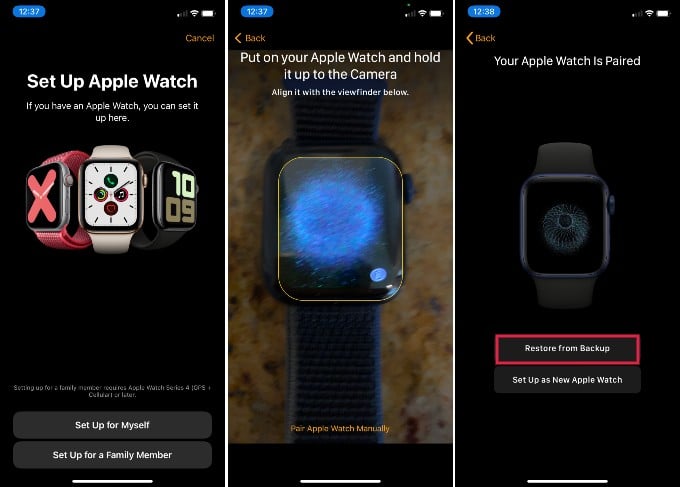 Open Watch app on iPhone.
Confirm Setup for Myself or Family Member.
iPhone screen will ask you to scan the code on Apple Watch with the iPhone camera.
Select Restore from Backup
Select the last backup from Restore from Backup screen.
Follow the screen to restore Apple from backup.

During this process, new Apple Watch owners may get a few additional questions. This comes with Apple Watch 6, which we used for the screenshots. The Bold Text & Size screen when you set up the watch as a new device. And you can use the passcode for additional security like your iPhone.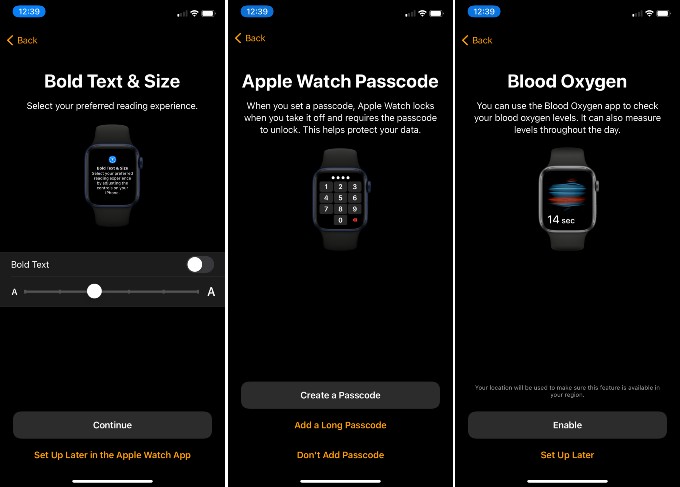 Apple Watch introduced a new future to measure the Blood Oxygen level. You will get a screen to set up the Blood Oxygen feature during the setup process. You can enable this to use in future use. You can check here how to check the Blood Oxygen level with Apple Watch.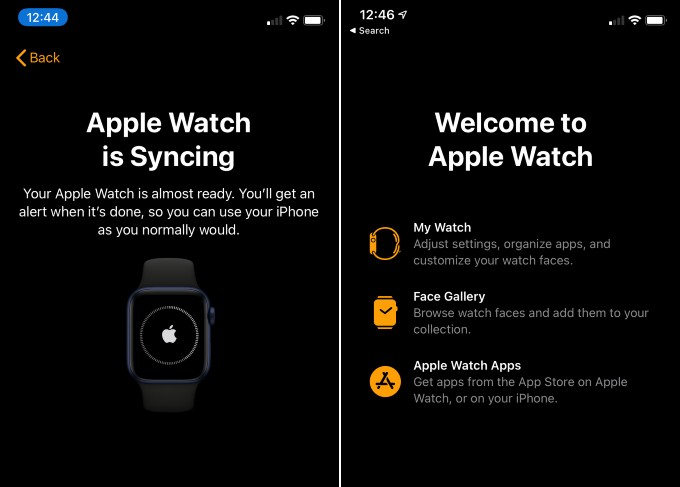 The Apple Watch will start to sync and will be ready after a few minutes. You can set additional Watch Faces and install new apps using Apple Watch or from iPhone.