Nowadays, it is important to track business growth 24×7 to run a profitable business. As time went by, competitions increase and working in front of PC or office might get inadequate. To take it forward efficiently, it is necessary to connect yourself with the outer world, clients and co-team members. The right set of software and business apps that matter to drive the business efficiently. As mobiles are substituting the generic PCs, it's the time to consider the new business apps to take the business forward efficiently.
Here we bring the top google business apps for Android that help to keep track of your business efficiently and comfortably.
Google Assistant
The Google Assistant is your digital assistant that can fulfill all business needs. This smart App is Google's very own voice-controlled smart assistant ideal for small business owners. You can directly access this best Google Assistant app by tapping on Android menu by long pressing the home button. For iPhone users, you can manually install the app from iTunes. Moreover, the Google Assistant recognizes your voice, and you can quickly open it by saying 'Ok Google, How is my schedule today'. Interestingly this app can be your own 'mini-Google,' which lets you make calls, send texts, set reminders, schedule meetings and anything that you need within seconds.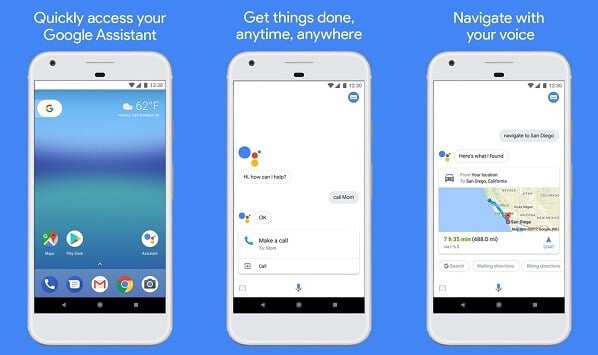 Google Assistant recognizes your voice and does it within the blink of an eye. This smart app also keeps up with business records, meeting schedules, client meeting, etc. The Google Assistant can help users to get updated with personalized pieces of information in the form of cards (as Google describes it). You can track stock market, Wallstreet Journal Headlines etc, right with a voice command. Moreover, Voice Assistant also reminds the traffic conditions and possible delays when we are about to leave without prompting.  Android devices with versions 6.0 and above have the Google Assistant pre-installed. If you use an Android device with a lower version, then its high time you take a look at it on play store.
Download from: Play Store | iTunes
Related: WhatsApp Business: How to Register, Setup & use Features for Business?
Google Trips – Travel Planner
Being a businessman, traveling will be your day to day affair. It will be necessary you equip a reliable and robust trip advisor or a trip planner. After quite a bit of analysis, we present you the Google Trips- Travel Planner business app. The Travel app from Google organizes essential trip info and location details all on a single platform. This Google business app combines activity suggestions based on what near to you. Also, this business travel app also connects travel data, trip day plans and travel reservations right from Gmail. In fact, its powerful trip organizing feature automatically organizes travel details including day plans, nearby attractions and saves your precious time.
Related: Save money with Google Flight Search and Google Hotel Finder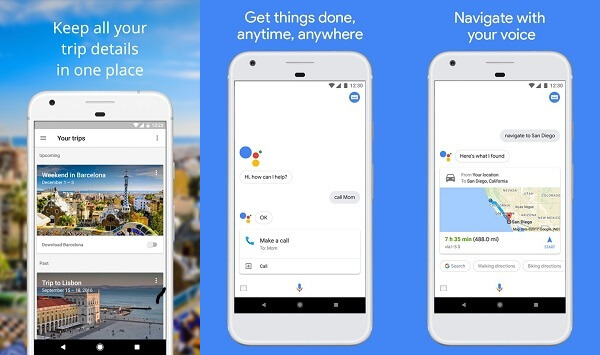 Another pro about this app is that helps to find the flight, restaurant and other bookings under specific categories. This makes it easy to find what you need quickly for a cheaper price especially the flights and hotels. The Google Trips-Travel Planner can prepare day plans based on your interest and easily find out the best cuisines and popular attractions with handpicked reviews. This Travel app from Google also has the offline mode which allows you to download specific locations and help you continue your navigation with only the GPS technology.
Download from: Play Store | iTunes
Google Wallet
This Google Pay app is a peer to peer payment service work perfect for iPhone and Android. With Google Wallet, it's quite easy to send and receive money and stand out from the rest of those E-wallet apps. The Wallet app can help to transfer money anywhere in the US even if the recipient doesn't have this wallet app. This Google Wallet app allows you to link up to 2 bank accounts. During the setup process, the app prompts you to link with either one of your existing debit card or bank account.  Moreover, this E-payment app can be used through PC by connecting through Gmail.
Related: A Complete Guide to Transfer Money Online with Email for Free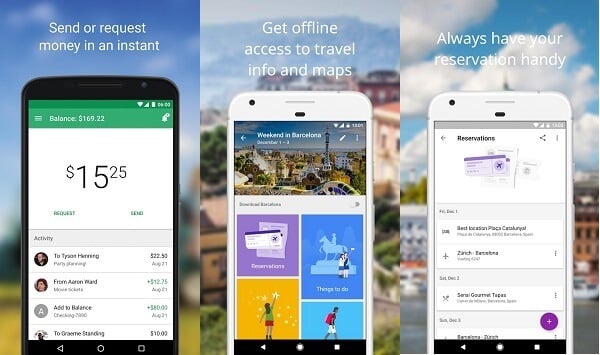 This Money Transfer app can also transfer money you receive to a debit card or bank account automatically. The new updated version comes with fingerprint and two-factor authentication hence making transactions highly secure. There is a limit on how much money you can add to the wallet and certain limits on transactions and money transfer per user (maximum $10,000).
Download from: Play store | iTunes
Related: Best 12 G Suite Products Helped my Business to Perform Well.
Google My Maps
The Google My Maps enables you to create custom maps for your personal use. In fact, both Google Maps and Google My Maps share the same mapping data. However, My Maps provides you the ability to create and customize your maps with markings, signs and even routes. The direction feature is helpful when you are on the road. Google allows you to share the map in either editable or non-editable form with your friends with the customized route. Although the Google My Maps supports sharing, it doesn't give route directions to the user.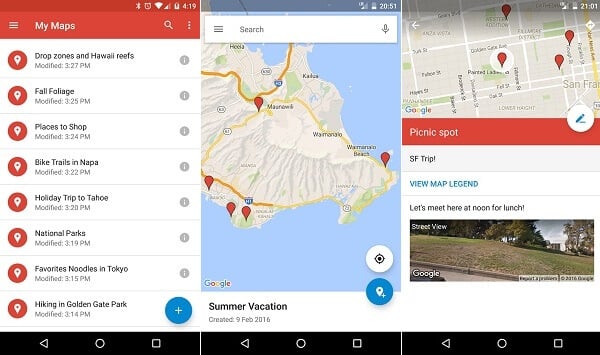 This Google app can give you street view, public transit, and point of interest locations, etc. efficiently. The latest update of the app also came with a new and robust user interface, which is different from the primary version. This mapping app also gives you the accurate measuring ability and other useful personalizing tools such as pining locations and navigations. The Google My Maps through the years gained the trust of millions of users worldwide. If you are a seasoned traveler or a businessman, it would be better to take a look.
Download from: Play Store | iTunes
Also Read: Google Local Business: Complete Guide to List your Business.
Google My Business
The next one in our list of best Google apps for business is the 'Google My Business.' This app is developed to meet the requirements of all the budding and amateur business people out there. This cool Google business app is a free and simple tool for businesses and organizations. With the Google My Business app, you can manage your online activities and preferences across Google, including Search and Maps. This business app allows you to upload, edit and verify your business information and improve your values online. It can also help you find new customers and share your business ideas and plans efficiently. With Google My Business, you can manage customer reviews, get custom insights on how customers are interacting with your business online and can help to build your brand.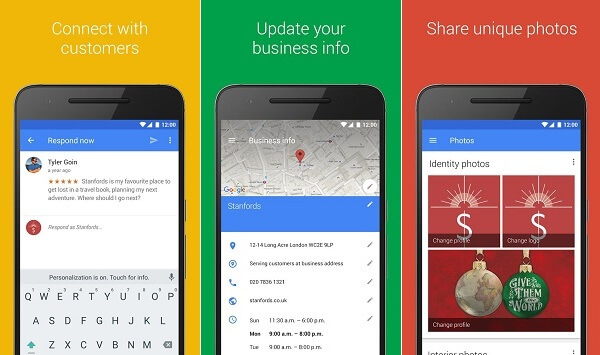 The Google My Business app formulates all your business information and forms a virtual brochure or a complete information booklet and shows to the world. This Google app also lets you manage multiple locations from one dashboard, and invite others to maintain your listing too. Hence, help you respond to customer queries quickly. So if you are a budding entrepreneur, this app surely will come in handy.
Download from: Play Store | iTunes
AdWords
The Google AdWords is one of the best apps when it comes to business. This Google app helps to stay connected with business related ads from anywhere using your Android or iPhone. With the Google AdWords app, you can quickly reach out to all potential customers around the world. One important point to be kept in mind is that this app is only for the existing AdWords users. New users need to sign in to their Gmail accounts for the first time.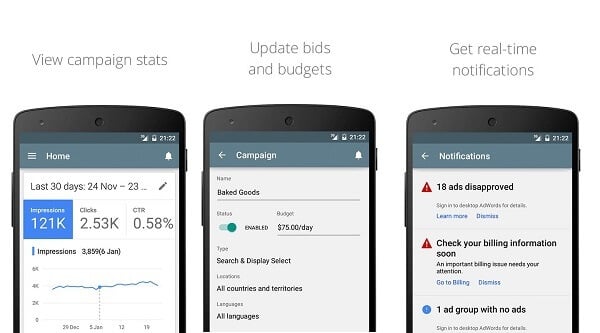 The Google AdWords let to initiate ads for website or business firms within your budget with no individual contracts. You can form all sorts of ads ranging from short text-based ads to video generated ads. This Ad app lets you use other methods such as graphic display ads, youtube video ads, and the improved in-app mobile ads. Google AdWords lets you view your apps daily viewership and reach. Moreover, the app gives periodic business related update and notifications and help take your business forward. The inbuilt stat viewer helps to formulate your business strategy according to data like website visits and ad viewerships. Moreover, this Google Business app gives access to tweak basic Ad according to viewer reviews and business needs.
Download from: Play Store | iTunes
Also read: Best Business Card Scanner Apps for Android
Google Primer
The next one in our list is the Google Primer. This app is developed exclusively for the growing business firms and people in India. According to Google, the primer is designed to teach business skills in India. This business tutorial app helps to understand the world of digital marketing with its officially approved teaching modules. The Google Primer gives you lessons on how to start a business, build a website, do SEO, run online ads, etc. free of cost. Moreover, with its simple UI and teaching modules, this app managed to gain a lot of confident users.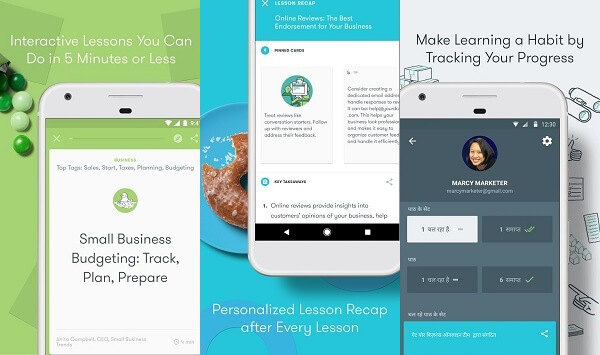 The new updated version comes with new modules that are grouped into curated sets. The new profile feature lets you track progress easily and help in accessing lesson recaps also. This Google app is now available in two native Indian languages. The modules are now available in Telugu and Hindi also. If you are looking for inspiration in digital marketing, then its high time you give this Google business app a try.
Download from: Play Store | iTunes
Whether you are an experienced professional or run a small scale or a large scale business, equipping yourselves with the vital business tools is necessary. The Google business apps can save your time while managing the business and extra time can be invested to expand the business. Have a look and chose the these excellent Google business apps for taking care of your business in future.