The new generation shares almost everything over the widespread social network whether they are the photos or messages. Regardless of the recent Facebook debacle, people are just migrating from one social network app to another to fulfill their social urge. The increase in the number of social network apps over the world has made the switch more convenient as well as simple for people. People are starting to wise up and looking for alternatives to the popular social network apps in order to stay social in the state of app breakdown.
Make the switch in an easy manner with the help of the tentative list we have below of the best social network apps for Android and iPhone users.
Present
Experience a new means of socializing with the people through Present social network app. Find things to perform as well as take part with people nearby through the app. Make new friends, which share your interests as well as chat and share photos with them. Know the parties, sports, hobbies, events and more through the app.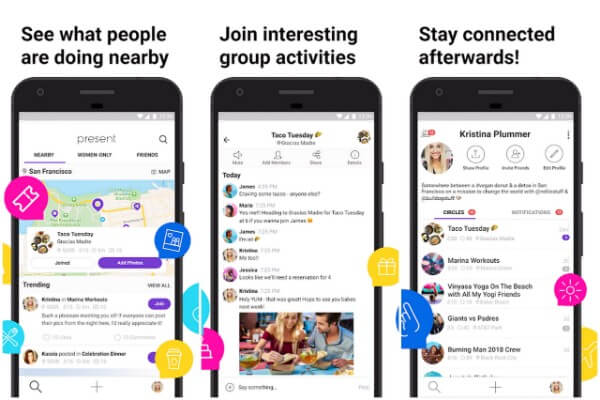 The real-time recommendation engine of the social network app takes into consideration a dozen of factors like distance, time and popularity. Aiming to bring local communities closer together by encouraging real-life interactions, Present works towards a happier and healthier place. Use the social network app to chat, share photos as well as to act together without any trouble.
Download from App Store | Play Store
Related: 16 Top Travel Management Apps for iPhone and Android
Amino
Explore, discover as well as obsess over the things in which you are into through Amino. Almost every community has great content with the friendliest of people. Chat with the people having the same mindset across the world as well as discover the communities for which you are passionate about. Get the latest news and information about your interests over the social network app.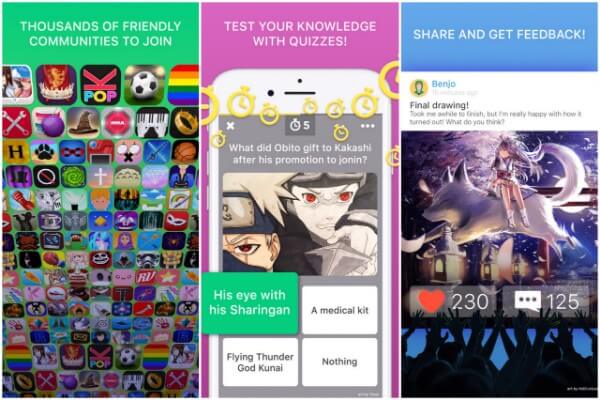 Publish and post your own blogs, polls as well as your profile as well as grow a following. Test your knowledge with the available quizzes available over the social network app whenever you want to. Select thousands of friendly communities to join for having fun.
Download from App Store | Play Store
Dribble
Discover as well as follow the world's best designer over the Dribble social network app. The social network app is designed with the mission to help the design talent around the world for sharing the creations. Coming with the latest job listings, use the app to share your creations to be hired through the social network app.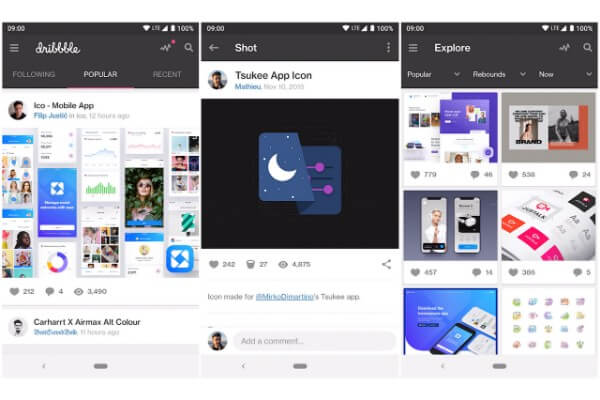 Coming with the feature to upload shots in the form of images or GIFs, you can easily raise your followers. Spare your eyes while using it in the night with the help of dark theme. See the designer's profile and follow them to see what they offer as well as to take inspiration.
Download from App Store | Play Store
Behance
Search as well as explore millions of projects made by the world's top creative talent on Behance. The social network app allows the user to browse the latest activity as well as the new work by the boards you follow. Along with viewing the creations of other people, you can easily share your latest creations to display the creative talent present in it.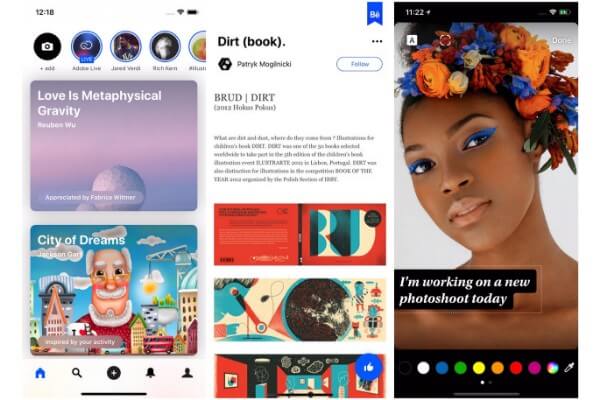 Follow the top creative on Behance and see what they appreciate present in the form of diverse categories. Access your profile, collections, and statistics on the work over the social network app.
Download from App Store | Play Store
Also Read: 7 Best AR Apps for iPhone and iPad
Litsy
Make friends with the help of books through Litsy social network app. It is the place to share as well as discover your favorite books along with the favorite people. Totally made for mobile users, the app captures your bookish thoughts with others without any issue.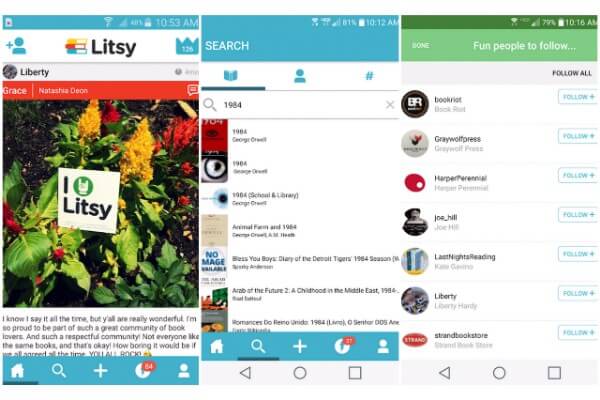 A spoiler free and easy to use app that motivates you to improve as well as add to your book-reading stack. Enhance your experience of reading a book by sharing the joy of reading it with friends through the social network app. Create short posts that have your reading moments and link these posts to one book at a time.
Download from App Store | Play Store
Product Hunt
Product Hunt is a great app for discovering your next favorite product that showcases new products as well as applications. It is the place to share as well as tell out the others regarding the latest trends in the tech. The users can easily upvote as well as download your favorite findings over the social network app to approve them.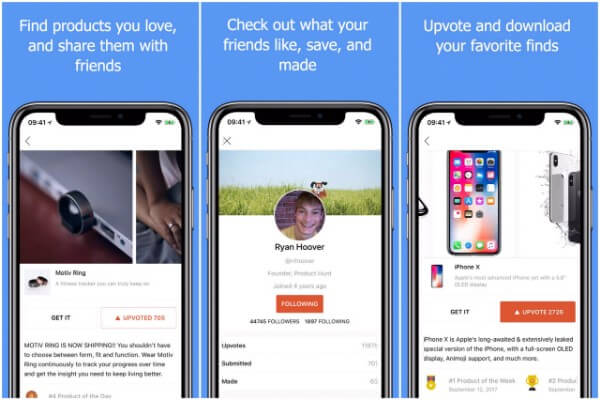 See what your friends like, save as well as make them view your favorite products. Functioning as a global community of founders, journalists, investors as well as makers, the social network app is a great place to know and inform about new things in the world.
Download from App Store | Play Store
Related: 5 Best Budget Apps for Couples to Manage Personal Finance
Meetup
Bring people together with thousands of cities for doing the things that matter to them through Meetup. The main aim of meetup social network app is to bring people to act, explore, teach and learn together. Organize meetup for various purposes in order to achieve certain common goals. Any person wishing to organize meetup must subscribe through the app.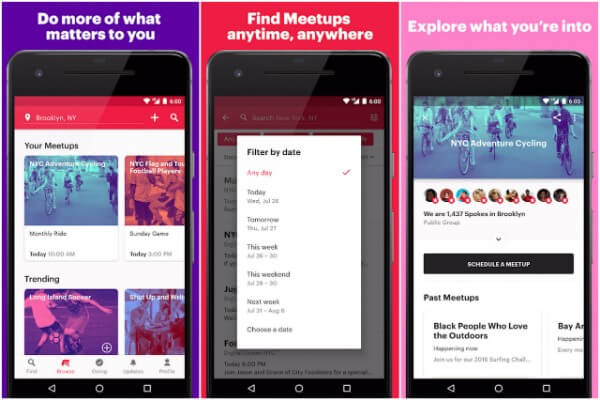 Meetup has unlimited plans that are divided into 1 month as well as 6 months. With the help of organizer subscription, you can easily create up to three Meetups with an unlimited number of members as well as co-organizers. The user can easily explore what they are into and perform what matters to you.
Download from App Store | Play Store
Quora
Discover the Q&A stories tailored to your interests on Quora. Read the high-quality answers in your favorite topics and know what you do not know. Empowering people to share as well as grow the knowledge of their surroundings, the social network app serves as a place to understand the world in a better manner.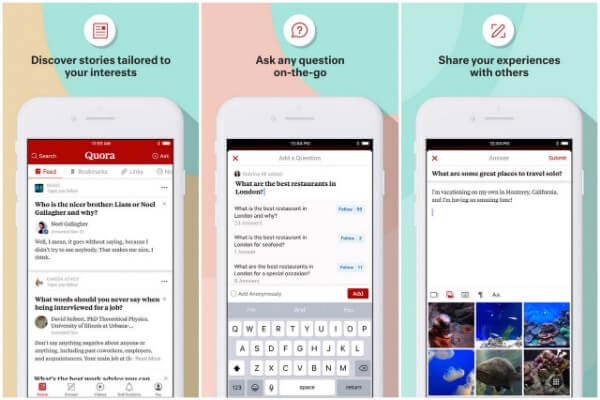 Ask a question and get helpful answers from people all around the world. Follow the topics as well as browse quality content to learn from credible people having great knowledge. You can also answer the question and share your knowledge with the people present on the app.
Download from App Store | Play Store
Wisdo
Wisdo serves as a guide for life where you can find as well as connect to people who have witnessed the same. Share your unique story as well as tell others about it to bond with more helpful people to make the road ahead clear. Discover the benefit of connecting with people having similar experiences.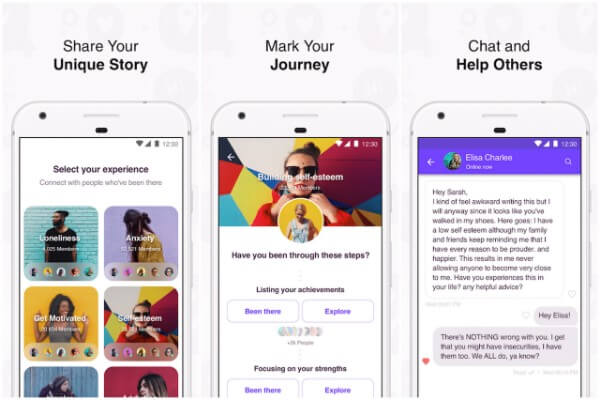 You can easily chat with others as well as have private conversations to learn from or guide them. Make your life better when you connect with others. There are many groups on Wisdo social network app to connect with the special person to help as well as comfort your mind and body.
Download from App Store | Play Store
Also read: How to Mute Words and Phrases on Twitter
Reddit
Powered by people, Reddit features the communities that can make people laugh, think and discuss the things off. Share your passion for your favorite books, movies, video games as well as others to make most of the platform. The social network app is free as well as open for all to post, vote and discuss about anything.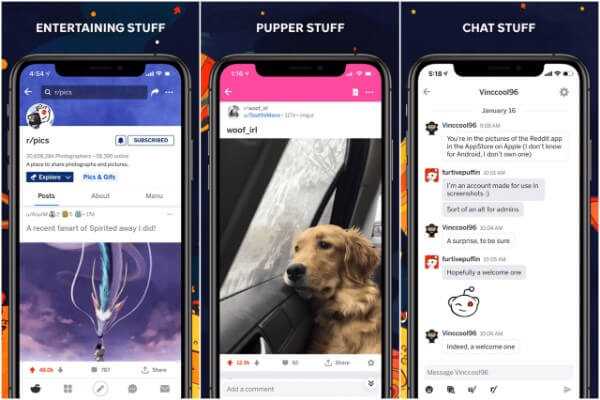 The official Reddit app allows you to keep with the most recent trends roaming over the internet. Get a socially curated as well as constantly updated with the topics that are most relevant for the people. You can easily upload as well as post memes for contributing in your own manner and help other people.
Download from App Store | Play Store
Best Apps for Social Network
Instead of the popular social network apps, you can easily access the ones that can surely fulfill your socializing crave. Lurking from the shadows, these social network apps have a large set of features that can easily satisfy your interaction with friends and others. Explore as well as experience with friends and family without any fear of your data and comfort.
The means of using the social network app is changing with each passing day. The trend of social networking apps is undoubtedly going to move forward as time moves. Old social networks are dying and are taken over by the new ones, as well as the popular ones are facing stiff competition from the emerging network focusing on other things. Future of social networking is vast and covers a wide range of social interests targeting a wide number of audience.