Android offers a variety of sound and voice recording apps to choose from, each with its own unique features and functionalities. Whether you're looking to capture audio for personal or professional use, these apps provide high-quality recordings that are easy to store and share. Whether you're a musician, journalist, or just looking to keep a voice memo, we've got you covered with the best sound and voice recording apps for Android.
Today we are talking about Sound and Voice Recording apps. We will be listing down the best sound recording apps that you can install on your Android device. Read on.
Recorder by Google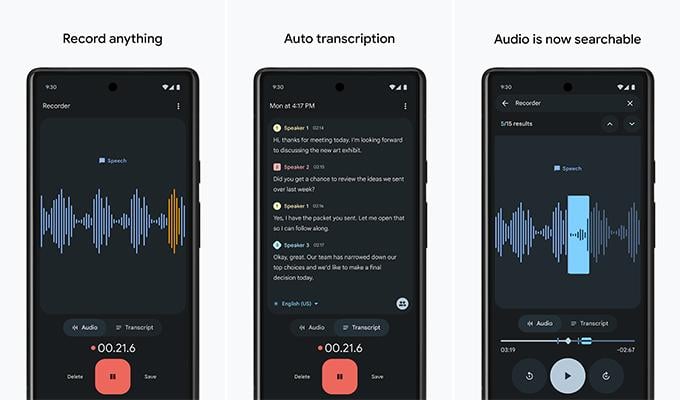 Google has a large number of apps and services that you can use. This is because most of the apps from Google are stable, work perfectly and have the features that users want. Also, the added benefit of the app is that it's free to use and has zero ads. The Recorder app for Google lets you not only record audio but also lets you transcribe the audio into a number of supported languages.
Recorder by Google also automatically sets labels to the recordings. If you want, you can allow the app to detect your location and then add location tags to the recording. There are dark and light modes for you to choose from. Recorder by Google also has athe ability to backup and sync your recordings to services signed in with the same Google account.
Pros:
Simple User Interface
No Ads
Cons:
Unable To Change Recording Audio Format
Key Features: Dark Theme | Backup and Sync | Transcribe On The Go |Location tags For Recordings | Very Simple User Interface | Ad Free | Free To Use
Download from PlayStore: Recorder by Google (Free)
Easy Voice Recorder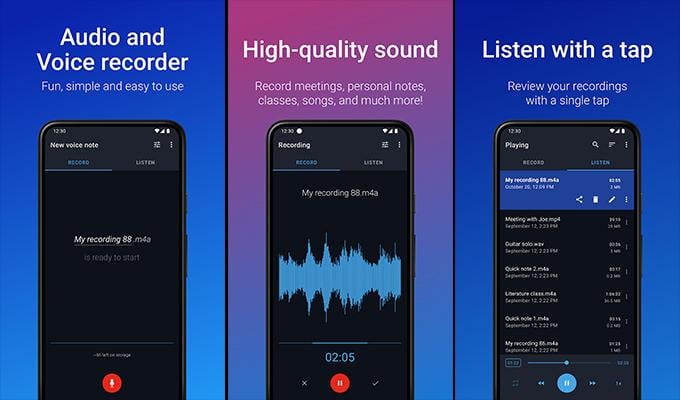 Easy Voice Recorder is another great app that is installed by a lot of people daily. The reason is simply its ability to record and produce recording outputs at high audio qualities. Whether you are a student or a person looking to record interviews and meetings, the app records the audio clearly. When it comes to recording playback, you can choose between having or slow playback speeds. Easy Voice Recorder also lets you choose the recording format from a given set of options.
You can choose different recording modes between Voice Notes, Meetings, and Music recordings. One cool feature of this recording app is that you can directly set a recording as the ringtone for your mobile device. For quick recording access, you can set up recording widgets on your device's home screen.
Pros:
Basic Unser Interface
High-Quality Audio Output
Cons:
Additional Features Locked Behind Paywall
File Import and Audio Boost Requires Premium Version
Key Features: Dark Themes | Audio Recording Formats | 3 Audio Recording Modes | Set As Ringtone Option | Record Using Androdi Smart Watch | No Time Limits | Widget Support
Download from PlayStore: Easy Voice Recorder (Freemium)
How to Use Voice Typing in Google Docs
Otter: Transcribe Voice Notes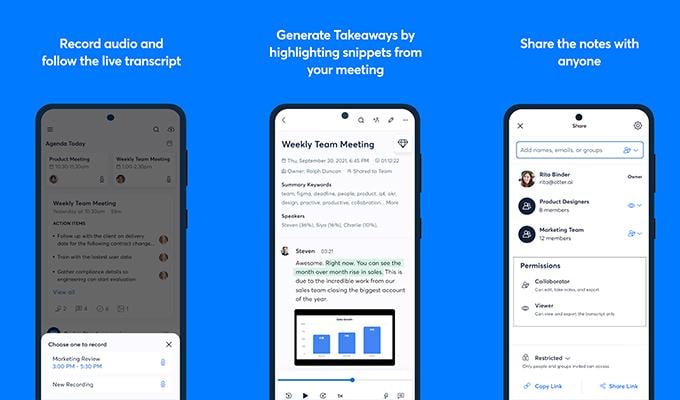 Otter is not just about recording audio. It also deals with the ability to transcribe meetings and interviews. The Otter recording app also has the ability to automatically record meetings. The app is also able to share the minutes of meetings and the summary of the whole meeting. Otter is also beneficial for the hearing impaired as it provides live captioning on the go. The app also has widgets that allow you to record audio instantly from your home screen.
You can also take down notes with Otter. The AI within the Otter app helps to arrange and organize your paragraphs. With the Otter app, you can easily search through the transcribed text without having to listen to the whole audio recording. The transcribed text can be edited, highlighted, and tagged with speaker names.
Pros:
Easily Record and Transcribe
Edit Transcribed Texts
Cons:
Will Not Wok well With All Accents
Live Transcribe Can Have Some Issues
Key Features: Live Transcribe | Record All Types Of Audio | Create And Share Notes | Create Snippets and Summaries |One Tap Actions | Automated Meeting outlines | Easy Share | Sync Notes With Calendar | Search Through text | Export as PDF, TXt or SRT | Skip Silence in Audio Recording
Download from PlayStore: Otter: Transcribe Voice Notes (Freemium)
Dolby On: Record Audio and Music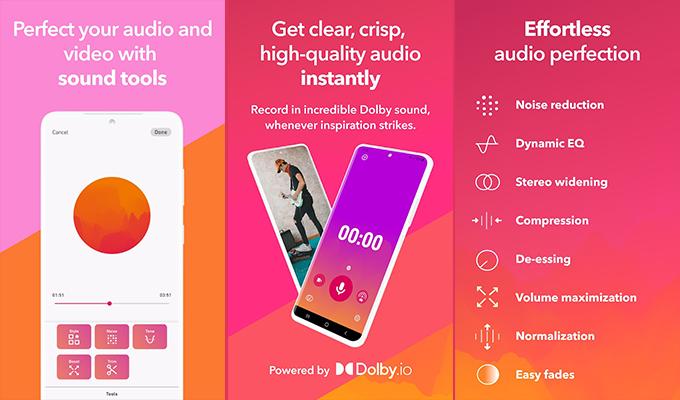 Dolby is a well-known household name when it comes to audio products and audio technology. With the Dolby On recording app, you will be able to record all audio and get the output in high audio quality. Whether you want to record podcasts, live music, or voice, the Dolby On app works perfectly. Since this is a Dolby app, you get all the cool features such as noise reduction, spatial audio, and even adjust audio EQs.
Dolby Gn ensures that you don't get any unwanted noise captured in your recordings. This app also helps eliminate the need for dedicated audio recording equipment. The app has a number of audio effects that you can add to your recorded audio. Dolby Go lets you also export these audio recordings to popular platforms such as TikTok, Instagram, and SoundCloud.
Pros:
Simple To Use
No Ads
Free To Sue
Cons:
Not Beneficial For Basic USes
No Transcribe Option
Key Features: Noise Reduction | Dynamic EQ | Stereo Widening | Audio Compression | De-essing | Volume Maximization | Normalization | Easy Fades | Audio Effects | Quick Share | Remove Background Noise | Livestream With Pro Audio | Ad- Free | No In-App Purchases
Download from PlayStore: Dolby Go (Free)
How to Delete Android Phone Activity & Disable Google Voice History?
ASR Voice Recorder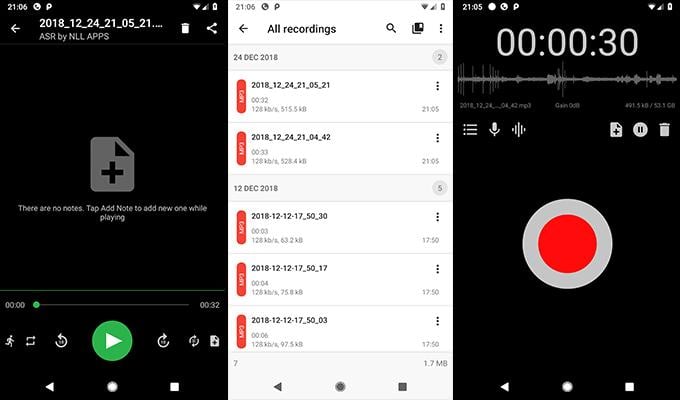 ASR Sound Recorder is a pretty good sound recorder for Android devices. This a recording app that lets you record audio in a good number of audio formats. ASR Voice recorder also allows you to group your recordings by labels. If you have unwanted parts of the recording you can easily edit the audio file and save it. You also have the ability to skip the silence that usually takes place in meetings, lectures, or conversations.
ASR also lets you adjust the sample rate and bit rate quality for your audio recordings so that you can choose between saving space on your device or getting the best audio quality outputs. If you don't want anyone to find out that you are recording a conversation, the app supports background recording and playback.
Pros:
Completely Free
Dark and Light Mode
Cons:
No transcribe option
No Locatin-tagged Recordings
Key Features: Dark Mode | Group By Recordings | Adjust Playback Speeds | Skip Silence | Audio Convertor | Multiple Audio Formats | Adjust Samples and Bit Rate | Recording Widgets | Record Via Bluetooth Mic
Download from PlayStore: ASR Voice Recorder (Freemium)
Smart Voice Recorder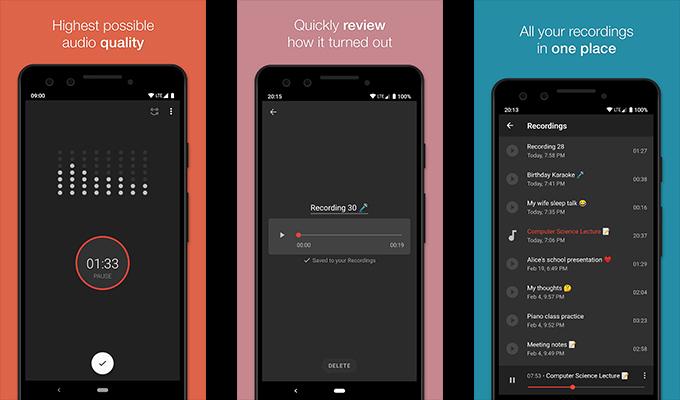 As the name of the app suggested, the Smart Voice recorder app records all your audio in the highest quality possible. Once you are done with the recording, you can easily listen to the preview of the recording. The smart feature of the app is that it automatically will skip the silent parts in the recording. This helps to reduce the size of the file. You can choose between WAV and PCM audio formats and adjust the sample rate too.
Smart Voice Recorder also ensures that it doesn't use too much y=of your device's battery. You can also choose to keep the app to continue recording when the app is running in the background or even if the screen is off.
Pros:
Minimal Design
Simple Button Controls
Cons:
Recording Size Limit Upt TO 2 GB
No Transcribe Options
Key Features: Clean UI | PCM and WAV Audio Quality | Silence Skip | Audio Recording Previews | Quick Share | Background Recording | Audio Spectrum |Battery Efficient | Record From Device Launcher
Download from PlayStore: Smart Voice Recorder (Free)
12 Best Google Voice Features you Never Heard Before
Samsung Voice Recorder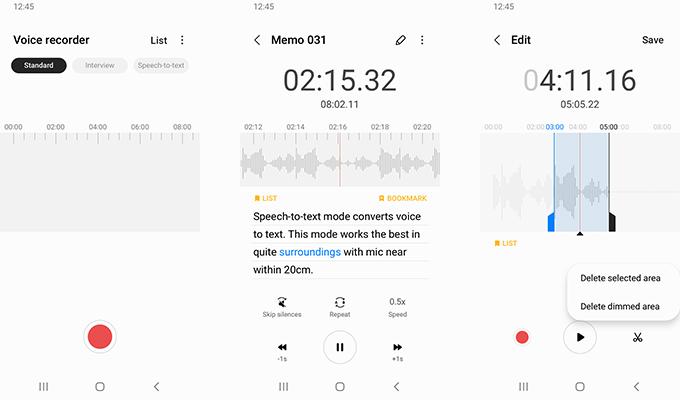 Since Samsung devices are quite popular, the Samsung Voice Recorder app makes it to this list. This is the stock Samsung voice recorder app that is present on all Samsung devices. Even though this is a stock app, the recorder is rich with features. You get a high-quality audio recording with the ability to edit the recording file. The Samsung recording app also has a voice meme option that transcribes your voice into text and share it easily.
Samsung voice recorder app has three different recording modes. This is the only recording app that lets you choose where you want to store your audio recordings. You can choose to bookmark parts of the audio recording that you want to save or listen to later. To enable background recording, you need to press the Home button on your device.
Pros:
Pre-installed on Samsung Devices
Background Recording Supported
Cons:
Only For Samsung Devices
Unable To Tag Location Data To Recording
Key Features: Dark Themes | Free | Ad Free | Media Controls For Recording Playback | Edit and Rename Audio Files } Bookmark Parts In Audio Recording | Choose Between External or Local Storage For File Saves | Bluetooth Mic Recording
Download from PlayStore: Samsung Voice Recorder (Free)
These are the best Sound and Voice recorder apps you can install on Android devices. As a Samsung user, the default Voice Recorder app that comes pre-installed on these devices is perfect. For other non-Samsung devices, you can choose between using the GRecorder by Google app or the ASR Voice Recorder. Both of these recording apps have good features and are simple to use.
With the numerous options available, it's essential to consider the features and functionality that are important to you, such as recording quality, editing tools, and file-sharing options. By choosing one of the best sound and voice recording apps for Android, you'll easily capture and share audio. Whether you're recording a podcast, composing music, or want to keep a voice memo, there's an app that's perfect for you.