The telemarketers and spammers callers are really annoying. You get spam calls from different unknown numbers (even with the same area code) to your landline and even mobile. So, merely blocking one or two callers does not actually solve the entire issue mostly. The situation becomes worse when the phone is used by senior citizens, that there is a bigger chance they will get scammed. The only solution for this is to block or silence the calls from unknown callers and allow callers from your contacts only.
In this article, we are discussing the various ways you can silence or block unknown numbers on your landline, Android or iPhone.
How to Block Unknown Numbers on Landline
Blocking contacts using your smartphone is a no-brainer for most f the regular users. However, it is not the same case when it comes to a landline. Even though service providers offer call blocking for certain numbers by pressing "*6", you might need a hardware device to block a list of people and manage them later.
You can now buy a variety of landline call blockers and screening devices. Many of them are standalone land phones, and some are smaller units to be connected with your existing land phone.
Although, most of these hardware call blockers are designed to block calls from several numbers, and you have to manually add scammers to the backlist after each call. This does not fulfill what we want.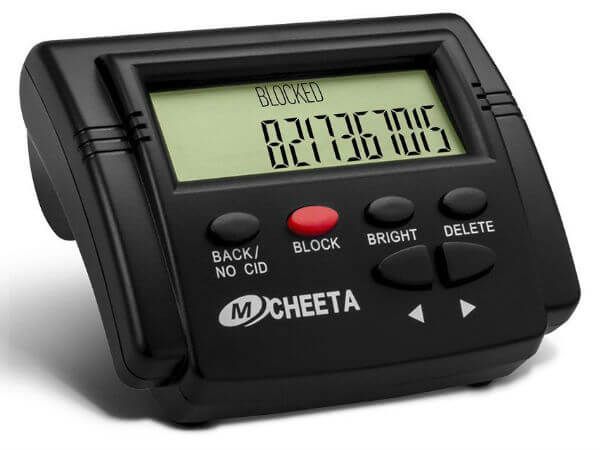 As mentioned above, if the telephone is being used by someone who is amnestic, it is important to avoid every call, except for a very few selected. Unfortunately, you cannot add whitelist for allowed callers and blacklist every other caller in most of the call blocker devices out there.
The MCHEETA Premium Phone Call Blocker is a device that lets you add users to the whitelist and block or silence unknown callers. You can simply block all the incoming calls on your landline by tapping the BLOCK button on the device.
The whitelist feature allows you to receive calls from the selected contacts, and calls from any other numbers will be blocked or rejected instantly. The device can protect your family and senior citizen from being scammed by fraudulent people. Have a look at our guide to the robocall blockers for landlines if you want to know more about similar devices.
Silence Unknown Callers on iPhone
The number of scammers and fraudulent calls is not that bad even if you are using smartphones. In order to keep the telemarketers and spam calls away, Apple has introduced a feature on the iOS 13 that silences the calls from unknown numbers.
If you are having any latest Apple iPhone models wit iOS 13, you can easily enable this feature. Once you opt to silence unknown callers on your iPhone, incoming calls from those who are not in your contact list will be silenced and will be redirected to the voicemail. The iPhone will ring only for the calls from the people in your contact. Here is how to do it.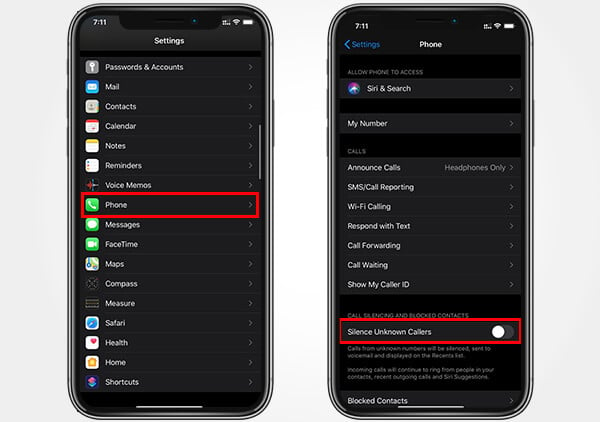 Launch the Settings on your iPhone.
Scroll down and tap "Phone."
Switch on the "Silence Unknown Callers."
This will block unknown numbers by silencing their calls. The calls will direct to voice mail without bothering you. Your phone will ring only for known numbers that saved in your contact list. This is an ideal solution for senior citizens, who does not want to get bothers for all unknown calls and marketing calls.
Related: How to Block A Number on iPhone from Calls & Texts?
Filter Unknown Messages on iPhone
It is quite annoying to get alerts on the to of spam messages we receive every day. The Message inbox is always filled with junk messages and unwanted marketing SMSs. Were you looking for a solution filter out them and keep only wanted chats on the Messages app on your iPhone? Well, here is a solution for the same. You can filter out the messages from unknown senders on your iPhone. Here is how;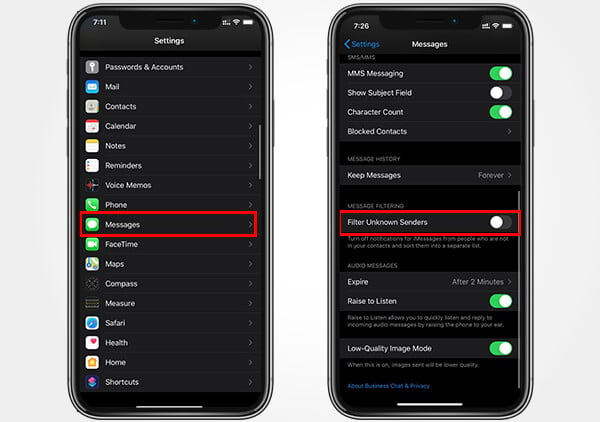 Open Settings on your iPhone.
Go to Messages.
Toggle on "Filter Unknown Senders."
Now, you can go back to the Messages app and you will find the filtered messages in a new tab named "Unknown Senders." The other tab, Contacts & SMS, will contain all your regular chats and the contacts you are familiar with. Every other marketing SMS and Messages from unknown senders will be moved to the Unknown Senders.
Ignore Unknown Calls on Android
If you are using an iPhone, you can easily silence unknown callers as mentioned above. However, the same option is not available directly on most of the Android smartphones. But, there is some workaround you can apply on your Android smartphone. The Do Not Disturb or DND feature on your Android smartphone is designed to silence all calls, notifications, and alerts. By using the same feature, but with a customized preference, you can ignore every unknown caller on your Android smartphone.
The DND feature on most of the Android devices is the same, even though the skin differs from vendor to vendor. If you want to know how to ignore or block unknown numbers from calling you on your Android smartphone, follow the below steps.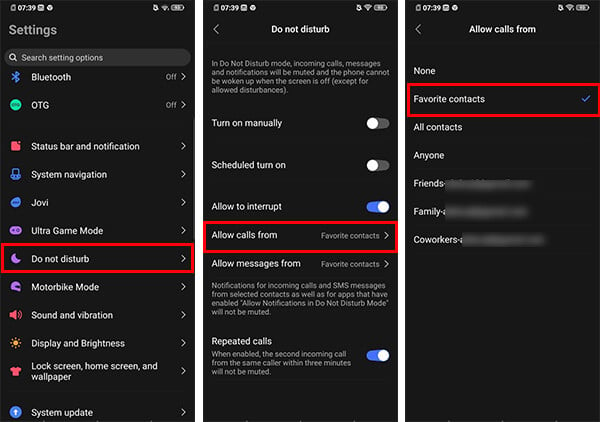 Open Settings from your Android smartphone.
Go to the "Do Not Disturb" option from the Settings window.
Toggle on and enable the Do Not Disturb feature on your mobile.
Tap the option "Allow calls from."
You can choose "Favorite Contacts" or "All Contacts."
Once you enable the DND feature with allowing calls only from your contacts, all other calls from unknown numbers will be silenced or ignored. If you enable the "Repeated Calls" from the DND, your phone will ring if the caller calls back within 15 minutes of the first call. Since the calls from other unknown callers are ignored or silenced here, users, especially senior citizens, will not be bothered with the ringing. This can avoid scammers to a big extent.
Block Unknown Callers on Android
The Do Not Disturb feature on your Android smartphone is designed to avoid and ignore unknown callers. It does not block the people from calling your phone. Therefore, it will somehow bother by the screening, even if your phone dies not ring. If you completely want to block the unknown callers from calling your smartphone, the DND alone might not help.
Some Android devices do have the Motorbike or similar accessibility modes that will help you auto-reject calls. However, as a universal solution, you will need to make use of third-party tools to set a whitelist. These apps can block calls from every other number except the ones add to the whitelist.
The "Calls Blacklist – Call Blocker" is a lightweight utility app you can use on your Android smartphone to block calls. The app can allow calls only from your contacts and block others. Here is how to block unknown callers on the Android using Calls Blacklist app.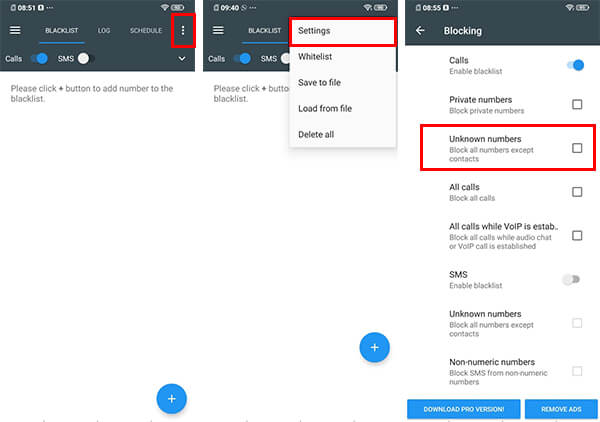 Download and install the "Calls Blacklist – Call Blocker" app on your Android smartphone from Google Play Store.
Open the app and grant the required permissions.
Tap the three dots icon at the top right corner.
Tap "Settings."
From the Settings panel, check the option "Unknown Numbers."
Once you enable the feature, the Calls Blacklist app will constantly look for the calls from unknown numbers. If any found, it instantly rejects and blocks the caller from calling you.
Related: 8 Best Caller ID Apps for Android to Identify Incoming Numbers.
Answer Mobile Calls Using Your Landline
It is not that easy to teach your old parents or grandparents how to use a smartphone to make and receive calls. Especially, when the smartphones are oo focused on touch gestures, they might find using it difficult. However, picking up a telephone receiver is quite a normal thing for them. If you have already bought a smartphone for them, and just want to switch back to the landline, don't worry we got your back.
You do not have to replace your new smartphone with the old landline. Instead, you can convert the smartphone itself to make it receive calls on a telephone. With a special add-on device, you can simply direct all the incoming calls on your smartphone to the landline.

The Cell2Jack is a Cellphone to home phone adapter, that can instantly convert your smartphone into a landline. You can simply connect your landline and smartphone using the Cell2Jack device and start receiving calls. If you have a wireless home phone, you can still carry it around the home and get calls when your phone rings.
If you have been planning to switch back to the landline for your grandparents, you simply can install this device without even replacing your smartphone. At the same time, you can use the unknown caller blocking options on your smartphone, so that it will only direct the calls from people who you know.
You can apply any of the above-mentioned methods to block unknown callers to your home. It is important to protect your family, especially senior citizens, from the fraudulent calls and scammers. Share your thoughts as comments.