Nowadays, Car Dash Camera videos are getting very popular on YouTube and other video sharing platforms. This is a Car Dash Camera Optional buying guide for those who are shopping around for a new car dash camera. For those who landed on this page, please refer to the main Dash Cam features we already discussed in an article Car Dash Camera Buying Guide – 7 Things You Should Know.
However, for those who are interested to read about the additional features offered by Dash Cameras in the current market, this is a must-have buying guide to refer to. Most of these features described in this buying guide are optional and not mandatory. There is no need to spend money on these features and invest carefully. Please consider this as a secondary optional buying guide for a dash camera.
Dashcam Battery in Hot Climate
The Dash Cameras in the consumer market is rated with a maximum working temperature of 60°C/140°F. Dash Camera is supposed to expose sunlight and may raise the internal Car temperature more than 100F. There are two choices for Dashcams with high working temperature.
Lithium Iron Phosphate Battery:
Lithium Iron Phosphate Batteries are safer than Lithium batteries in a high-temperature environment.LiPo batteries are more reliable, robust and less chance for explosion or fire compare to Li battery. The downside is LiPo has a short life due to continues expose to heat.
Capacitor Power Supply:
There are a few Dash Cams (labeled with C suffix) are coming with Capacitor instead of Battery. Capacitors can condition and backup the power for a short time. These types of Dash Cams are only good where you have an uninterrupted power supply and high-temperature places that cause battery explosion.
Date& Timestamp on Camera Recording
This is going to be an essential feature while you are presenting your videos as a piece of legal evidence to prove the history of an accident. By default, most cameras can record time and date.
Before you start recording the first time, please set your local date and time properly and make sure the timestamp is inserting into your video footage. Once you activate timestamp, you will be able to see the date and time on your dashcam display and video footage.
Based on my experience, there are a few cheap cameras available in the market, and those are resetting the time to a default value when you start your vehicle. In these cases, better to hide date and time from your video recording than printing a wrong date.
Motion Detection & Impact Sensor
Many Dash Cams have built-in accelerometer / G-sensor, which can detect any sudden impact or acceleration of your vehicle. These advanced dash cameras can record videos whenever your car involved in a sudden impact. These videos can store in a specified location, where those videos will be protected from automatic overwriting.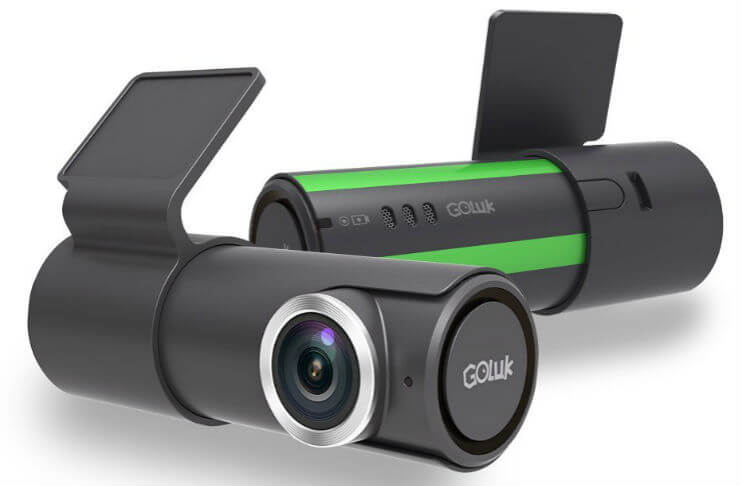 Image credit: Goluk T2 FHD Dash Cam from Amazon.
This Motion detector feature will kick on if somebody hits on your parked car. The cam will detect the impact and turn on the camera and record the video itself for a certain time, ideally a few minutes.
But even in this case, there is a turn-on delay (near to one minute) for the Dash Cam to start recording. Ideally, these low battery backup Dash Cams will not be able to record the video for a long time. This feature may be helpful in the hit and run cases; your cam will keep the crucial records for you.
CarDash Camera Display
Don't invest much in the high-end or large dashcam displays. Typically, you are going to use the display only one time, in the beginning, to set and configure the camera features and format the memory card. You may need to adjust the camera angles by seeing the dashcam display.
Other than that you are not going to use the display every day like your smartphone. The ultimate aim of this type of camera is to save the video while you drive into an SD card with a good resolution.
Built-in GPS Module
This is the high-end feature, and that cost you more if you need a built-in GPS chip with your camera. With GPS Chip-enabled dash cameras, those can calculate and record your speed, location details, etc. This will help you to get legal proof of incident with vehicle location, speed, and route in addition to the timestamp.
Don't waste your money if you are not seriously worried about recording your speed and sometimes it may bite you back. Built-in GPS cameras are expensive than normal dash cams.
KDLINKS DX2 Dual Dash Cam is offering 1920×1080(front) and 720P(rear) camera recording resolution with GPS with a bit higher price. We listed GPS Dash Cams that are built with GPS to record Car Speed and Location with the Dashcam video footprint.
Dashcam with GPS Map
GPS manufacturers are trying to bring Dash Cam into their products and combined MAP application with Dash camera as All in One Device. Garmin launched the model DriveAssist 51 NA LMT GPS Navigator System with Built-in Dash Cam.
The Garmin comes with Camera-assisted Alerts, Lifetime Maps and Traffic, Smart Notifications, and Voice Activation. The benefit of these models is you can enjoy the feature of MAP and GPS features while recording the street video with a built-in video cam.
Memory Card Recording Format
The expensive Dashcams can support compressed video formats like MPEG-4. The Dash Cameras those are supporting compressed formats can record more time on the same size of memory card. Make sure you are buying a class 10 SDHC card, higher class means the SDHC card can read and write at a higher rate/speed.
Dashcam Recording Segments
This is not an important feature that you want to worry about when you select your cam. The Dash cameras are recording videos in small segments like 3 minutes, 5 minutes, etc. The cam itself split the videos into these small lengths while recording.
By default, your dashcam will create a folder for each day and save these three minutes or five minutes of length videos for each day. You will not lose any data between these splits. Instead, you will get the same sample of a few milliseconds length video at the end of one segment and the beginning of the next segment.
Night Vision Support
None of the cameras in the market are perfect for night recording. But they are offering night-time recording with Infrared LEDs, and those can record in a better clarity under the street light.
Battery Backup Time
No need to worry much about long time battery backup unless you are planning to use a Dashcam for a regular video shoot. Remember, your dash camera is going to utilize the power from the car battery; in that case, five to ten minutes of inbuilt battery backup will be more than enough for your needs.
There is one more situation where your Dashcam is going to work on battery. That is Motion Detection / Impact Sense recording time that we described below in detail.
Dashcam Snap A Photo Feature
While recording the video on the road, you can take still pictures with a single click. Good cameras are offering to take instant photos while you drive just with a single touch of a dedicated button. I am not sure how comfortable you will be to tap the snap button while you are sitting behind the wheel.
Dash Camera Operating Temperature
The performance of the camera sensor and other electronic circuitry heavily depends on operating temperature. When you park your car in open space, the internal temperature can rise and affect the quality of the recording and the internal Came circuitry. We noticed that few cameras are recording blurred images if the Cam exposed to sunlight and baked for a long time.
I hope this Car Dash Camera buying guide brings you some additional insight into the mandatory features and optional features. Now it is your turn to decide the money you want to spend for a dash camera with the optional features you want to get.