The Now Playing feature on Google Pixel tells you what song is playing around you right on your lock screen without even having to do anything. As an addition to the same, you can now create a playlist from Now Playing history on Google Pixel phones. All your previously identified songs will be available and you can make a playlist out of them.
Read now how to create a playlist of identified songs in "Now Playing" on Pixel phones.
Create Now Playing History Playlist on Pixel
Pixel phones get the latest update that brings the feature to the users. You can use the feature from the latest update to create a playlist from the Now Playing hitory. If you think you do not have the update, head to Settings > System > Advanced > System update and manually check for it.
Now Playing is a feature that is enabled by default on Pixel phones. This means whether you know it or not, your phone has been identifying music around you for a long time. So, unless you have previously disabled the feature, your phone should have a history of all the identified songs.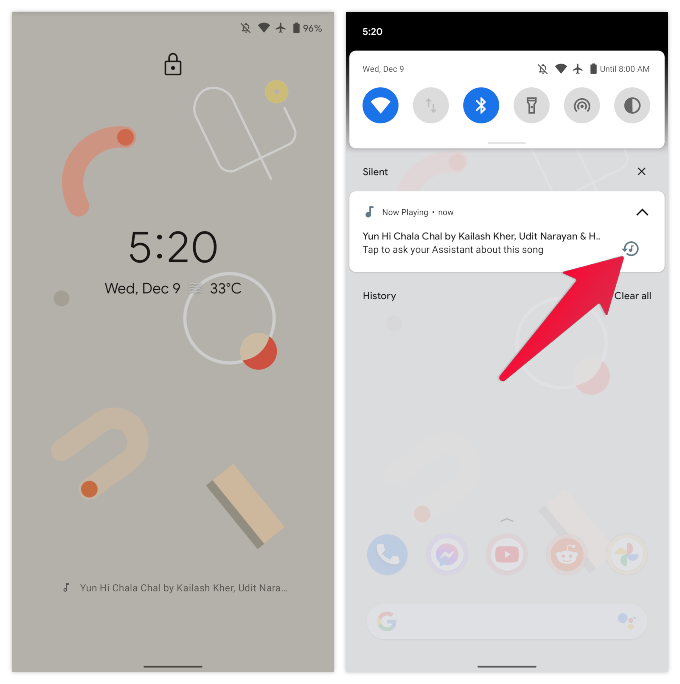 Open Settings on Pixel phone.
Select Display.
Tap Advanced to expand the list and select the Lock screen.
Select the Now Playing option.
Next, select Now Playing History.
Here, you'll find a list of all the songs identified, neatly categorized by time.
If you want easier access to Now Playing History, select Yes at the top of the page. 
Next, select Add automatically to have the icon appear on your home screen. 
Long press on a song that you want to add to your playlist. This activates selection mode.
Tap to select any other songs that you want to add.
When you're ready, tap on the share icon in the top-right corner of the screen.
This will open a share sheet with a single option to add the songs to your YouTube Music playlist.
Select Add to playlist.
Select + New playlist to create a new playlist with all your selected songs.
You can also add Now Playing songs to an existing playlist. But as you can tell, Now Playing only allows adding to playlists from YouTube music. Like Shazam, Google may extend the support to other streaming services as well.