Android has had the ability to unzip and even zip files for the most part of its existence. Although, that has mostly been a feature available with third-party apps. Even though Android actually has had a full-fledged file system, there wasn't a built-in file explorer app for Android for many years, if you don't count apps from OEMs. You don't need to rely on third-party apps for something as simple as extracting a zip file on Android anymore.
The Files app was rebranded as Files by Google in 2018 before which it used to be called Files Go. Most close to stock versions of Android are likely to have the app pre-installed. If you don't have the app pre-installed on your device, you can install it from the Google Play Store for free.
How to Unzip file on Android
Several OEMs also have built-in file manager apps that can handle zip files as well as any other. However, they follow different UI design guidelines based on the Android skin of the OEM. As such, it's difficult to cover them all. Therefore, we will use the Files by Google app which is available for every Android device. So you can follow the steps below to extract a zip file on Android, regardless of your device manufacturer.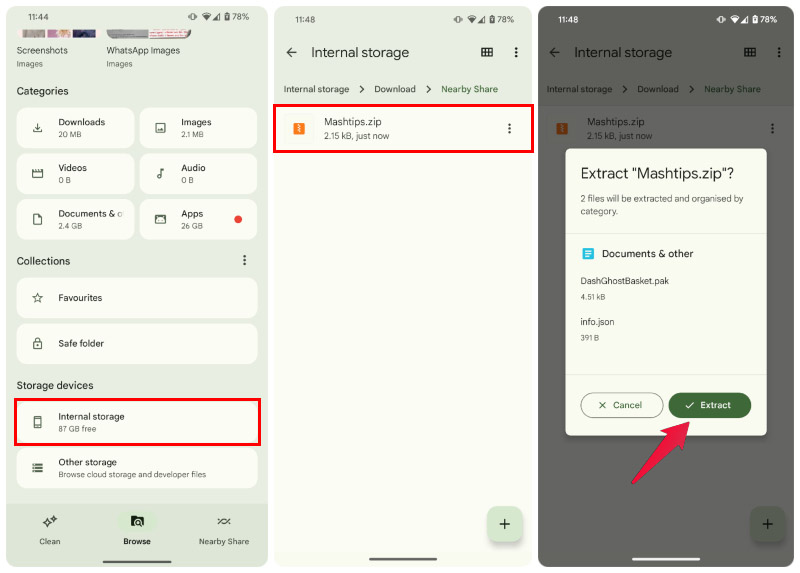 Open the Files app.
Scroll down and go to Internal Storage.
Navigate to the zip file you want to extract. If you downloaded the file on your phone, it is likely in the Downloads folder.
Tap on the zip file.
You will be shown a preview of the contents inside the zip file.
Tap on the Extract button.
Once extracted, tap Done. You may want to check the option to Delete zip file too.
The contents are extracted in a folder with the same name as the original zip file.
Other Apps to Extract Zip Files on Android
As mentioned before, you can pick from any number of third-party apps or the built-in app on your phone to unzip files on Android. While the Files app by Google can be used to extract a zip file on Android, it can't help you compress files into a zip. For that, you'll have to rely on third-party solutions. Built-in file manager apps by certain OEMs, however, do pack in the ability to compress files into a zip.
A Zip file is the most basic compressed file, however. There are many other formats such as RAR, or 7z which are more advanced. Most built-in file managers don't support these file formats. If you often come across such files, you may want to install a third-party file manager that can handle more advanced compression formats. Dedicated archiving apps such as WinZip, WinRAR, 7z, are also available on Android, just as they are on Windows.
For more apps that can zip or unzip on Android, follow the link cannot Open Zip Files on Android? Use These Apps to Unzip Files on Android