Is your iPad Home button suddenly stopped working, and you don't know how to fix that? If your button is broken, you can't do much about that. If not, you can try out some troubleshooting tips to resolve the iPad Home button not working issue.
Let's begin.
Why Is My iPad Home Button Not Working?
There might be many reasons why the iPad Home button is not working. To find out that, take a look at the button. Are you able to press the button freely? Is it sinking in and popping out well? Then, it means something is interfering with the button from functioning properly. It could be either a software glitch or related to hardware.
If your iPad Home button is stuck or not popping up when it is released, the button might be broken. Or the problem might be caused by your iPad case or protective cover.
Related: How to Unsync iPhone from iPad: Stop Getting iPhone Texts, Calls, Photos on iPad
Best Ways to Fix iPad Home Button Not Working
Let's take some troubleshooting tips to find out what caused the problem and how to fix that.
Restart Your iPad
The simplest solution to fix any electronic device problem is restarting it. Press and hold the iPad Power button (on the left side top) till you see the power off screen. Next, swipe on the icon slide to power off to switch your iPad.
Wait for a minute or so and then press the Power button and hold it till you see the Apple logo on your iPad screen. After unlocking your device with a passcode, check and see if the Home button is working or not.
Get Rid of All Protective Gear on Your iPad
Sometimes, a screen guard or a protective case might interfere with your iPad Home button and prevent that from working. To find out that, remove all kinds of protective gear from your iPad so that it resembles the same look when you bought it. Then, try and see if the issue is resolved and if your iPad Home button has started working or not.
Clean Your iPad Home Button
Do you share your iPad with small kids in your house? Then, it is a good idea to inspect the device for any food particles, sand, or other kinds of dirt as it might prevent the Home button from working properly.
To avoid that, use a clean, soft cloth and wipe the device fully, especially on and near the Home button. Don't use any alcoholic solution as it might damage your device. If needed, you can slightly dampen the cloth to clean your iPad.
Related: Why Is My iPad So Slow? See How to Speed Up iPad
Calibrate Home Button
Do you know? You can calibrate the Home button on your iPhone/iPad if it is unresponsive. To do that, you need to open a stock application like Weather or Calendar. While in the app, press the Power button until you see the slide to power off screen. Then, release the Power button and press and hold the iPad Home button till the slider disappears.
That's it. The Home button has been calibrated successfully. Now, check and see it works properly.
Reset All iPad Settings
Restoring all the settings to factory defaults might help to resolve the iPad Home button not working problem. On your device, go to Settings > General. Then, scroll down to the bottom and tap Transfer or Reset iPad. Next, tap Reset and Reset All Settings from the list of options.
After authenticating with the passcode, tap Reset in the confirmation pop-up to Reset all settings on your iPad.
Related: How to Reset your iPhone or iPad? A Complete Guide
Use Assistive Touch As Home Buttons
Would you like to use the Virtual Home button as your physical button is not working? Then, go to Settings > Accessibility on your iPad. In the Accessibility menu, tap Touch and set the field Assistive Touch to green or On.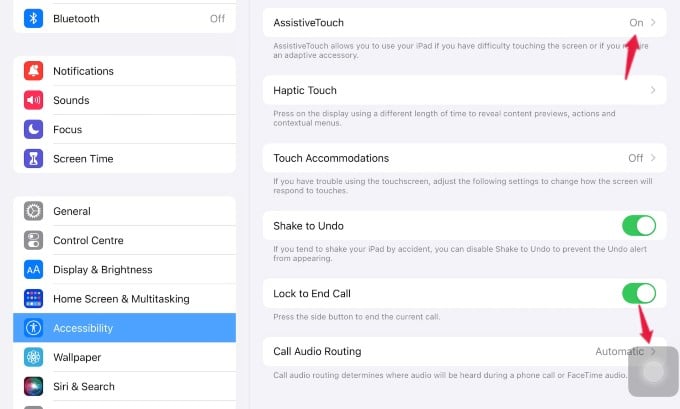 Now, you will see a small white button on your iPad screen, which you can use as an alternative to the Home button. And the good thing is you can place this button anywhere on your screen. If you tap that button, you will see a black pop-up screen with shortcuts for Home, Control Center, Notification Centre, and more.

You can customize the actions for Single Tap, Double Tap, and Long Press for this touch button. For example, you can set the value for Single Tap to Home.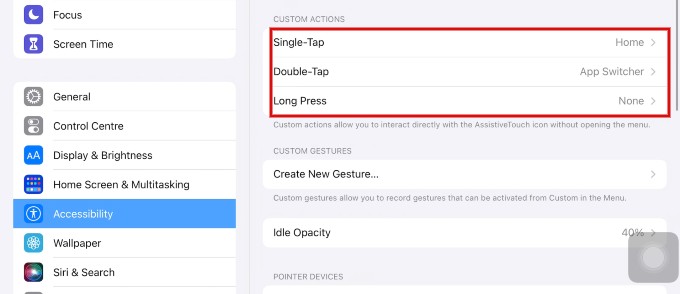 So, if you tap once on the white button, you will be redirected to the Home Screen of your iPad.
Reset Your iPad
Have you tried all the above steps, and still, your iPad Home button doesn't work? Do you think the button is not broken as you can press and release it freely? Then, as a last resort, try to Reset your iPad.
Make sure you take backup to iCloud or your computer, as resetting the device will completely erase its contents. After resetting your iPad, set it up like a new device and check if the Home button works.
Take Your iPad to Repair Center
If you are not a DIY person and find it difficult without the Home button, then the best option is to take your iPad to an Apple-authorized service center. You can check out the Apple website to find your location's nearest service center.
Related: How to Get Your iPhone and Mac Fixed for Free from Apple
If you don't have a warranty or Apple care plan for your iPad, it will be expensive as you need to pay $200+ to replace your iPad Home button.