Like browser extensions helps to extend the capabilities of your web browser, Google Sheets does a similar job of providing additional features. You will find a bunch of Google Sheets add ons for almost every category like email & communication, data analysis, data formatting, and more. Since the majority of the add ons are free, you can quickly download and install them either to increase your productivity or to get extra features.
In this post, let's take a look at some of the most popular Google Sheets Add ons.
Schedule & Send Email
Schedule & Send Email lets you schedule emails and send that automatically to one or more recipients regularly. You can set up your email trigger on an hourly, daily, weekly, monthly, or annual basis. Even, you can add weekday, weekly or bi-weekly schedules. Using this add on, you can also convert your entire spreadsheet, individual sheets, or even a selected range of cells inside a sheet as PDF, Excel, ODS, or CSV file formats.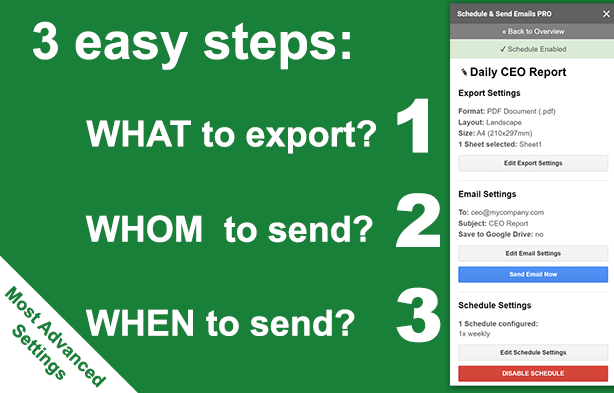 Get Google Sheet Add-on: Schedule & Send Email
Yet Another Mail Merge
Yet Another Mail Merge is ideal for someone who needs to create, send, and track email campaigns. You can create your mail template as a draft in Gmail and merge it with your Sheet data. By using YAMM's tracking tool, you can track every email sent and find open rates, click-through rates, and even response rates of your campaign. Also, you can find out if your emails were delivered and who read your emails. All the results are displayed in real-time on a smart dashboard directly in your spreadsheet. The free version of YAMM lets you send 50 emails per day.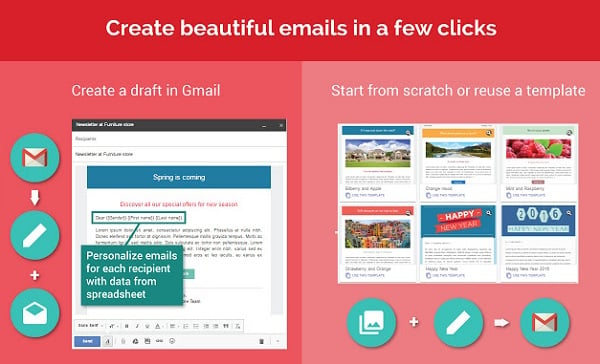 Get Google Sheet Add-on: Yet Another Mail Merge
Hunter for Sheets
Hunter for Google Sheets can help you quickly find email addresses within your Google Sheets. You can find all the publicly available email addresses, associated with a domain name. An accuracy score for each email address will be shown. You can also get other details, including the first and last name. To use this add-on, you need to create an account after the installation. You will get 50 free searches/month with the free version of Hunter for Sheets add on.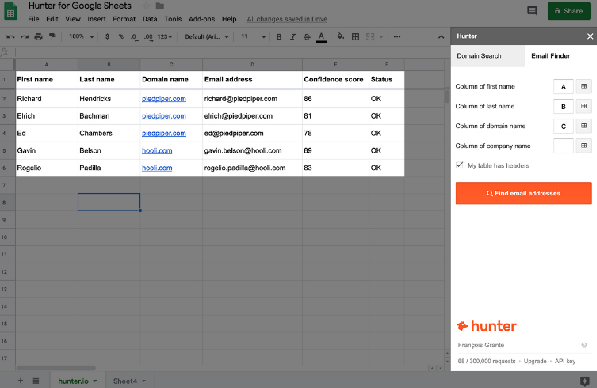 Get Google Sheet Add-on: Hunter for Sheets
Awesome Table
Awesome Table helps you to visualize your Google Sheet data into different types of views like Gantt charts, cards, maps, people directory, and more. You can customize existing templates into the view by adding HTML, CSS, or JavaScript to create a view based on your need. Awesome Table can be used for many purposes like a business report, project scheduling, product catalog, photo gallery, FAQ, video library, people directory,  lead tracking, and more.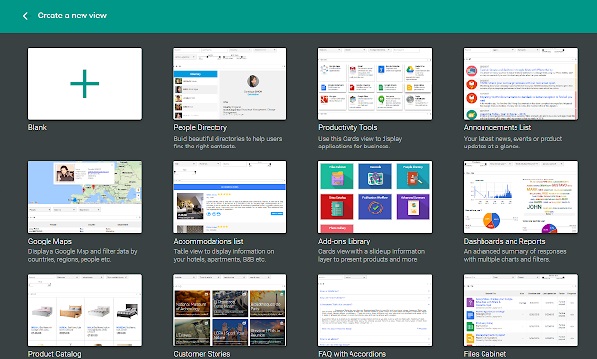 Get Google Sheet Add-on: Awesome Table
Supermetrics
Supermetrics lets you pull up data from any source and generate business reports with a single click. It connects with several platforms, including Google Analytics, Instagram Insights, Facebook Insights, Mailchimp, SEMrush Analytics, and more. It has 30+ free Google Sheets reports templates available in its template gallery. Plus, it allows you to schedule and sends reports by email in any format like PDF, XLS, CSV, or HTML.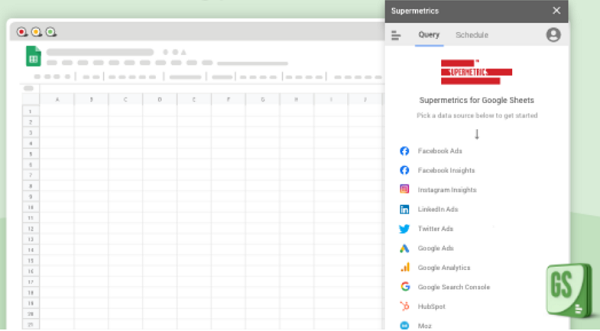 Get Google Sheet Add-on: Supermetrics
Tweet Archiver
Tweet Archiver lets you search Twitter by keyword or hashtags and save matching tweets in a Google Spreadsheet automatically. It can be used for saving tweets around trending hashtags, conference tweets, brand mentions, geo-tagged tweets, etc. It can find you every matching tweet and sort them on the google sheet. The free version allows you to poll Twitter every hour, whereas you can poll every 10-15 minutes with the paid version.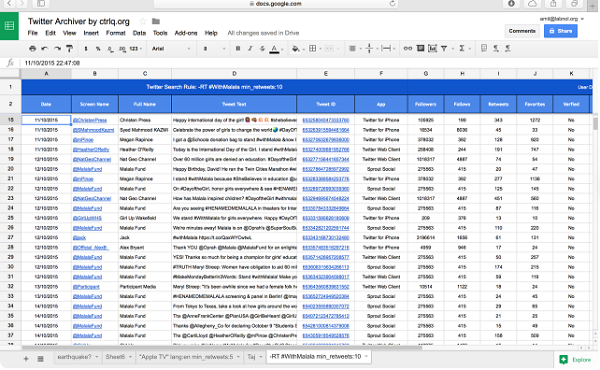 Get Google Sheet Add-on: Tweet Archiver
Template Gallery
Template Gallery is a free Google Sheets add-on that allows you to quickly insert professionally designed templates, including calendars, schedules, invoices, timesheets, budgeting tools, letters, resumes, financial calculators, etc. on your Google Sheet with a single click. With this add on, you can even get access to templates that are not available in the public gallery.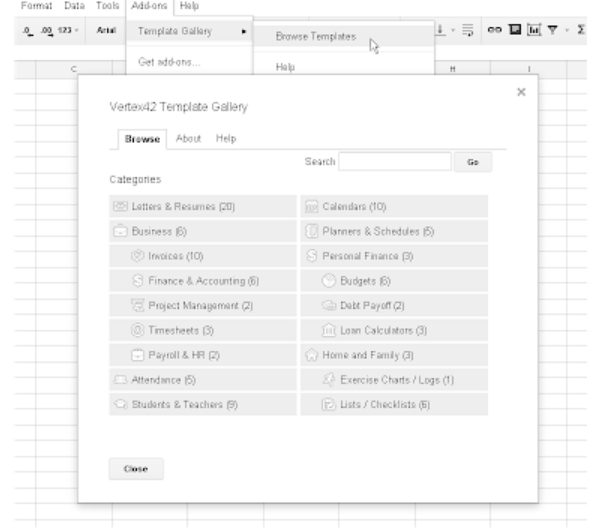 Get Google Sheet Add-on: Template Gallery
Google Analytics
With Google Analytics add on, you can do a lot of things like querying data from multiple profiles, create custom calculations from your report data, create dashboards with embedded data visualizations, and more. You can also schedule automatic report generation so that that your data will always be current. Additionally, you can also limit who can see these data and visualizations by using Google Spreadsheet's existing sharing and privacy features.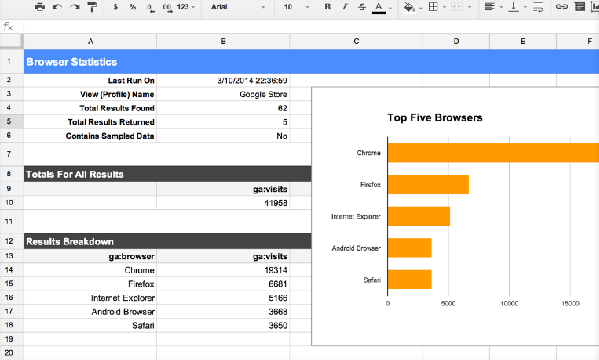 Get Google Sheet Add-on: Google Analytics
How to Install Google Sheets Add-ons
Installing a Google Sheets Add on is pretty straightforward. You can do it from your Google Sheet itself.
On your browser, navigate to sheets.google.com and open any spreadsheet.
Next, click Add-ons->Get add-ons from the menu located on the top of your sheet.
You can see the list of Google sheets add ons available.
Next, select the add-on you need and click Install button.
Now, follow the instructions to get and install the Google Sheets add-on.
Here, we have covered only the most popular Google Sheets Add ons. Since most of the add ons are free or has a trial period, you can select a bunch of add ons and try them out before choosing the right one. Also, check out our list of best Gmail addons and Gmail extensions.