Android used to be the dream for someone who loves to customize their phone. Over the years, though, Google has gone more and more the Apple way and tightened things up. As of today, there are even areas where iOS is more customizable than Android. Areas such as the lock screen. Something that Android used to have but got rid of. Thankfully, you can finally customize the Android lock screen now that the iPhone has it. Again.
Those of you who were using Android back in the pre-material days might remember that you could apply all kinds of lock screen widgets on Android. Some apps were dedicated to providing different types of Android lock screen widgets. That's all gone now, though. But at least, if you're running Android 14 or above, you have some customization back.
Android 14 is bringing back some lock screen customization, although differently. Instead of letting you pick your widgets, clock or otherwise, you now only have the option to pick from a few different clock options. Many Android OEMs already ship similar options with their Android skins. However, Android 14 goes a step beyond by mixing some Material You into it.
Customize Android Lock Screen Clock
As of this writing, Android 14 beta three has just been released, and that's the only version of Android you will find this feature on. If you're not lucky enough to have a Pixel or another phone qualified to receive the beta updates, you'll have to wait for the Android 14 update. If you have it, here's how to customize the Android lock screen clock.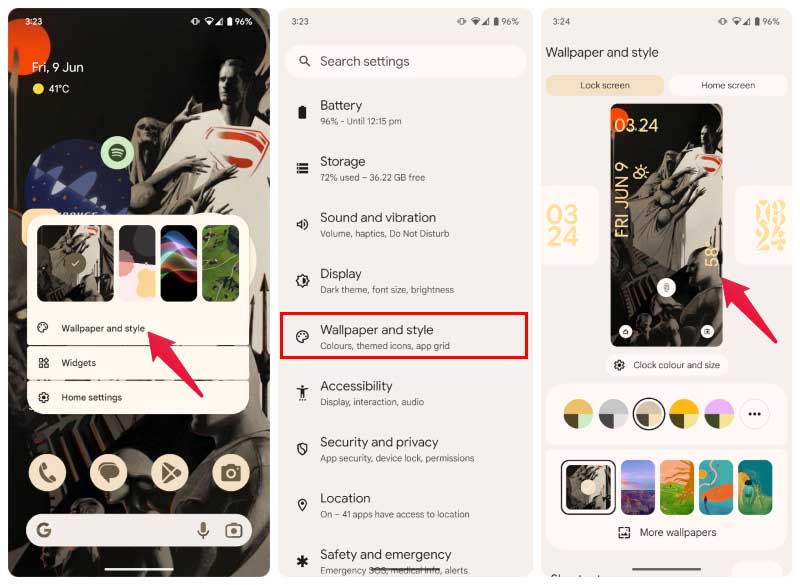 Long-press on the home screen, and select Wallpaper and Style.
Alternatively, you can also find the same option in the Settings app.
Head over to the Lock screen tab at the top.
Swipe left or right on the lock screen image to change the clock style.
There aren't too many options at the moment,
You can also select from a few different color combinations right below that and quickly switch between your most recent wallpapers. You can customize the clock by tapping Clock color and Size once you've found the right one.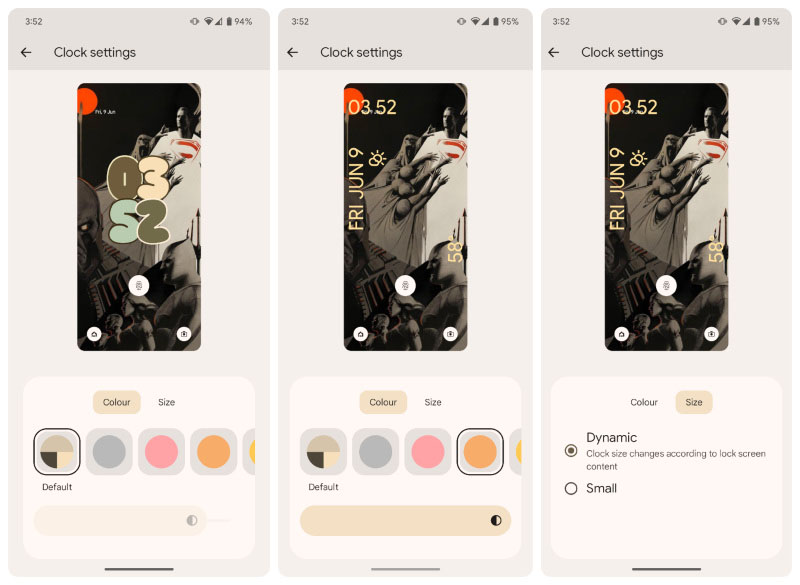 In case you don't like the default color, there are more options to choose from. The best part is you can also change the brightness of those colors to make everything more readable.
More Lock Screen Customization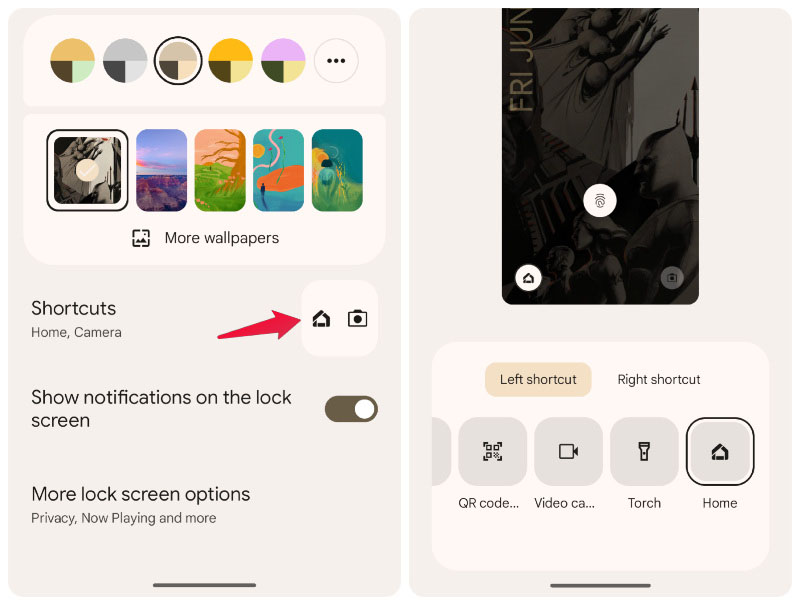 Instead of going into Clock color and size, you can just scroll down to find a couple more options to customize your Android 14 lock screen. You can now choose the two shortcuts at the bottom of the lock screen. Unfortunately, your options, as before, are limited. There is no option to add your favorite app shortcut. But hopefully, there will be more clock options and app shortcuts in the future, especially if Google decides to open this to third-party developers.
10 Top Android 10 Customizations for OnePlus Users
The ability to customize the lock screen on your Android device has once again been granted, opening up a world of creative possibilities and enhanced security. With the freedom to personalize your lock screen, you can showcase your unique style, elevate your Android experience, and make a statement every time you unlock your device.
Whether adding widgets, changing wallpapers, or incorporating new lock screen features, the power to tailor your Android lock screen has returned. Embrace this exciting era of customization, where security and creativity converge, and unlock a whole new level of personalization for your Android device. It's time to make your lock screen truly your own once again.