With Apple releasing the new iPhone SE 2022 (3rd Generation), the price bar for "expensive" iPhones has come lower. Many people planning to get a cheaper Android can now have an iPhone. But what if I told you there is a better option for you than buying the 'cheaper' iPhone SE?
If you were planning to buy an iPhone SE for your parents or your kid, read our comparison between iPhone SE and iPhone 11 and decide which iPhone model you should buy.
iPhone SE 2022 vs. iPhone 11
'New wine, Old bottle;' this was my reaction when I first heard Apple had launched the third generation of iPhone SE. The new SE aligns with Apple's popular iteration that brought back smaller iPhones for those who asked for it (not everybody did, though!).
I thought of the iPhone 11 as a better pick than the iPhone SE in many aspects. Looking at the price tags, you can simply own a better-looking iPhone 11 just by adding a few bucks to what you have to pay for SE.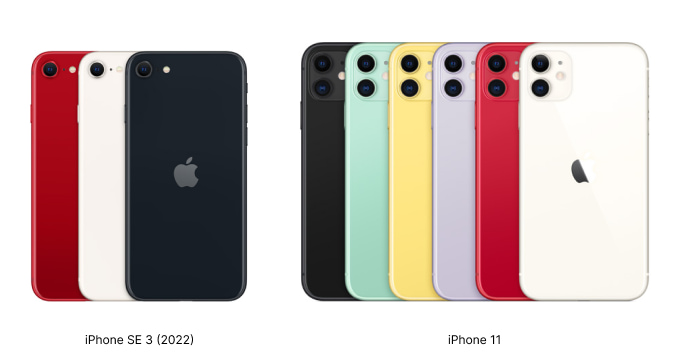 I am not saying I got ultimately disappointed seeing the new iPhone SE 2022. but, it basically possesses the same old design from the second-gen and does not even attract a whole lot of people who want to get a "newer" iPhone look. At a glance, it is basically the second-gen iPhone SE with a Touch ID and a more powerful processor.
When it comes to the iPhone 11, which is more than two years old now, it still has a modern look and everything that attracts somebody. Although the processor and rest of the hardware are a bit older, you cannot say it lags behind the latter. With the dual camera, bigger display, and Face ID, iPhone 11 is quite ahead of the new iPhone SE 3. Although, you will miss certain new AI features, especially in the camera department.
Below is a comparison table for the hardware specifications between iPhone SE 3 (2022) and iPhone 11.
| Specification | iPhone SE 3 (2022) | iPhone 11 |
| --- | --- | --- |
| Launch Year | 2022 | 2019 |
| Display | 4.7-inch Retina HD LCD (1334×750 px) | 6.1-inch Liquid Retina LCD (1792×828 px) |
| Storage | 64GB / 128GB / 256GB | 64GB / 128GB |
| Chip | A15 Bionic | A13 Bionic |
| Rear Camera | 12MP | 12MP Dual Lens |
| Front Camera | 7MP | 12MP TrueDepth |
| Security | Touch ID (Fingerprint) | Face ID (Face Unlock) |
| Cellular Connectivity | 2G/3G/4G/5G | 2G/3G/4G |
| Price | $429 | $499 |
| | | |
Related: Do I Need New M1 MacBook Air or MacBook Pro: How to Choose the Right M1 MacBook
Want to Brag? Get the Best Looking iPhone
Owning an iPhone is not just about the ecosystem and usability. Many consider iPhone as a status symbol, obviously due to their reliable devices and higher pricetags. Not saying that you are buying an iPhone just to brag, but it does have some value. If you want to boast among your friends, take a look below and decide which iPhone you should get.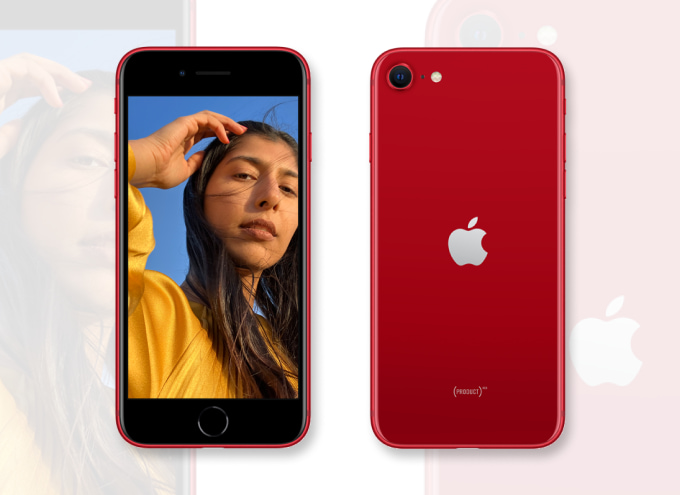 Let's start with the iPhone SE itself. The newest iPhone model from Apple is barely like any other recently launched iPhone. If you already think you have seen the design somewhere before, it is what we used to call iPhone 8 and later iPhone SE 2. This is outrageous! There has been no design change for years, and some might even think you are using an iPhone 8 from 2017.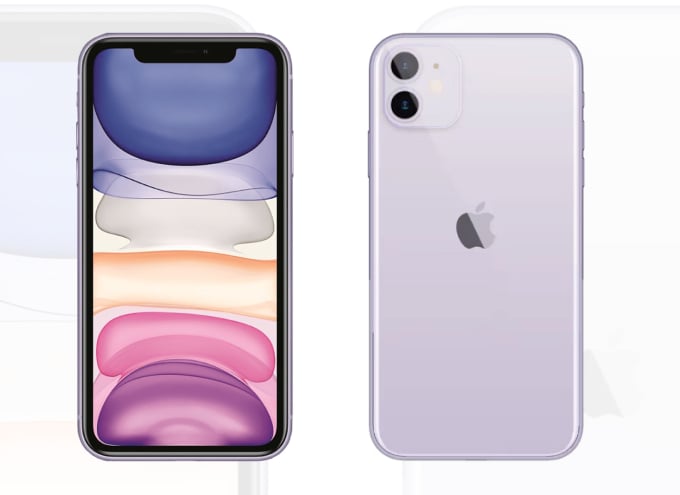 Shift your focus to the iPhone 11, and this is where all your expectations on an affordable iPhone start to change. You get a larger iPhone with a dual camera on the rear. The front looks no different from the models from iPhone X and newer. With its modern look and bigger display, no doubt that people will not give you that look when you hold an iPhone SE 3 instead.
Face ID or Touch ID?
Apple provides an extra security measure for all iPhone models with either Touch ID or Face ID. While they replaced the Touch ID with Face ID back in 2017, starting from iPhone X, the iPhone SE lineup keeps going with the Touch ID for some unknown reason.
While the Face ID is arguably the best security feature Apple ever put on an iPhone, the Touch ID has its upsides. If you work or constantly commute with a mask on, you will like Touch ID more than the Face ID. (Note: Newer iPhone models can now unlock Face ID with a face cover on). If you are strictly looking for Touch ID access to your new phone, the iPhone SE 3 is your go-to, without any doubt.
The Face ID comes in handy if you want to unlock your iPhone faster than the fingerprint lock. Since it needs you to look at the iPhone properly to unlock, the Face ID is comparatively safer and is easy to use. On that note, the iPhone 11 is much more convenient and better in terms of safety with the Face ID.
Related: How to Temporarily Disable Face ID on iPhone Very Quickly
Dual Cameras or Newer AI Camera?
If you look at what both iPhone cameras offer, you may find additional features on iPhone SE like HDR 4, Photographic Styles, and enhanced low-light video shooting. These make iPhone SE look better, but there is some hardware side you should check before diving in.
Talking of the camera department, both the iPhone SE 3 and iPhone 11 have a 12MP primary camera on the rear. The main showdown starts when the 12MP ultrawide lens on iPhone 11 comes to the scene. It allows you to take wide photos, closeups, and sharper macros that iPhone SE cannot.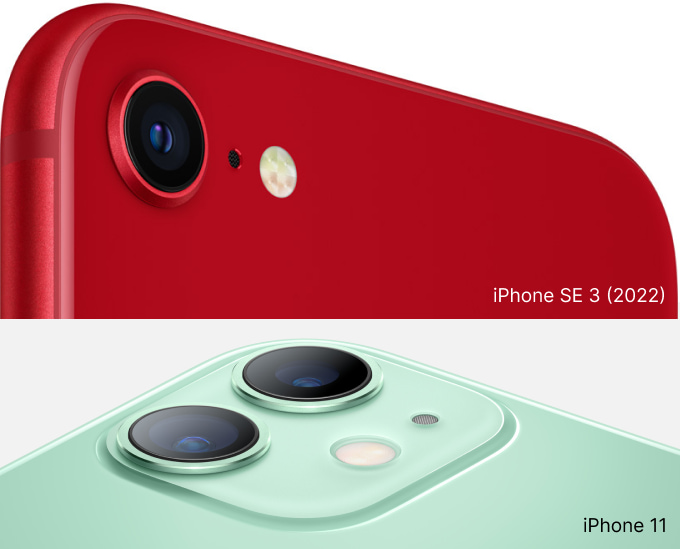 The front-facing camera on iPhone SE 3 is just the old 7MP sensor, which we sew on iPhones before Face ID. The lack of TrueDepth is an issue if you want to take portrait selfies and send Memoji animations with reactions.
On the flip side, the iPhone 11 has a 12MP TrueDepth front-facing camera that favors the Face ID, portrait selfies, Memoji animations, and much more.
Do You Really Need 5G Now?
The most significant change in the iPhone SE may be the availability of 5G connectivity. With the introduction of 5G to cellular connectivity, many companies, including Apple, started moving into offering 5G last year.
Since iPhone 11 is a bit older, it does not support 5G connectivity and will be disappointing if you want to keep using the same phone over the years. Although, if you buy a 5G phone today, you will not be able to use it for another couple of years until all carriers switch into 5G connectivity across your country.
You do not need 5G on iPhone now, but you may need it in a few years. So, if you are planning to keep the same device until then, better go with the iPhone SE 3 which has 5G (sub-6 GHz) with a 2×2 MIMO antenna for a faster cellular connection.
Related: Turn Off These iPhone Settings Right Now to Protect Your Privacy
Price: iPhone SE 3 vs. iPhone 11
Apple introduced the iPhone SE 2022 starting at $429 in the US, which is quite cheap compared to other iPhone models. Even though the iPhone 11 was tagged at the price of $599 at the time of launch, Apple now sells the same model at the price tag of $499.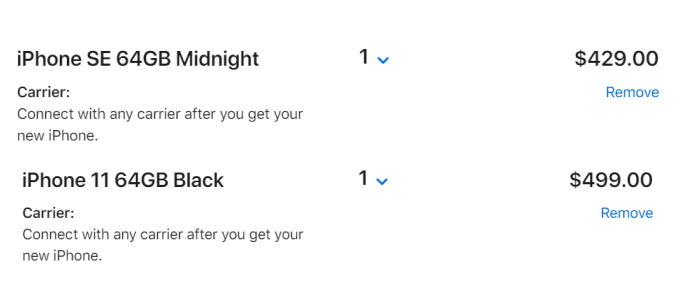 For those who are looking to buy the new iPhone SE 3, you still have an option to get a better iPhone model just by adding around $70 to it.
iPhone SE (3rd Gen) vs. iPhone 11: Which iPhone Should You Choose?
Choosing the best iPhone for you is hard here, but you can decide based on what you want. The new iPhone SE is never a bad investment if you are looking for the cheapest, brand-new iPhone with the original iPhone design. On the other hand, the iPhone 11 will cater to your needs if you wish to get the latest feature including Face ID, a dual camera, and a larger display at a slightly higher price compared with iPhone SE.