There are a bunch of educational websites for kids to learn new things and make their school life easy. These kids website can bring the entire knowledge into the computer screen in the form of educational videos, articles, electronic books etc. In addition to these, there are customized smartphone educational apps for kids that can utilize mobile or tablet device to make all learning experience handy. These educational sites for kids are focused on online education that can entertain and teach your kids with the help of games, videos and study materials.
This article is to share some really awesome online educational websites. All of these kids website sites are free to use and can access without any apps directly from your computer with internet connection.
KhanAcademy
This educational website teaches kids everything under the sky. There are no ads, no subscriptions and the site is operating as a not‑for‑profit organization to provide a world-class education for anyone, anywhere. Millions of students from all over the world, learn at their own pace on Khan Academy every single day. KhanAcademy resources are being translated into more than 36 languages in addition to the Spanish, French, and Brazilian Portuguese versions of the site.

Khan Academy offers practice exercises, instructional videos, and a personalized learning dashboard that empower learners to study at their own pace in and outside of the classroom. This site tackle math, science, computer programming, history, art history, economics, and more. As per the site, their math missions guide learners from kindergarten to calculus using state-of-the-art, adaptive technology that identifies strengths and learning gaps. KhanAcademy team also partnered with institutions like NASA, The Museum of Modern Art, The California Academy of Sciences, and MIT to offer specialized content.
Website Link: KhanAcademy
Related: 12 Best Educational Apps for Students from Google.
ABCYa
Abcya.com is a teacher created website provides fun and educational games and apps for kids to use under the guidance of their parents and teachers. These kids online educational games do not collect personal information and children and adults are able to visit the site and play the games without providing any personal information to ABCya.com.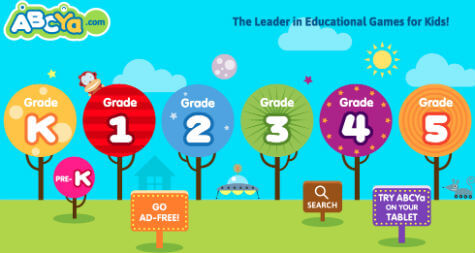 ABCya is the leader in free educational computer games and mobile apps for kids. The innovation of a grade school teacher, ABCya is a one-stop destination for elementary students that offers hundreds of fun, engaging learning activities. ABCya.com is free to use on PCs. Advertisements pay for the website so you do not have to. Mobile devices require paid subscriptions to access all the content.
Website Link: ABCYa
Related: Top 5 Safe Search Engines for Kids to Filter Out Adult Contents
BarinPOP
BrainPOP is another kids educational website that covers topics within Science, Math, Social Studies, English Language Arts, Technology, Engineering, Arts, Music, Health, Reading, and Writing. In classrooms, on mobile devices, and at home,
BrainPOP engages students through animated movies, learning games, interactive quizzes, primary source activities, concept mapping, and more. BrainPOP can be used in traditional, blended, and "flipped" learning settings, supporting individual, team, and whole-class learning.
Website Link: BarinPOP
FunBrain
Funbrain website for kids ages preschool through grade 8, offers more than 100 fun, interactive games that develop skills in math, reading, and literacy. Plus, kids can read a variety of popular books and comics on the site, including Diary of a Wimpy Kid, Amelia Writes Again, and Brewster Rocket.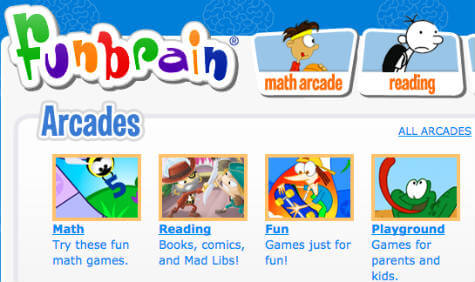 Teachers and librarians can encourage students to use Funbrain during their free time in class, assured that kids will enjoy an educational, safe online learning experience. Funbrain's games help students build on what they have learned in class and acquire new skills in reading, math, and problem-solving.
Website Link: FunBrain
MakeMeGenius
MakeMeGenius educational websites is hosted with videos for kids that discussing science experiments and other interesting videos. The videos are range from Grade 1 to Grade 7.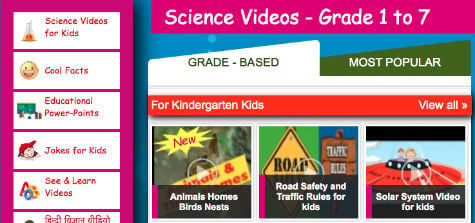 Website Link: MakeMeGenius
Beestar
Beestar specializes in developing online math and reading exercises for elementary school kids. These after-school programs foster students' interest and help them to achieve excellent academic grades with the help of online teaching tools for kids. The Beestar system also facilitates parents to participate in their children's learning process so they can understand and assist their children to do well in school.


Beestar provides innovative online math and reading exercises for kids. It has helped thousands of students achieve excellent grades. Using its curriculum-based programs for only 20 minutes a week, students can effectively master the core knowledge and skills taught in school. Parents can monitor performance online and know exactly what their students need. Beestar provides motivational recognitions every week, which brings a lot of fun to learning.
Website Link: Beestar
IXL
IXL Learning products are used in classrooms and homes in more than 190 countries around the world. This educational site helps 2-year-old starting to count, to a university student tackling a foreign language, from teachers creating educational games for their class, to parents reviewing concepts with their kids.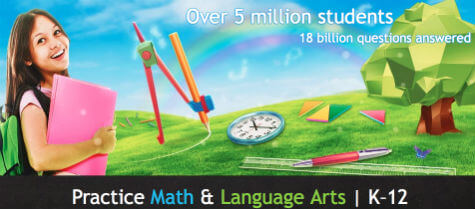 At IXL Learning, the team is passionate about creating and supporting the best educational website technology possible. IXL develop groundbreaking products used by millions of learners, from children to adults and deeply committed to solving the real-world challenges faced by students and teachers around the planet.
Website Link: IXL
Starfall
The Starfall Website is a kids' educational service, work for non-profit. This educational kids site is good for kids and teaching children to read with phonics. This kids website developed the audiovisual contents, perfect for preschool, kindergarten, first grade, second grade, special education, homeschool, and English language development (ELD, ELL, ESL). The membership program expands the free content that includes delightfully animated songs, mathematics, and reading activities spanning pre-k to 2nd grade. The Starfall Parent-Teacher Center is free that includes supplemental custom worksheets, curriculum downloads, and informative guides.
Website Link: Starfall
Prepdog
Prepdog.com is designed as an additional educational tool to help students increase their scores by becoming familiar and comfortable with standardized online testing. The objective is to deliver a quality product to every classroom at a very reasonable price for our teachers.  The Teacher Package brings Common Core based, online quizzes to the classroom with a powerful reporting system that teachers can use to evaluate and adjust their teaching to student's needs. The Prepdog team is committed to providing a valuable and useful tool for teachers that is affordable and aware that in this data-driven world, teachers need something simple and easy that will gather that data for use in planning and reporting.
Website Link: Prepdog
Best Kids Educational Websites
In addition to the school curriculum, these kids educational websites share the materials to improve kids in various other extracurricular activities like computer programing, scientific experiments etc. We picked a list of educational sites based on ease of use, number of visitors per month, popularity, content quality etc. These sites are compatible with either Windows or Mac computer and you can open these sites from your internet browser like Firefox, Chrome, Internet Explorer etc. There are Android and iOS apps available for a couple of these sites that you can download from the online store for free.