Kids can search for anything on the web, and Kids Safe Search Engines are significant to keep away our children from unwanted search results. Dedicated search engines for Kids are essential when parents get worried about the amount of threat a search engine could pose on Kids. Engines like kid Rex serve examples of better search channels for Kids. Such search engines for Kids serve two purposes. They satiate the curiosity of Kids as to what they are likely to know when online and secondly, parents can be assured of the volume and direction of knowledge available to them.
Here is a list of Safe Search Engine for Kids that you can recommend for your kids to keep away them from the unwanted search result on the Internet.
Kiddle
Kiddle is a safe search engine for kids that you can recommend. This Kids' search engine claims to be family-friendly as there is complete censorship on content that is likely to be deceptive, violent or explicit. The team of Kiddle search engine editors who clean the content to be put up on such sites.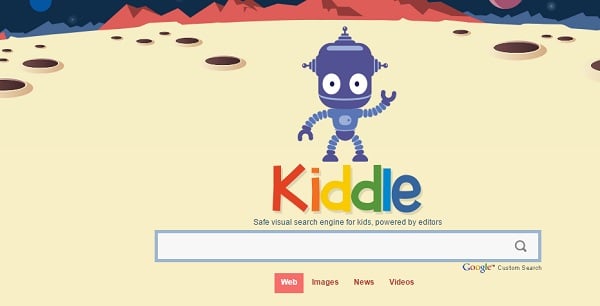 These Kids Safe Sites are written explicitly considering the age groups of Kids and thus simplify coded or heavy texts for their understanding. The specialty of Kiddle is that they use thumbnails for communicating content to the Kids and also, to let Kids associate terms with a visual or graphic. Large fonts are used to excite kids to read. Another important detail remains that privacy of the kid is kept intact.
Link: Kiddle Website
Related: How to Get Automatic SMS when Your Kids Enter and Exit School Location.
Kidrex
Kidrex Kids Search Engine is powered by Google custom search. This custom search engine is optimized for Kids, serving their interests and imaginations. With the help of Google SafeSearch, kidrex would eliminate content which is explicit from being broadcast on kidrex. Kidrex also bars sites, as maintained by their database which is explicit in nature or is classified under inappropriate keywords.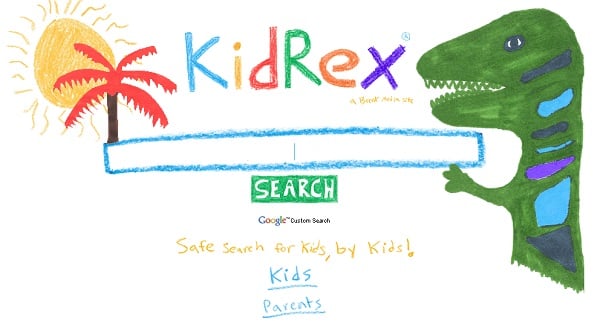 Kidderx is the best kids search engine to look at for the most recent and comprehensive details on any topic. With the help of their removal too, you can request the editors to remove the showcase of sites, not considered right for Kids. It is a visually fun website.
Link: Kidrex Website
Kidzsearch
Apart from censoring inappropriate content for the use of Kids, kidzsearch is a Google for Kids. Using many online tools, KidzSearch makes learning more accessible for Kids. The many uses of videos, pictures and fantastic gaming gimmicks make learning and play a big blessing for them.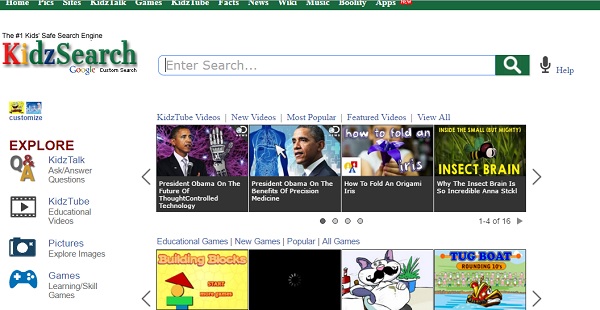 Things like Obama's speeches, digits and understanding number or learning the names of birds or other things are pictorially explained for the use of Kids. Language is brought down to their understanding so that kidzsearch actually becomes their answer for every question. Things like learning fun facts, teaching zone and kidz tube are a bonus.
Link: Kidzsearch Website
Kidsclick
Kidsclick is yet another safe search engine for the use of Kids. Classifying content according to their types which includes home, household, literature, reading or sports, Kidsclick makes life easier for Kids search. The best thing about Kidsclick is their selection criteria as they prohibit any advertising on their site.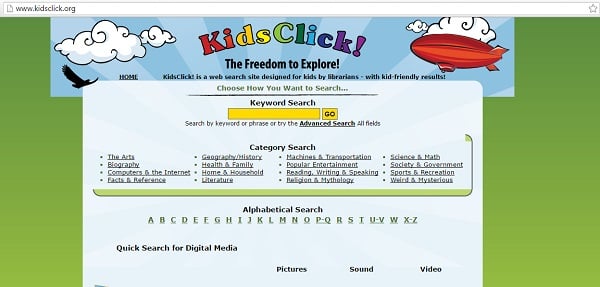 This dedicated search engine for Kids selects every content that goes on it. Along with that their privacy policy keeps every information of any user safeguarded with them. However, they serve good sites for good use and do not block the view of any site. This search engine was first made by a bunch of librarians at Ramapo Catskill Library System to give voice to the use of internet search for youngsters.
Link: Kidsclick Website
Related: Online playground for your kids under parental control.
GoGooligans
Yet another safe search engine site for kids, this also has the option of a pop-up for the ease of internet search for Kids with a disability. GoGoogligans uses Google index to regulate sites. The safe search regulates inappropriate keywords or results from getting uploaded and also have an option of 38 different languages helps in efficiently searching. Along with spam reporting and calm coloring methods, they make the search of Kids easier.

With the use of Query refinement technology, they refine and filter Kids' sites which are asked for. No unnecessary fancy graphics or pop-ups disturb Kids searching experience. Instead one can trust the site for effective usage of grammar, excellent writing and updated articles on any topic.
Link: GoGooligans Website
Related: YouTube Parental Control: Setup Safe Search on Youtube Videos
With search engine optimization at its best and stuff like Google Ad Sense all set to attract viewers' eyeballs on each site, one cannot escape the possibility of Kids getting exposed to information which is not meant for them. In many countries, citizens have the right to do internet search according to their demands without any regulation for Kids Safe Search. Thus, to solve the problems, there are specific search engine optimization tools which guarantee safety and regulation of content to be watched by the tiny tots.
Thus, Kids search engines like these empower the search experience for Kids. In today's world of growing hatred and diatribe or slander via online medium, Safe Search Engine for Kids is required an efficient filter. You can recommend one of the kids' search engine for your kids to keep them away from explicit adult contents and unwanted search results.