Texting your contacts and replying to iMessage is not a tough nut to crack with Apple Watch. Instead of texts and magic touch, you can now send memoji stickers too. YOu can now create and send memoji character stickers right from Apple Watch.
Let us see how to send memoji stickers on an iMessage chat using your Apple Watch.
Send Memoji Stickers in iMessage from Apple Watch
With the latest WatchOS updates, you can create your own Memojis on your Apple Watch, just like on your iPhone. If you just created a new memoji for your Apple Watch, you can easily use them in iMessage chats. You can see our complete guide to make memojis on Apple Watch.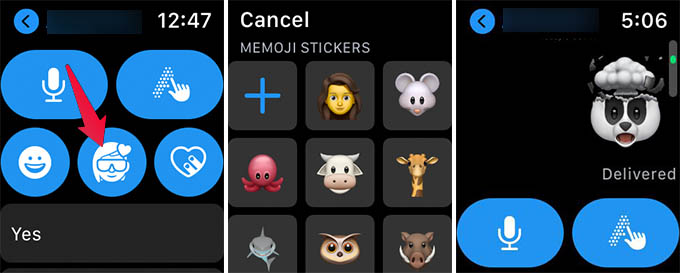 Open the Messages app on Apple Watch.
Go to the chat you want to send a Memoji sticker.
From the bottom, tap the Memoji sticker button.
 Choose the Memoji from the screen.
Tap the memoji sticker to send on iMessage.
Most of the memojis on your iPhone can be found with the imessage app on your Apple Watch as well. You can send memojis across various animals, instead of your on memoji character using Apple Watch.