With the holidays looming in quickly, travel plans are being created all around. Everyone's looking for the best and cheapest way to travel to and from either to tour a new place or visit friends and family. The best and easiest way to travel around has to be flights. However, it can sometimes be a headache when looking for flights simply because they can sometimes get pretty expensive.
There is an easy way to look for cheap flights as well as receive alerts whenever the prices for the flights drop. Today, we'll be looking at how you can use Google Flights to set price alerts for your flights.
Set Google Flights Price Alerts on Android and iPhone
Before we begin to look at the steps you need to follow to set price alerts on Google Flights, you need to know that there is no official Google Flights app available for Android and iPhones. So, beware of any fake Google Flights apps that you might see either in an advertisement or on your device's respective app stores. Now, let's look at how to set price alerts on Google Flights on Android and iPhone.
Launch your favorite web browser on your Android or iPhone.
Type in flights.google.com in the address bar and tap on the search icon.
Now, select your departure and arrival airports, followed by the type of trip, cabin class, number of stops, and the total number of people who will be traveling.
You can tap on the Calendar to set the date for your flight.
You will have to choose two dates in case you are planning a round trip.
You should see an option that says Track Prices, tap on it.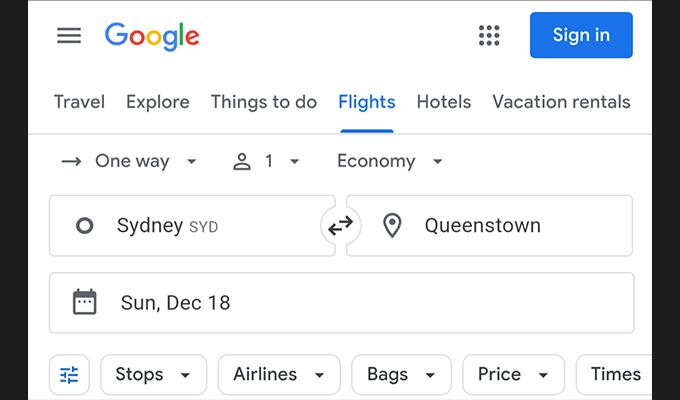 Here, you can also tap on Any Dates if you have flexible travel dates. Alternatively, you can also tap on a particular flight from a particular airline and then tap on Track Prices.
As and when the particular route or airline's prices drop, Google will send you an email with the all details of the flight including the reduced prices
Google will also send you notifications and emails for flights that you might have been searching for via Google Flights as well as alerts on whether the prices will increase or decrease in a certain time period.
Save money with Google Flight Search and Google Hotel Finder
View Google Flights Tracked Flights & Remove Tracked Flights
You can also look at flights that you've previously tracked on Google Flights. Here are the steps. And if you feel these notifications are really annoying, you can remove them. You can clear all tracked flights and remove them if you don't want to get rid of these notifications.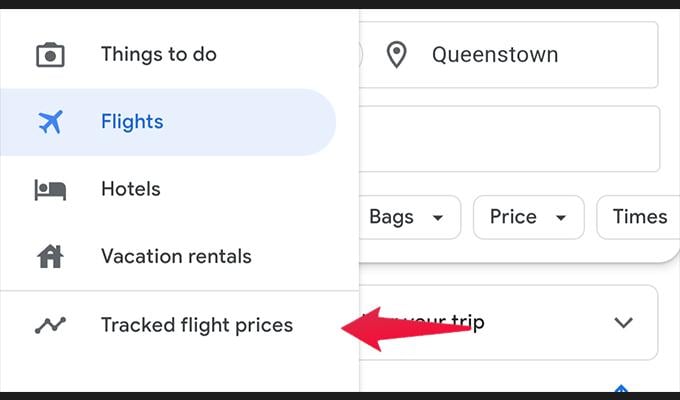 Visit the Google Flights website.
Tap on the hamburger menu at the top left.
Now, go ahead and choose Tracked Flights.
Simply tap on the route to see the flights you've been tracking prices for.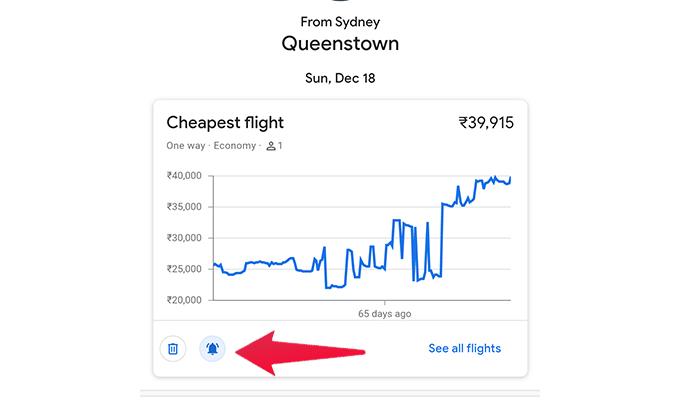 Now, you have two options, here. Tap on the bell icon to receive notifications about a particular flight route.
To stop receiving notifications for the flight route, tap on the bell icon. You can also remove a tracked flight from Google Flights by tapping on the Remove option.
7 Best Sites to Save Money While Booking Flight Tickets
Set Price Alerts on Google Flights on a PC
The best way to view and use Google Flights is on your own PC. Doesn't matter whether you use Linux, Windows, or macOS. The steps are the same regardless of the PC's operating system.
Open your web browser and head over to flights.google.com
Now, select the important information such as the type of trip, number of people, cabin class total number of stops, and the total number of people who are traveling.
Next, enter your departure and arrival airports.
Also, choose the date that you are planning to fly on. (You will have to choose two dates if you are booking a round trip.)
Now, click on the Track Prices button.
If you have flexible dates, you can click on Any Dates.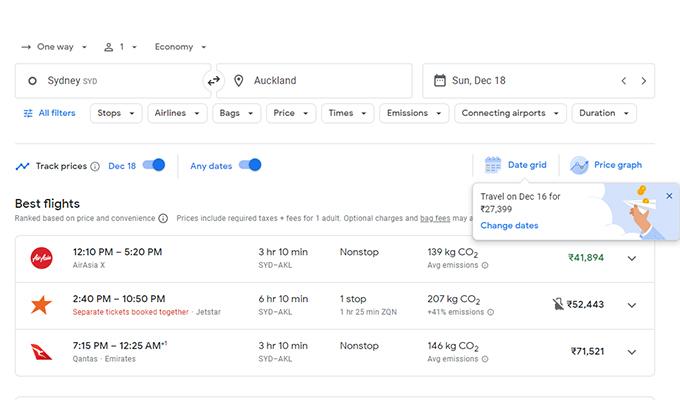 Alternatively, you can click on a select flight and track prices for the particular flight. You will receive emails and notifications as and when the prices for the flights drop and even when the prices are expected to be rising.
16 Best Gifts for Travelers & Outdoor Lovers
View Previously Tracked Google Flights and Remove Them
Sometimes, there could be a time when you might have wanted to look at a particular flight or flights you tracked earlier. Google Flights allows you to view flights easily. Here are the steps
Visit the Google Flights website on your web browser.
Click on the hamburger menu at the top left corner.
Now, click on Tracked Flight prices.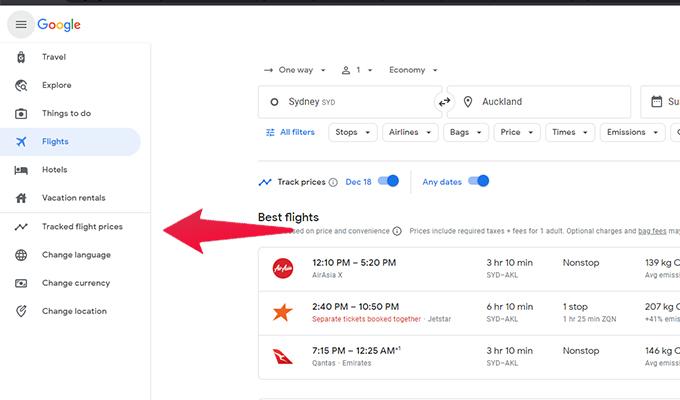 You will now be able to click and see the particular flights you have previously tracked. You can easily enable or disable email notifications about price changes by clicking on the bell icon.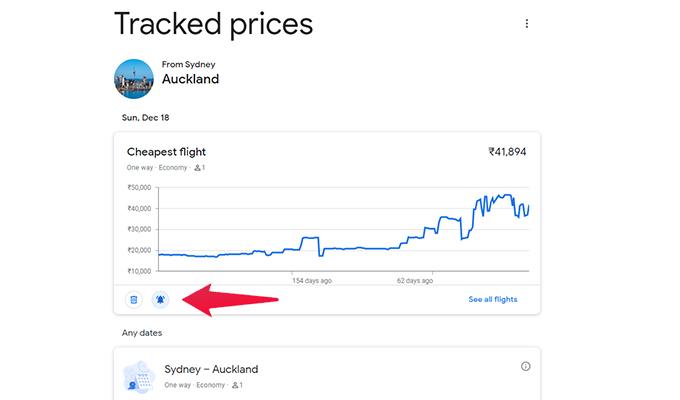 To remove a tracked flight, you can simply be clicking on the Remove button.
The tracked flight will now be removed from your tracked flight history.
This is how you can set up alerts for flight prices easily on Google Flights either using your Android, iPhone, or PC.
The good feature about tracking these flights on Google Flights is that you get email notifications about changes in prices, these kinds of notifications can help you plan your trips and ensure that you have got the best deal on the flights.
Why Use Google Flights?
Google Flights shows you the best and cheapest flights available from any route and airline, provided you've entered the correct details for your pre-planned flights. Google Flights also shows you how many stops the airlines will make, the price history of particular flights, future flight prices as well as carbon emissions from each flight.
Is Google Flights Free?
Yes, Google Flights is free to use. You can sign in with a Google account to easily get flight notifications about particular flights on your mobile device right away.