Unlike older times, editing videos do not need powerful computers. All you need is your smartphone and the right app to edit videos in high quality without lag. Today, we have the VITA App – Video Life on our hands to edit high-quality Full HD videos on iPhone and Android and let's put it to test.
Read further to know how to get the best out of the VITA app for Android and iPhone to edit your videos in a fuss.
Content
VITA App – Video Editor
VITA App is one of those simple video editing apps with no annoying ads or subscriptions. The video editor app for iPhone and Android is completely free to use, and there is no limit on features. Being free does not mean that you have to compromise on the features or capability.
The VITA App video editor is well-packed with all the modern video editing features.  It even includes short video templates, lets you make stunning videos for your Instagram reels or Tiktok. Want to make youtube channel intros? VITA App has it too. VITA App is another excellent app from the developers of SNOW, one of the most popular selfie camera apps.
Get Started with Video Projects on VITA App
Video editing is a tough nut to crack for most of us. Don't worry; VITA App makes it easier for you. With the app, you can add videos and start editing. Find out how to start a new video project on VITA App.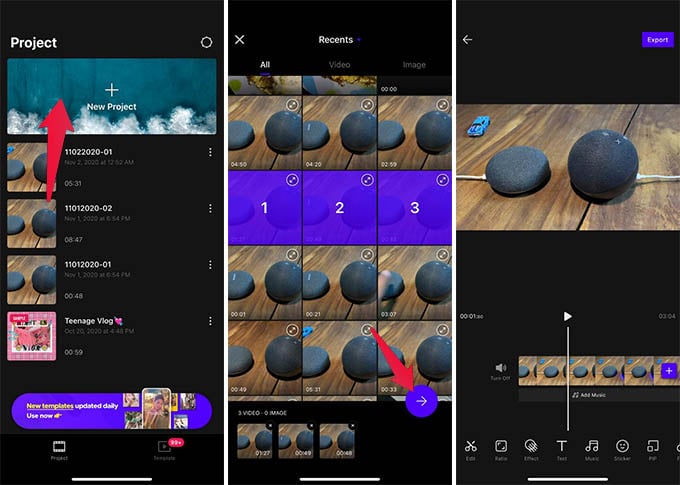 Open VITA App on your iPhone or Android.
Tap the "New Project" option at the top.
Choose videos and photos.
Tap the "Next" button with the right arrow.
Tap the "Export" button to save the video, after editing.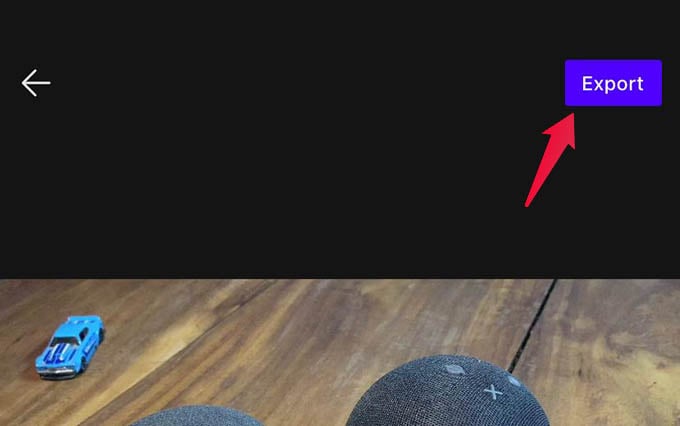 There you go! You can edit and save videos from the next screen. Are you not familiar with controls? Keep reading to know how to edit and render a video perfectly with VITA App.
Get Started with Video Templates
Working manually on a new video project is time-consuming since you need to add and edit each of the clips. Well, VITA App comes with an excellent solution – video templates for all your needs. Whether you want to make an Instagram story video or a stunning Intro video for your youtube channel, you get the right template from the VITA App.
Interestingly, unlike most other apps, VITA App gets updated with new templates each day. With the templates, all you need is to select the videos, and the app will do the rest. Just a matter of seconds, and you will have your final video on your hands. Here are some of the interesting video templates in the VITA App.
Travel vlog templates
Halloween themes
Magazine covers
Popular games and memes
TikTok effects
YouTube intros
You can check for new video templates every day under each category. Plus, you can add templates to your favorites list and share it with your friends as well.
Add Effects to Videos on VITA App
Once you create a new project, it is now time to start adding interesting effects to videos. You can add animated effects on various themes, including Halloween scary effects. You can make your social media videos more interesting with retro effects, glitch effects, and retro TV effects.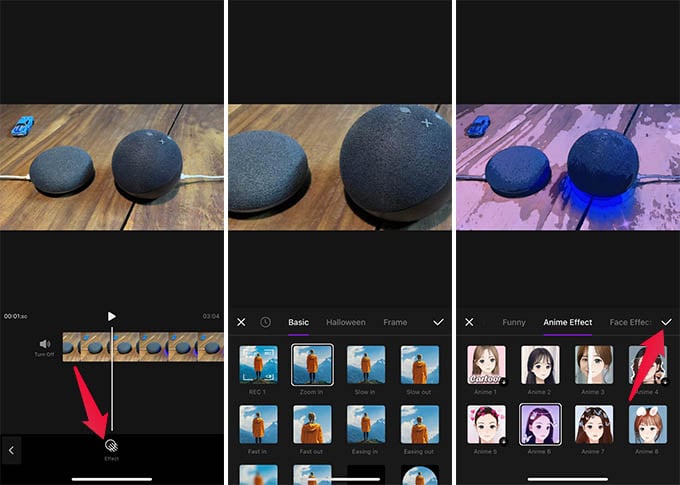 From the video project screen, tap the "Effect" button at the bottom.
Scroll the video and tap "Effect" from where you want to add effects.
Choose the theme from the popup window.
Select the effect and tap the checkmark button.
You can now see the added effect under the video track.
Tap the effect to copy or remove the effect.
Tap and hold to move the effect along the video track.
You can go ahead and add as many effects as you want. There are lots to check out for free.
Create Slow-motion or Timelapse Videos
Make your new vlog more cinematic with slow-motion or hyper-lapse frames. VITA App comes with a simple video speed changer tool to make your videos more stunning. You can use the slider option to change the video speed from ultra-slow motion to a hyper-lapse video.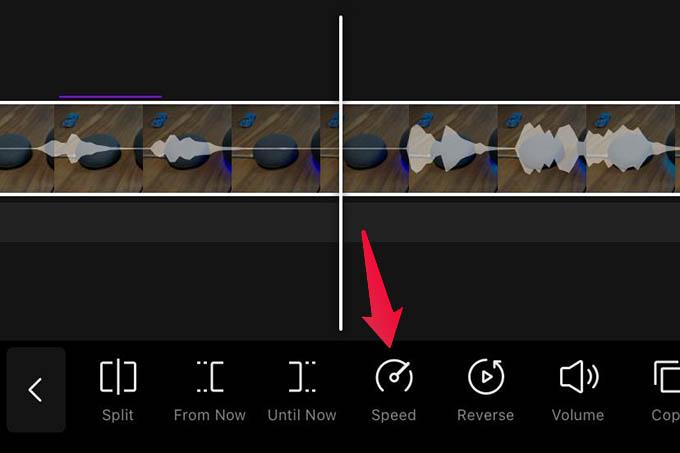 To change the speed of the video track on the VITA App video editor, you can tap the "Speed" button from the video project window. It is possible to change the video speed from 0.1x to 10x, based on your needs.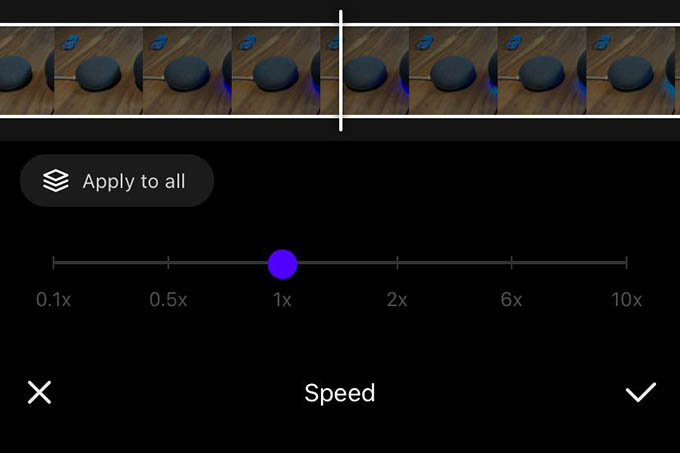 Related: 12 Best Smartphone Gimbal Stabilizers for iPhone and Android
Add Free Music Tracks and Stock Videos to Project
Getting copyright-free music tracks and stock videos is an expensive or difficult task. To our surprise, VITA App comes with tons of free-to-use music tracks and stock videos to add to your video project. See how to add free music tracks and effects to a video on VITA.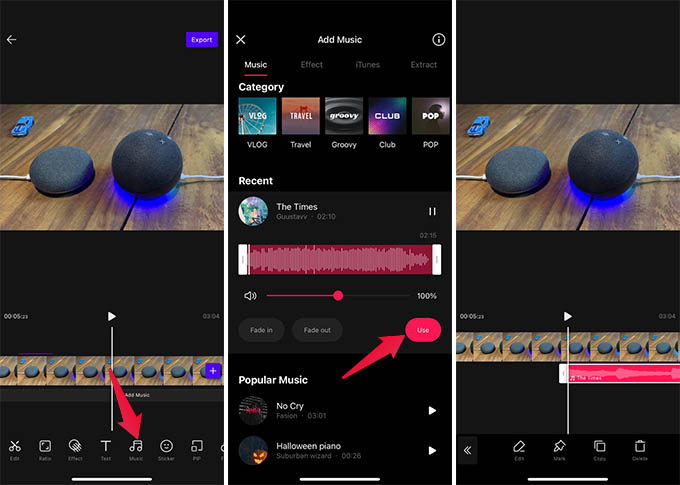 From the video project screen in VITA App, tap the "Music" option at the bottom.
Choose music from the next screen.
Tap the "Use" button to add music to your project.
After adding music to the project, you will see options to add music and sound effects.
Tap the Music option again to add more music tracks.
To add special sound effects, go to "Effect" and choose one.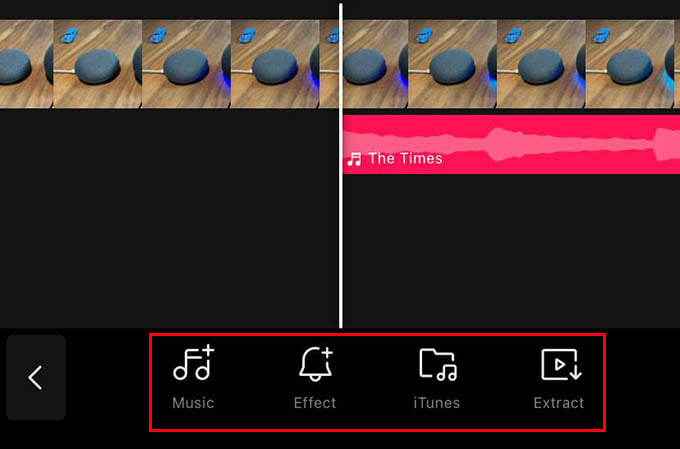 Do you want to extract music from another video and use it? You can tap the "Extract" button from the "Music" option in VITA App. You can then choose the video to take the soundtrack and reuse.
Adding some interesting stock videos to the project makes your video even stunning. For that, tap the "Stock" option from the project's main screen on VITA App. You can choose various video options from the window to add.
Related: 10 Best Song Finder Apps for Android to Identify Music on the Go
Add Video Overlay with PIP
Another powerful feature for you to create amazing videos with your smartphone. The VITA App lets you add videos over a video. You can add a video overlay with an image or video using the Picture-In-Picture option.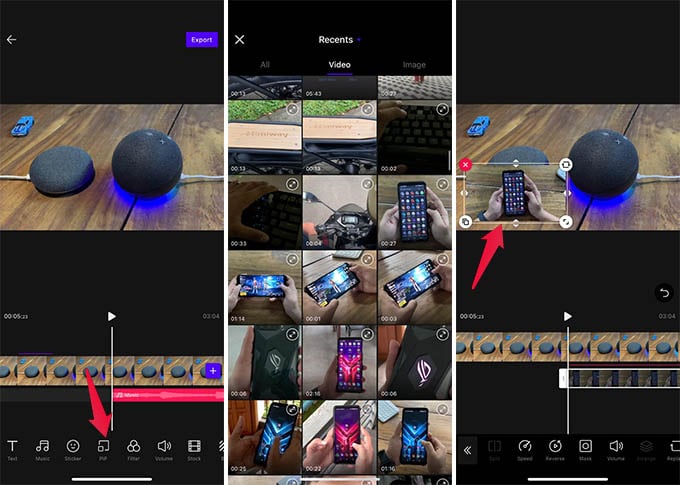 Open the new project with a video track.
Go to the "PIP" option from the bottom.
From the next screen, tap "PIP" again.
Choose the video to add as a video overlay.
Use the on-screen controls to change opacity, masking, speed, and more of the PIP video track.
The mask option lets you crop the PIP video in different shapes and place over the original video.
Add Cool Filters to Videos Quickly with VITA App
Don't let your videos look too boring on Instagram or TikTok. You can give some colors to the videos without much hassle using the VITA App on your phone. The inbuilt filters can instantly color tone your video into a stunning piece of visual.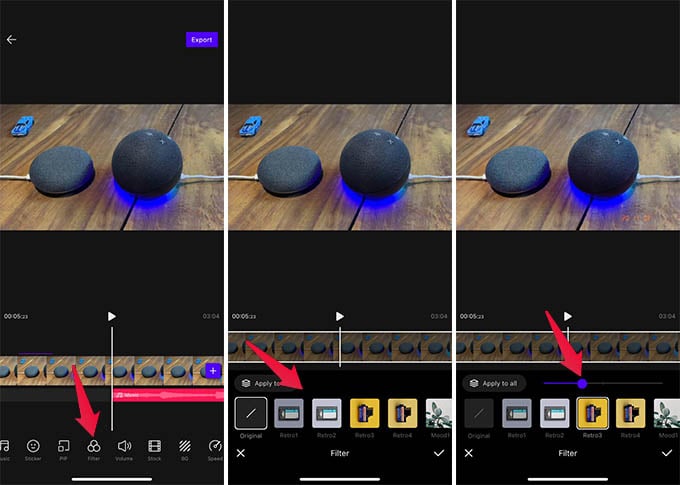 To add color grading to videos, go to the "Filter" option from the bottom menu. Choose the filters and use the sliders to change the grading intensity. You can either apply a single filter to all videos or add color options for each video in the same project.
Create Trendy Videos with Templates
Joining and making a mini-movie out of our videos has its limitation. If you need to stand out with your videos on social media, you need a storyboard and a perfectly crafted video stream. Forget it; you can create viral trendy videos with stunning video templates in VITA App.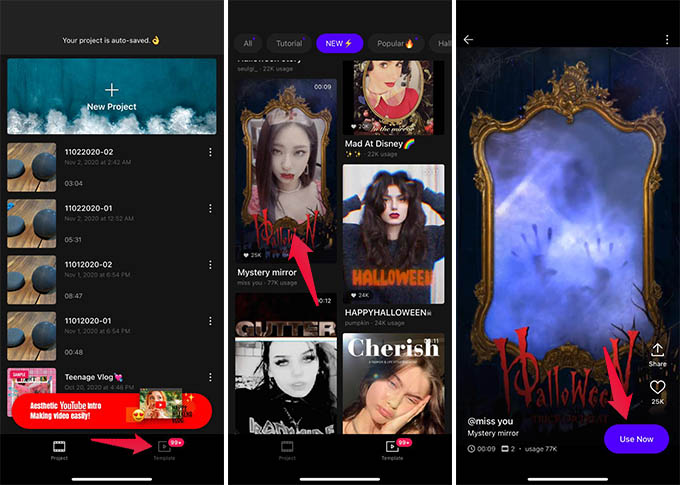 From the app main screen, go to the "Template" tab.
Choose a video template to use.
Tap "Use Now."
Choose the media one by one.
Wait for the VITA App to make the video automatically once you add all media.
You can create multiple videos with any of the available video templates within the app. There is no payment required, and are copyright-free to use on your YouTube channel as well. Plus, the templates gallery gets updated daily with new templates.
Change Video Resolution in VITA App
VITA App comes with Full HD video support. You can export a project quickly to the 1080P Full HD format by tapping the "Export" button. If you want to reduce the video size, you can choose different qualities as well. Follow the steps to change the video resolution in VITA App.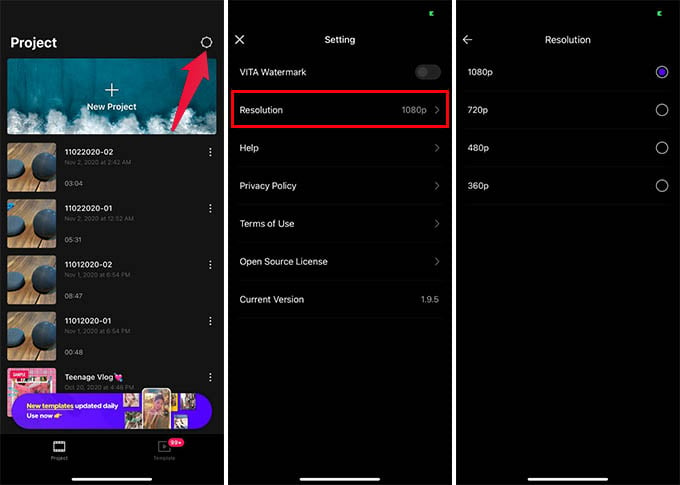 Tap the cogwheel icon on the upper right corner of the VITA App.
Go to Resolution from the Settings.
Choose the video quality from the next screen.
Choose the desired video quality and instantly save your future projects in the same resolution. You can change the quality from Settings whenever you want.
Moreover, you can add stylish text with animations, stickers, and more to your videos using the VITA App. Plus, there are unlimited possibilities to change the aspect ratio of your video by cropping and adding backgrounds you want.
Download VITA App: iOS | Android
VITA App is a simple, free video editor app for all your needs. You don't have to go for another expensive app if you want to make dazzling videos for your social media accounts and YouTube channel. VITA App got you covered in all video editing needs on your iPhone or Android.