Android secure messaging app is crucial if you are the one considering your privacy and security. WhatsApp and SnapChat apps forced us to chat more than talk and now we are searching for most secured messaging apps to keep our privacy. There are most secured messaging apps, let to make private chats and encrypted private messages to secure chat information. Some of these apps support self-destruction, that deletes the sent data itself after a specific time. No messaging app comes with failsafe and has concerns about privacy. Check out these most secure messaging apps for Android to send data safety and keep privacy in daily life.
Signal Private Messenger
Encryption Technology: Offers end-to-end encryption for texting. Additional layer, uses Curve25519, AES-256, and HMAC-SHA256 | Download Signal Private Messenger
Signal app is a unique best Android secure messaging app, free and open source messaging app. The code of the app is available for independent evaluation and for checking the presence of backdoors and nasty items.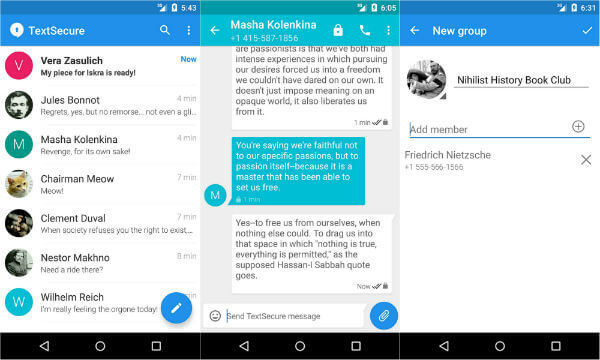 An advanced end-to-end encryption protocol is present in app. The app stores just the time at which users last connected to their servers. There is no sort of backing up procedure present in Signal like other apps. ZRTP, a quite known and tested protocol is present for secure voice communication. This protocol allows you to talk privately whenever you want to.
Related: Best 5 Free Android Apps to Schedule your Messages for Future.
Threema
Encryption Technology: End-to-End Encryption |NaCl cryptography library for encryption | Encryption key stored in local device | No backdoor access | Download Threema
Threema, one of the most secured messaging apps for Android, attracting lots of international users. This most secured app can be used anonymously and packed with a bunch of additional security features.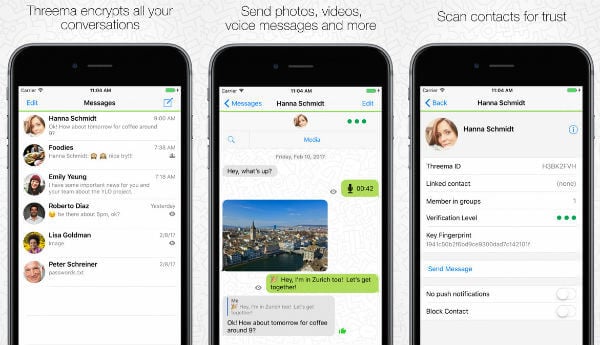 Threema encrypts end-to-end encryption for all messages, group chats, and medial files. This encrypted message app leaves very little information on the server, offer maximum protection to the end user. This secure texting app uses the NaCl cryptography library, an open-source encryption technology, and the encryption keys stored on user's devices to prevent backdoor access. All the messages going through Threema app are immediately deleted after they have been delivered and local files are stored encrypted, this make maximum security to your communication.
WhatsApp
Encryption Technology: Message Key using AES256 in CBC mode as well as HMAC-SHA256 for encryption and authentication. Every chat has a unique code | Download WhatsApp
Number one encrypted messaging app from Facebook. Not long ago, WhatsApp introduced end-to-end encryption to their users. WhatsApp's end-to-end encryption technique ensures that only the sender and the message receiver can read what is sent, and nobody in between, not even WhatsApp.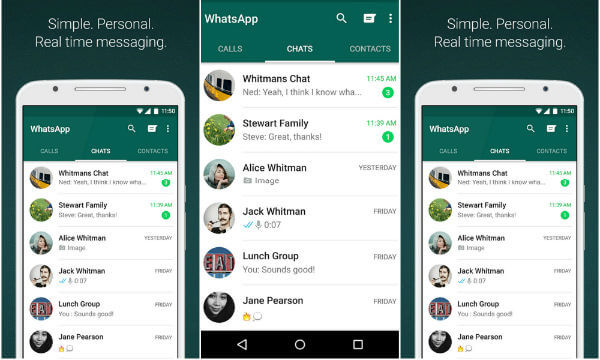 Each message has its own unique lock and key. Because of this, the messages are viewable only to you and the recipient. A user can check that the calls and conversation are protected with end-to-end encrypted or not.
Telegram
Encryption Technology: 256-bit symmetric AES encryption, 2048-bit RSA encryption, and Diffie–Hellman secure key exchange. The secret chats use an extra layer of client-client encryption | Download Telegram
Telegram arrived in the market with stress on security features. This secure texting app was endorsed as the app as the best Android secure messaging app. Having over 100 million active users in just two and half years with all the features of instant messaging. The data is as well as can be synced on all your devices.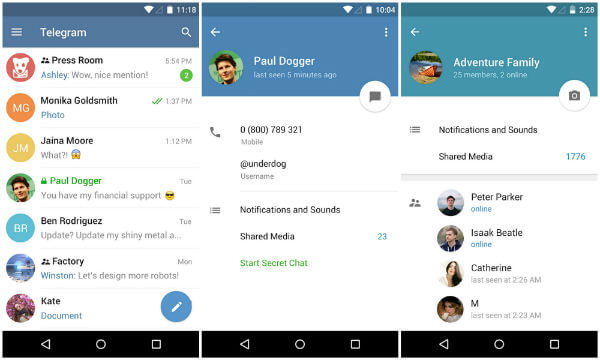 The encryption of the app is fast and efficient. The encryption key changes every week or instantly after 100 messages for forwarding secrecy. If your phone is under the hacking process or the encryption keys are in wrong hands. The messages not existing cannot be decrypted.
Viber
Encryption Technology: One-time 128-bit symmetric key is generated and is used to encrypt the message body using Salsa20 encryption algorithm | Download Viber
Viber allows the people to connect freely with others that come in their 800 million-user base. This encrypted messaging app is free and devoted to security and privacy of the user. The users of the app are marked with an icon of purple color, which on tapping gives the option to make calls.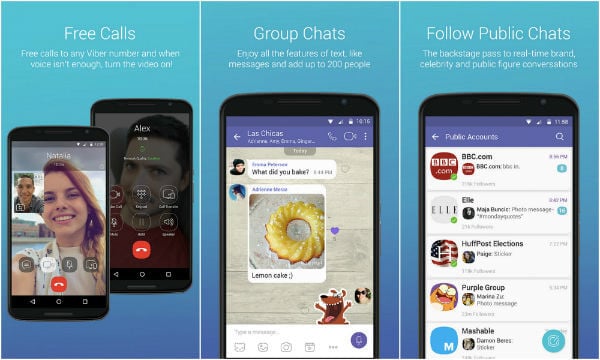 In their latest encryption technology, the user can access encrypted chats on all platforms – Mac, PC, iOS and Android. Viber also offers hidden chat feature to hide some specific conversations. Users can manually confirm the contacts shown by a padlock of green color. This messaging app is secure and even the Viber developers cannot read your chat message.
BBM
Encryption Technology: Messages using BBM Protected are secured using a secure passphrase | Download BBM
BlackBerry Messenger (BBM) is in the market up to the present time of IM apps and is in the heart of the masses. The security algorithm was trusted by US officials and even US prudent was using BlackBerry phone for security messages. This secure chat app brings the moment all together through instant chats, voice calls and more. You can confidently send and receive messages on the app to keep the work flowing. Through BBM, connect with anyone and anywhere free.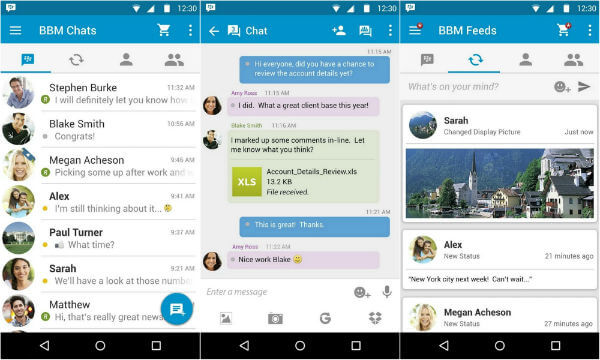 The way of communicating on an app is way more secure than normal unencrypted e-mail. As due to, the movement of messages not over the internet, but on a path that is specific to them. Pushing security always out in front. This private texting app uses PIN messages to give way for the exchange of messages. This Android secure messaging app uses Triple Data Encryption Standard (Triple DES).
Wickr Me
Encryption Technology: The app uses AES-256, RSA 4096 (Legacy App), ECDH521, TLS and SHA-256 for data protection. Wickr meets the encryption standards stated by the US National Security Agency (NSA) | Download Wickr Me
Launched in 2012, the best Android secure text messaging app works on the lines of Snapchat. It deletes your messages and data after a period from its servers. It is not an open source app and not discloses its privacy policy. For this reason, you can only make chat groups of maximum 10 people in the app. Generally, the app starts operating in sixty seconds. It needs negligible information to function.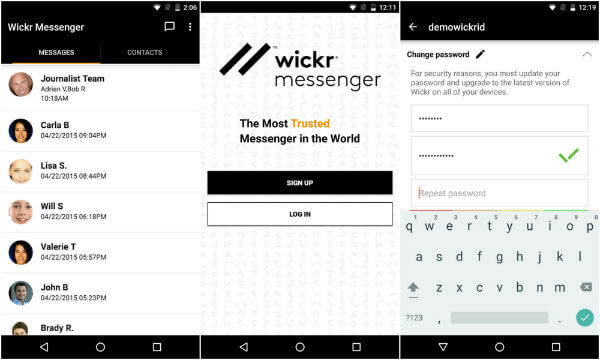 Wickr secure chat app uses standard AES256 encryption for securing the data of users. It forensically erases all the data on their servers and the user ID is unknown to everyone. The users can set their own expiration time on all the messaging data. In fact, from the first message, the level of privacy is felt in hands.
ChatSecure
Encryption Technology: Loaded with XMPP, OTR, and Tor, ChatSecure encrypts messages Download ChatSecure
ChatSecure is an encrypted text messaging app made for the people who have an aptitude towards security. This private chat app is an open source application ensuring total privacy in messages. The company states that the app is uniquely safe when using the app with security in mind.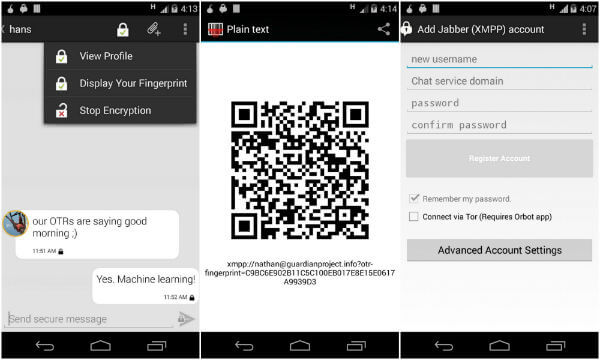 The app works perfectly works on platforms supporting OTR and XMPP. ChatSecure uses Tor for bypassing the restraining firewalls. You can connect to your own server for extra security.
Most of us, even for Millennials, encrypted messaging is the preferred and easy method of communication. Every individual will text first of all than calling someone at the moment whether it is day or night. Most of us, even for Millennials, encrypted messaging is the preferred and easy method of communication.
With this various Smartphone and PC messaging Apps, it is easy to compromise user security and hack the messages. Here is the role of Secure Messaging Apps coming into the picture. A well coded Android secure messaging apps can keep our privacy undamaged. To protect our data, most of these secure text messaging apps are coming with built-in end-to-end encryption and data protection.
Related: How to Mute unwanted Whatsapp Message Alerts in Android
Generally speaking, out of every Android secure messaging app is not able to satisfy every privacy necessity of the user. Surely, there are a number of secure text messaging apps to converse and end-to-end encryption is customary.