In the age of Apple Watch and Samsung Galaxy series, Xiaomi has found the perfect balance with Mi Band 4 that can track the number of fitness activities, heartbeats (BPM), view all notifications, and control music among other things. Developers have come up with apps that add even more features to the Mi Band 4 roaster.
These apps for Mi Band 4 further improve upon the existing features that Mi Band 4 has to offer. For example, you can plot BPM and sleep cycle data on a graph, read caller names, choose from thousands of watch faces, and more. Let's begin.
1. Mi Band 4 Watchface
Let's start with something easy and fun. Mi Band 4 comes with a color display and to take full advantage of that, you need a watch face app. With hundreds of watch faces to choose from, you will never get bored.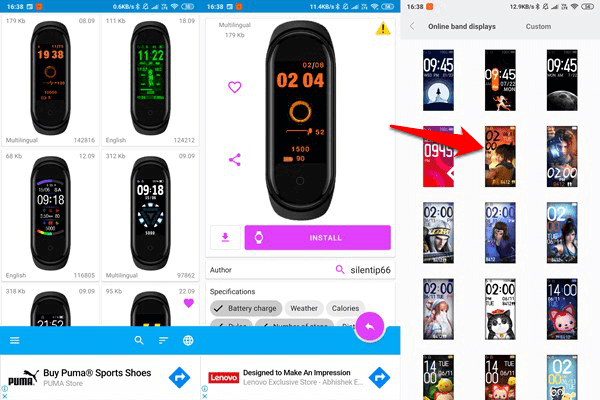 You can filter watch faces by date or number of installations. When you find something that you like, just click on Install. Now, open the Mi Fit app and select this watch face to install the one that you downloaded from the app. No matter which watch face you want to install, you will choose the same one from the Mi Fit app every time.
Download Mi Band 4 Watchface for Android
Also Read: Best Fitness Apps for Android and iPhone to Stay Fit
2. Notify & Fitness for Mi Band
Notify & Fitness is arguably one of the best utility apps for Mi Band 4 that will give you super powers. By default, Mi Band 4 is designed to show you notifications, but you can't read them. Using Notify & Fitness, you can read messages and contents of other notifications as well. You can set custom alarms and reminders. And there are a number of watchfaces made by fans!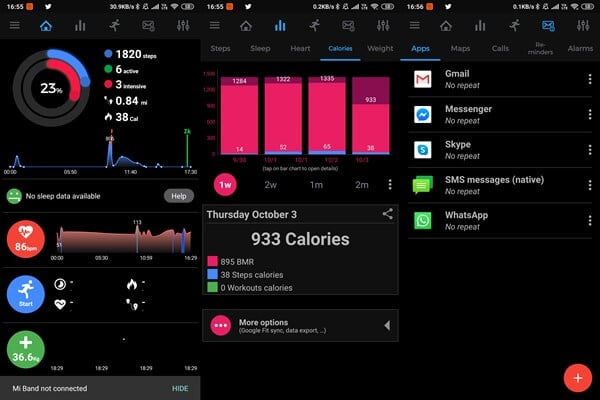 What I like is the ability to set a customized notification for my friends and relatives. I also use Strava but Mi Band, by default, only supports Mi Fit and Google Fit. Notify & Fitness allows you to export all fitness data to a number of fitness tracker apps. Then there are BPM and sleep data and graphs that are easy to read and understand. Missed a call? Set up repeat reminders for almost any notification type. Oh, you can also get Google Maps turns on Mi Band now!
Notify & Fitness has too many features to list here. The UI can be a bit overwhelming, and the app will cost you $4.99 but is worth every last penny. Its worth noting that the free version (ad-supported) is powerful enough. It all depends on what you need from the app. For example, remap the home button?
Download Notify & Fitness for Mi Band for Android
Also Read: 12 Best Calorie Calculator Diet& Tracker Apps for iPhone and Android
3. Tools & Mi Band
I feel that Tools & Mi Band is the only other app that comes pretty close to Notify & Fitness in terms of features. It shares many of the features with the former like see names of the caller, view messages, customized alarms, Sleep as Android support, repeat notifications, and patterns.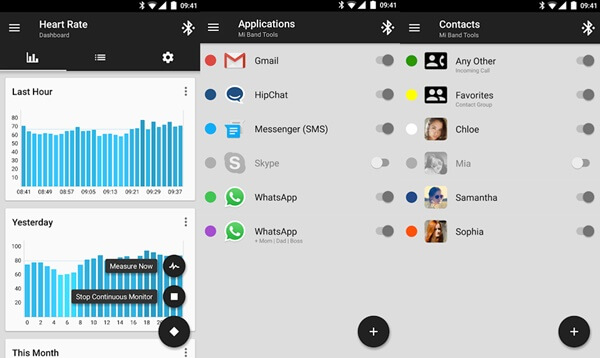 One feature that Tools & Mi Band lacks is the ability to export fitness data to apps like Runtastic or Strava. If you are someone who needs this feature, this app is not for you. On the plus side, Tools & Mi Band definitely has a better UI which is less confusing but also less feature packed. Choose according to your needs. There is no free version and the cost $4.99.
Download Tools & Mi Band for Android
4. Navigation for Mi Band
I know, I know, why do I need this app if the feature is already available in Notify & Fitness. That's because maybe you don't want to buy that app and only need directions on the Mi Band. It only costs $0.99 and works really well.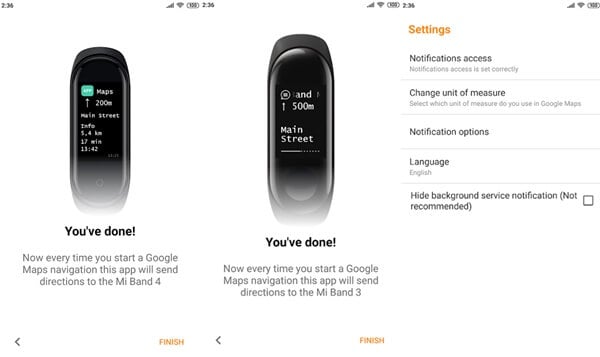 The moment you set your destination on Google Maps in the smartphone, you will see turn by turn directions with time, distance, and ETA on the Mi Band. Note that the developer says you will need Mi Fit for this app to work.
Download Navigation for Mi Band for Android
5. Mi Band Selfie
Love selfies? You don't need a selfie cam shutter anymore. They are long and cumbersome to carry. Just use your Mi Band 4 as a remote shutter to take selfies. How cool is that? Especially useful when you are taking group selfies and no one wants to do the job because everyone wants to be in the frame.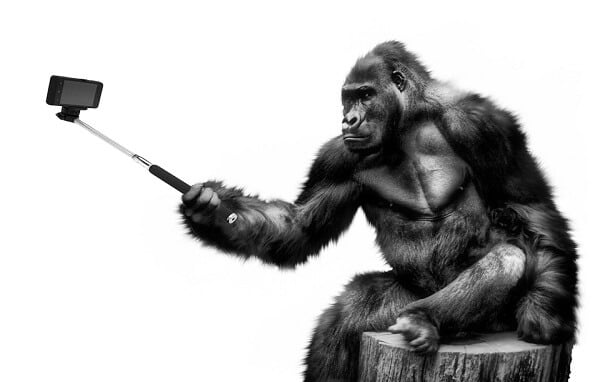 Mi Band Selfie is completely free and also ad-free. Note that you will need to download and use Open Camera for this to work. The app will detect the Mi Band 4 automatically if it is connected to the same Android as the app installed. You will now slide to the Music screen in Mi Band 4 to take selfies. Note that you won't be able to use music control when using the selfie mode.
Download Mi Band Selfie for Android
Also Read: Best Weight Loss Apps for Android and iPhone
6. GadgetBridge
Switching from one fitness tracker or smart band to another is always a difficult job. Mainly because these are closed and wall gardens who never offer ways to transfer data to their competitors. GadgetBridge is an open-source app for Mi Band 4 that wants to solve this issue.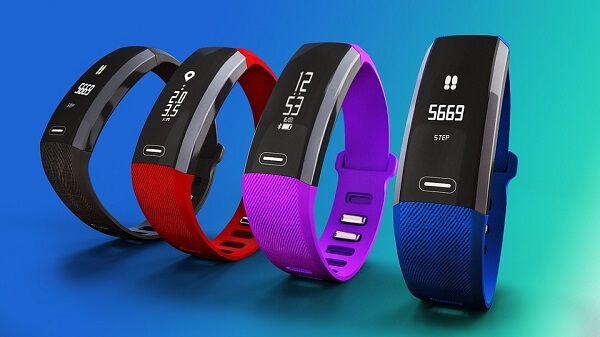 GadgetBridge works with a number of smartwatches and fitness bands like Mi Band, Amazefit, Pebble, Casio, Lenovo, and more. The list is long and they are constantly looking to add more models and companies. Newer versions, although in beta, have some additional features like smart alarms, predefined replies, notifications, etc. Still experimental though.
Download GadgetBridge for Android
Also read: How to Enable Engineering Mode to Test Xiaomi Hardware?
7. Master for Mi Band
One of the best designed apps for Mi Band 4 on the Play Store. I wish Notify & Fitness would take a leaf out of it. Master for Mi Band several of the same features that we saw earlier in the above apps, so there are no surprises.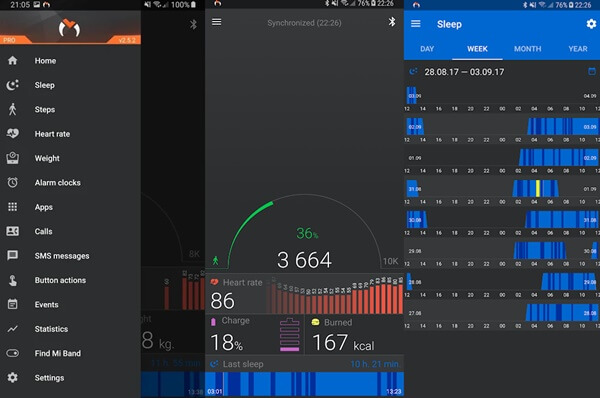 Go for it solely for the sake of a better UI which is easy to use, but note that it is not the most feature-rich app in the list either. Again, depends on what you need to get done.
Download Master for Mi Band for Android
These are some of the best apps for Mi Band 4, 3, 2 and some of them also work with other fitness trackers. While Xiaomi did an excellent job of upgrading the latest iteration of the Mi Band, they are constantly falling short when it comes to the Mi Fit app. It is not very accurate and often throws odd data. You can correct that and a lot more with one of these apps.