The gas price hike is at the highest and you should be worried unless you have a Tesla or another electric car. Just by looking at the cents of saving in gas per gallon, you can save hundreds of bucks every year if you are just careful. If you are in the hunt of finding the cheapest gas possible near you, there are many ways.
Let's begin.
Use Gas Rewards Programs
The best possible way to cut off on your fuel budget is to enroll in gas rewards programs by your favorite gas stations. This works better if you regularly fill your tank from the same fuel station. That way, you can keep being a "regular customer" and earn points through the reward programs.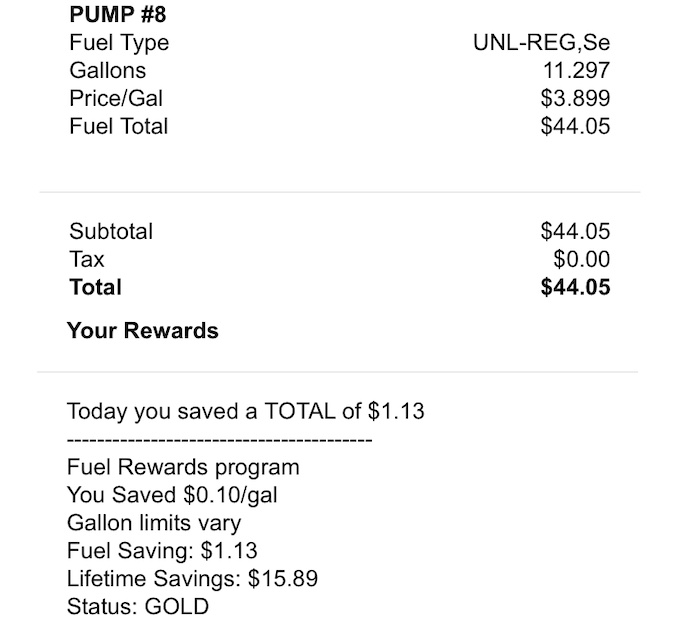 Most of the gas station reward programs keep track of your refueling and will give you rewards based on that. To get started, here are some of the available gas reward programs from your favorite gas brands.
Shell Fuel Rewards
When you sign up for the Shell Fuel Rewards, you will be considered within the Gold Status which will basically give you a 5 cents token for each gallon of fuel. If you are a frequent traveler, this is a good option since you can save up to hundreds of bucks a month just by filling the tank from Shell gas stations.
BPme Rewards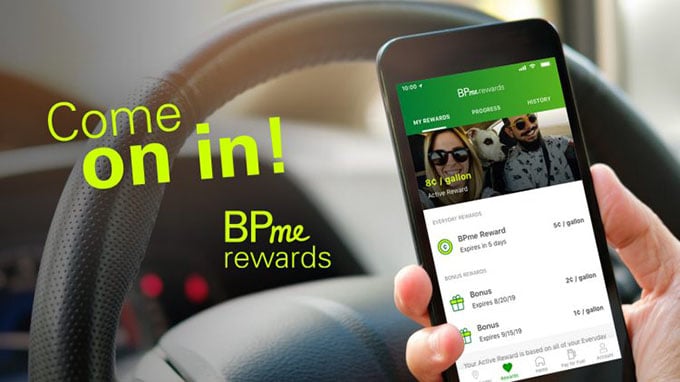 Like other reward programs, BPme is exclusively for BP gas stations through their official app. The reward program offers to give you 5 cents on every gallon you fill. BP also ties these reward programs with numerous credit cards named ScoreCard. The app also helps to redeem points from ScoreCard at any BP gas station.
Exxon Mobil Rewards+

The Exxon Mobil Rewards+ is a completely app-based reward program from Exxon. You can use the app to pay for the gas and earn at least 3 cents for every gallon of premium gas. For regular gas, you can earn 1 cent per gallon. Plus, there are more rewards for buying from the store as well.
Related: Make Driving Fun with These Apple CarPlay Tips and Tricks
Fill Up Your Tank from Big-Box Stores or Warehouse Clubs
It is high time you move from your regular gas station to the big-box stores if you are keen on the uprising gas price every day. Many of such warehouse clubs are cutting costs on their expenditure thus giving you the gas at the cheapest price possible.
Let us take Costco here. You must have come across long queues in all Costco gas stations and decided to fill up from your nearby regular gas station. But if you compare the prices at both places, you can see that Costco is much cheaper.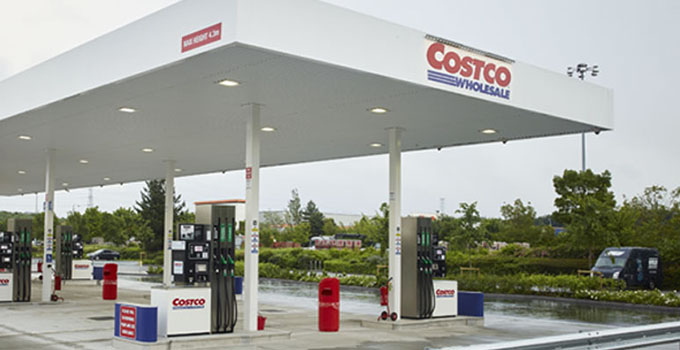 The only downside to this is that, to start filling up from such big-box stores, you mostly need a membership. A personal membership at Costco will cost you from $60 to $120 every month. It will be worth going for them if you want to shop cheaper and better from their warehouses and fill gas at the best rate.
Now, about the long queues, you can get there by early in the morning to avoid them since the gas stations open long before the stores. So, that's a way to save on gas on a daily basis.
Tip: Don't be fooled by anyone who says low price means low quality. Costco gas stations have Kirkland signature gasoline which is top-tier in quality.
Related: MacBook Air and MacBook Deals from Amazon & BestBuy
Use Grocery Store Reward Cards
Apart from the gas reward programs that let you save depending on how much you fill the gas, certain grocery chains give you gas points on whatever you shop in-store. Whether you buy groceries or medicines.

For instance, Kroger has fuel points at pharmacies and grocery stores using the reward card you get with the memberships. Similarly, many other large-scale supermarkets like Costco and Walmart also have gas points for shopping in their stores. You can later redeem these points in their gas stations as well.
Use a Rewards Credit Card
Getting a credit card that rewards you for filling up is one of the best ways to save money on gas. When you drive around a lot, use these credit cards in any gas station in the US and get rewards, cashback, or gas points at any time of the year.
You can find many credit cards offering gas points and rewards. Here are some of the best gas rewards credit cards for you in 2022.
| Card Name | Card Issuer | Gas Reward | Credit Score Needed |
| --- | --- | --- | --- |
| PenFed Platinum Rewards | Visa | 5X Points | 750+ |
| Blue Cash Everyday | AmEx | 2% Cashback | 670+ |
| Chase Freedom Unlimited | Visa | 5% Cashback | 690+ |
| PNC Cash Rewards | Visa | 4% Cashback | 750+ |
| Citi Premier Card | MasterCard | 3X Points | 670+ |
Related: Your College Email ID Is a Discount Card: Don't Pay Full Price for Gadgets and Apps Anymore
Get Extra Off on Gas with T-Mobile Tuesdays
There is good news for you is you are a T-Mobile customer. You can get free perks and offers every week through the T-Mobile Tuesdays, on most of the brands you love, including gas.
Once you install and start using the T-Mobile Tuesdays app, you can get the offers every week. Among them, you could find the Shell gas discounts which can help you save money while filling up.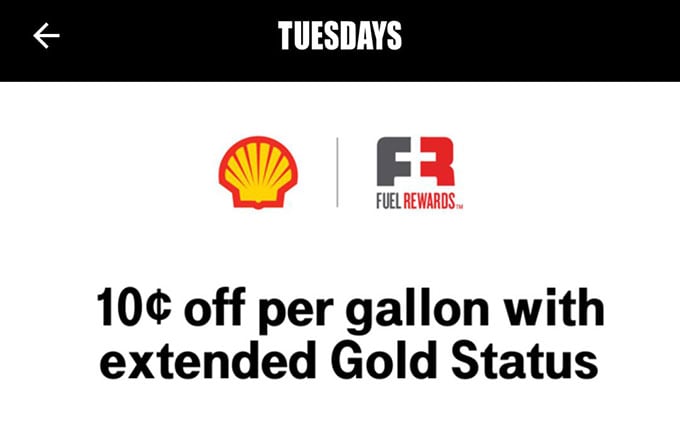 On Tuesdays, fill up to 20 gallons and you can save 10 cents per gallon. That is just $2, but with the extended gold status, you can save up to 5 cents per gallon every day. This is a better option if you love to fill up from Shell and do not have the patience to be on big-box queues.
Use a Gas Price App to Find Cheapest Gas Near You
Gas price varies between gas stations and you may be overpaying for your everyday fillup than a nearby gas station. But how do you know if you are getting the cheapest gas? The gas price-finding apps like GasBuddy help you look for the cheapest gas around you.
If you are new to finding the cheapest gas with apps, the following are some of the best gas price finder apps:
Apart from these, your daily navigation apps like Waze and Google Maps also have the option for finding the best and cheapest gas in your area.
Related: How to Add Toll Pass and Get Toll Rate on Waze
Pay for Gas by Cash
It is easy to pay for gas by credit card, but did you know that you can save money by paying in cash? Most of the gas stations charge you extra as a credit card fee. So the only way to cut it off is by paying cash.
When you pay by cash, there is no extra processing charge or card charge levied on you. Another better option is to pay through the official app of your gas brand so that they will even give you a cashback.
Find the Best Day to Fill Up
Do not just randomly check in to the gas station and fill up; there are days you can save better every week. Yes, filling up on a wrong day means you are losing more money, so make sure you choose the day of the week with the cheapest gas price. According to GasBuddy, Monday is the best day to save more on gas and Thursday is the worst. Look at the chart below.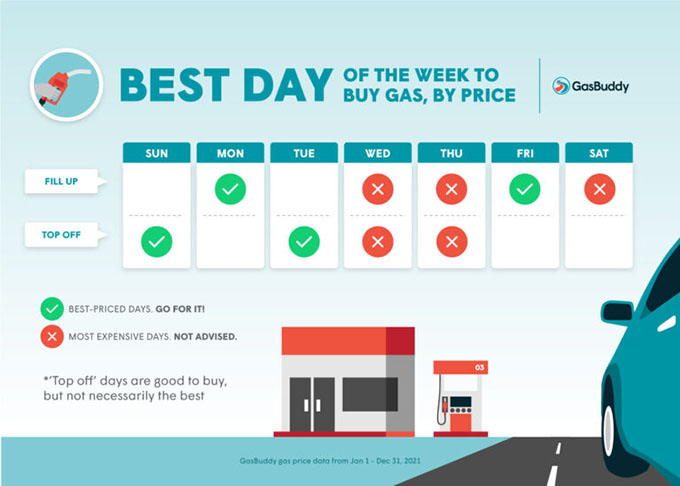 From these, you could now get a clear picture of ways to save money while filling up. You can watch out for the cheapest gas price available near you, or get cashback and rewards which will help you save more in the next fill-up. Plus, there are some tricks at the gas stations that could help you fill up better. Do let us know if you have more tricks to save more on gas fillings.