Google Calendar is a nice free tool to schedule appointments and reminders. Windows 8 includes the calendar tile application which is normally connected to your Microsoft account. Now you can combine the power of Windows 8 and Google Calendar by adding Google Calendar to Windows 8.
Update: Microsoft is re-introducing the mail and calendar support for Google in the newly released Mail and Calendar App for Windows 10 preview. For details, please check here. Google Calendar Support coming in Windows 10.
Update: Microsoft removed the Google calendar support option in Windows 8 Calendar app using an update from March 26, 2013. Existing users also may not able to get Google Calendar sync via Windows 8 calendar app after this update. Fortunately, you may subscribe your Google Calendars to Windows 8 calendar. It will add your Google calendar account events to windows 8 live account and hence you can continue using it further.
You can also choose the local calendar sync method between Google and Windows calendars. For Details, see Sync Google calendar to Windows calendar locally. Else if you want to sync your Google Calendar with Thunderbird, see Sync Your Calendars with Thunderbird. The procedure given below can be used, if you have Google account add the option in the Windows 8 calendar app.
Google Calendar is the nice calendar application that you can get working on all other platforms like MAC, Android, iOS and previous Windows Versions. That means you can open your Google Calendar on any device and also through the web interface, that make Calendar Tool easier and a universal web calendar.
It is pretty easy to add your favorite Google Calendar in Windows 8 application. You have to link your Google Calendar to the stock windows 8 calendar application to use the calendar without opening your desktop. On Windows 8, open the calendar application from the tile menu.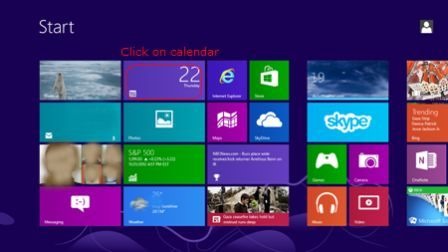 Your calendar application will be connected and sync with your Microsoft account by default. We have to add Google Calendar at this point as a new account. To add a new account go to the right corner and click on settings.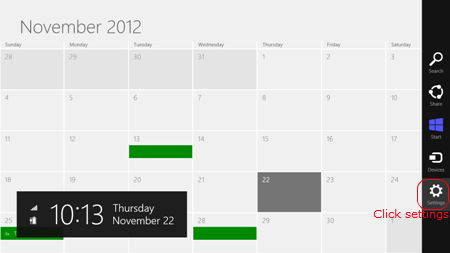 Now you can see an application specific menu on the right side. Please click on Accounts in the application specific menu.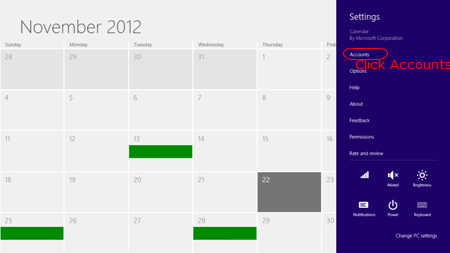 Windows 8 will show you all your connected accounts at this screen. Click on Add account to add your Google Calendar account to the application.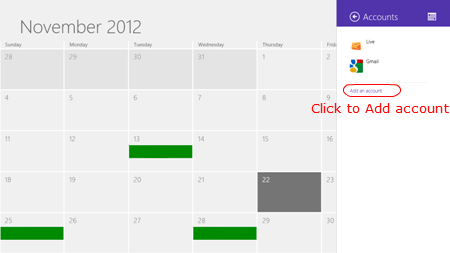 You can add various other calendars like Hotmail, Outlook or Google accounts to the application on this screen. Select Google account from here.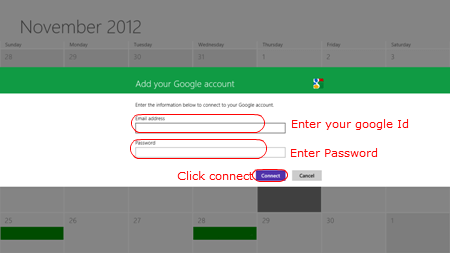 Enter your Gmail address and password and Click on Connect button. Your account will be verified and synchronize within a couple of minutes. After synchronizing the calendar, you will be able to see your calendar entries in the tile menu itself. You are done.
If yo have more than one calendar (secondary) calendar in Google, please refer here to Add Google Secondary Calendar to Windows 8, and this article shows you how to setup Google Calendar on iPhone / iPod if you are an iOS user.
Note: You may have difficulties if you are the one who registered Google Calendar after January 30, 2013 and two-way synchronization may NOT support for these subscribers with Windows 8. In that case, you can subscribe your Google Calendar to Windows 8 Calendar app. This will help you to add your events to Google Calendar and that can be view at Windows 8 Calendar app. Please refer here for Subscribe Google Calendar to Windows 8.
Compare to the previous versions of Windows, Google Calendar for Windows 8 setup is much simple and quick without any further complicated settings or additional software requirements.