The Now Playing feature automatically tells you which song is being played around you. Say you enjoyed a piece of music while walking and want to play it again. Check in this history. You don't need to listen to that music from your phone. No matter the music source, the Pixel can listen to it and save the history for you.
Let's check how to get back the details of your favorite song you enjoyed while walking on the street from your Pixel phone.
How to See Now Playing Song History on Pixel
When your Pixel identifies a song being played around you, it will immediately show you the name on the lock screen and the Always on Display. But if you missed it, you can easily go to the Now Playing history.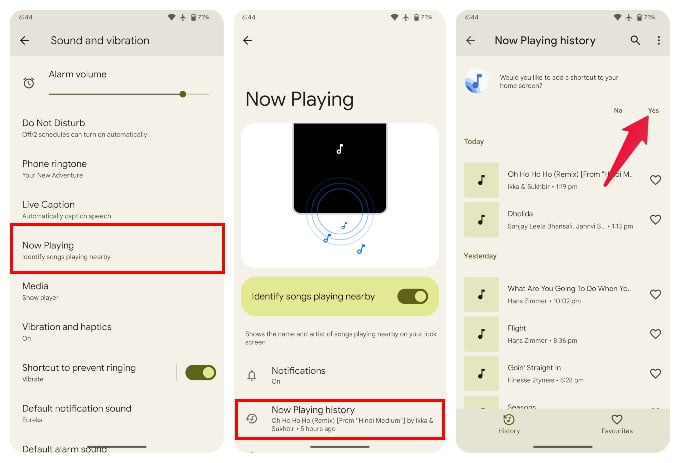 Open Settings.
Go to Sound and vibration.
Tap on Now Playing.
Underneath the main toggle, you will find Now Playing history.
Tap on Now Playing history to view it.
Here, you can see all the songs you've recently been around. The Pixel mostly does a pretty good job recognizing songs correctly. However, you might still be surprised by some of the songs here because you probably didn't pay attention at the time and don't remember hearing the song. Rest assured, the Pixel did pay attention.
How to Get Your Spotify Listening History to See All of Your Recently Played Songs
How to Add Now Playing to Spotify, YouTube Music, etc.
If you like a particular song or a couple of songs, you can directly look for them on your favorite streaming services from here. For now, only YouTube Music supports adding songs from Now Playing directly to playlists. But you can still search for the songs on other streaming services if you use them.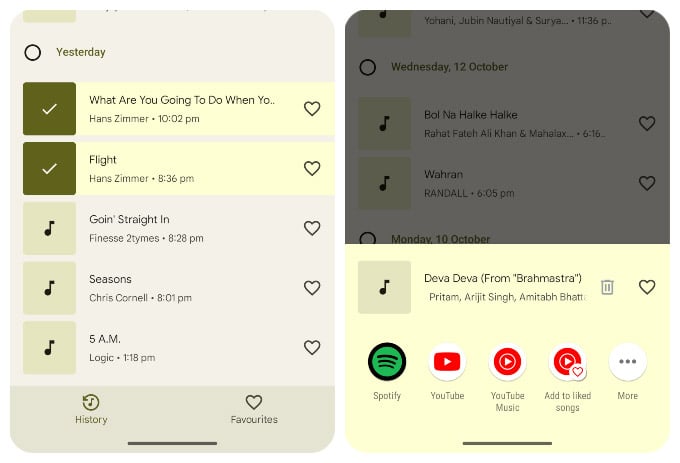 Long press on a song or tap on the musical note icon to its left to select it.
Tap on the export button icon at the top.
Select your preferred streaming service or YouTube Music option.
If you select multiple songs, you only get the option to add them to a YouTube Music playlist. Now Playing is one of the useful but underrated features of the Pixel. And the lack of availability on Android as a platform means apps like Spotify or Apple Music don't support the feature. Hence, YouTube Music is the only streaming service for the near future with tighter integration to this service.
You can access the Now Playing history even if you miss the song. If you're wondering, yes, your Pixel is always listening. That's how it can tell when a song is being played. However, that's common on most smartphones unless you disable the "Hey Google" or "Hey Siri" hot word that allows you to call your voice assistant with voice.
Rest assured, your phones are not constantly sending this data to Google or Apple. Your data is stored only when the hot word is detected. In case of your Now Playing history, that data remains locally on your Pixel.
FAQ: How to See Now Playing History on Google Pixel
How do I see my Now Playing history?
On a Google Pixel device, you can easily check your Now Playing history in Settings > Sounds and vibration > Now Playing. You can also add songs from your history directly to Your YouTube Music library or playlists or search for them on other streaming services you use.
What's this song History Google?

More accurately known as Now Playing History, Song history on Google is a list of songs your Google Pixel has identified being played around you through your daily activities. It could be something on the radio on a bus, in your gym, or any other place where you were, and music was being played.