While most music player apps like Spotify and YouTube Music have a web app, Apple Music never had one. This decision to not support any web browser or web app left a lot of music lovers frustrated. Users were regularly seen looking for workarounds like using iTunes and so on, but that really didn't work as expected. Also, iTunes is going to be axed down later this year. All that and more is going to change with the launch of Apple Music web app. Yup, you can now stream Apple Music from the browser, both computer, and mobile.
Is this a sign of bigger things to come from the house of Apple? Is the Cupertino giant looking to make more apps or services available outside or Apple in the future? We don't know but for now, let's see how to stream Apple Music on the computer, and what it has to offer.
Let's begin.
1. Beta Launch
Apple Music browser version is still in beta as is evident from their URL which begins with the same word. There are a lot of similarities between the web app and the macOS app that Apple is planning to launch with Catalina in a few weeks.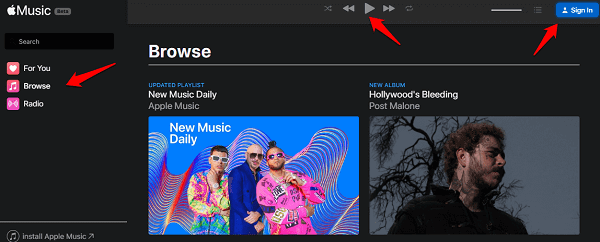 There is a play button at the top and default playlists and browsing option in the left sidebar. And there is the familiar sign in button on the upper right. Once signed in, you can see your curated playlists on the left.
Also Read: 7 Best Music Player with Lyrics for Android and iPhone
2. Apple Music in Desktop Browser
Click on the Sign-in button to enter your ID and password. Once you do, all your playlists will sync within a few moments and appear in the sidebar.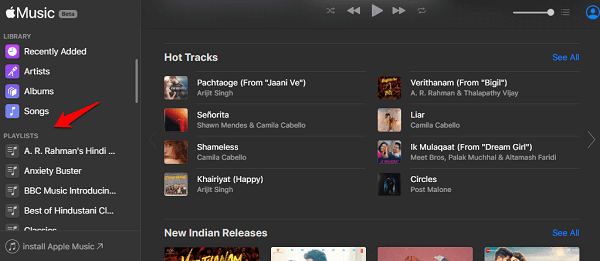 Scroll a little to find featured lists, hot tracks, and other customized lists from the excellent music editorial team behind Apple Music. One of its strong suits.
When you open a playlist, you will see all the songs on the right with familiar options like play, shuffle, and a menu icon. For some reason, the album art was missing which looked kinda ugly, but Apple Music for browser is still in beta. It should be fixed soon.
While I have tested Apple Music on Chrome, Opera, and Brave; for some reason, I was asked to open iTunes in Firefox. Why would I need that? I think that's a glitch and will be soon fixed. Not sure at this moment if I am the only one facing that error. I have Windows 10 with the latest version of all browsers installed.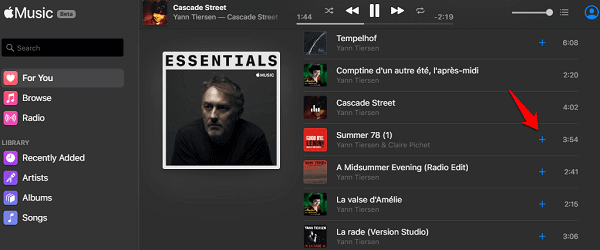 One key feature missing is the ability to add songs to playlists. There is a plus icon that you can use to add songs to the library, but there is no way to create playlists or add songs to them. So the web app is good for listening to playlists but not so good for discovering new songs. Because is also no way to add local songs that are stored on your computer to Apple Music to stream. I have a huge collection of songs sitting on my drive. Still can't use it with Apple Music. On the plus side, you can listen to music in the background.
Also Read: How to Rename AirPods on Mac and iPhone?
2. Apple Music in Mobile Browser
If you are wondering why would anyone stream Apple Music in a web browser on a smartphone, there can be a few reasons. If you are using an exchange or company mobile and certain apps are restricted. A web app could solve that problem. Add proxy to the mix and you are untraceable.
Let's see if the web version works in mobile browsers as Apple said it would. Well, it is not working on Chrome app on Android, at least for me. I sign in and then is greeted with a blank page. Come to think of it, Chrome on desktop also gave me some trouble before I could sign in and listen to Rihanna.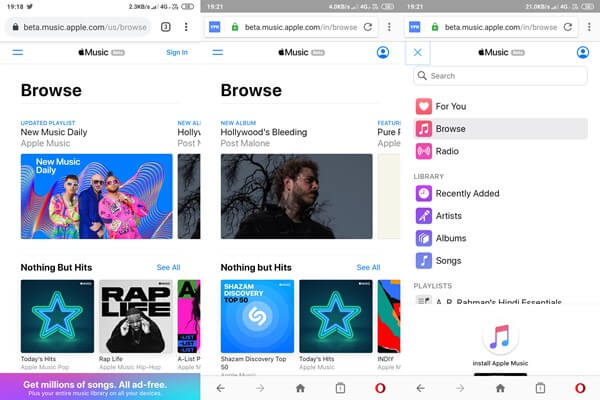 Opening the menu on the left has a weird and jerky animation, but works alright. The UI is pretty much identical to the one on the big screen. One look at the UI and you know it is not designed for the mobile. They have simply scaled it down to fit the screen size, but that is not cutting it in.
Finding your favorite playlists and searching for songs is not a good experience. Especially, after using the mobile apps that are so well designed. I hope they will redesign certain elements for the mobile browser to make it work more seamlessly. You can add songs to your smart list by clicking on the heart icon in the menu next to the song. Several users have claimed that they were unable to use smart list option on Reddit though.
Apple Music integrates with Google Home via the mobile app already. It also works with other smart speakers as well. The web app however makes it difficult to do so. I can connect my laptop to Google Home using Chrome, but that's how far I go. For some reason, songs being played in Apple Music was not audible in Google Home yet. Not a deal breaker because most people have smartphones at home, but still something to consider.
Also Read: 12 Best GarageBand Alternatives for Android Users
3. Missing Features
There are certain features missing from the beta web version of Apple Music. Some original video content from Apple was missing. But searching for songs do come up with videos that are old and not original.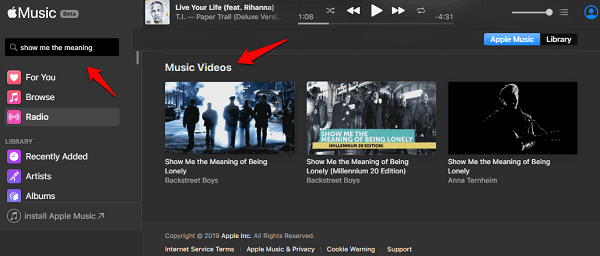 The popular Beats 1 live broadcast radio option is also missing. Apple representatives have said that they are working on the Apple Music web browser app and more features will be added soon.
Stream Apple Music from Browser
The browser app puts Apple on par with one of its bigger competitors- Spotify, which has offered a web app for years now. The move will also allow users of Linux and ChromeOS to subscribe to Apple Music and listen to songs in the browser. However, the move is nothing significant because it feels like too little, too late. It should have been offered years ago but still, better now then never.
This shows Apple's growing interest in the services sector which is in line with what Tim Cook has been saying all along. A major chunk of Apple's revenues come from services, and Apple is keen to focus more on this growing industry.
So, which Apple app will be next available on the web? Any guesses?