WhatsApp account is based on the phone number and you need a phone number (i.e SIM card) to install and use WhatsApp on Android/iOS phone. It is not easy to get WhatsApp activation code if your phone doesn't have a valid SIM card. And, WhatsApp cannot be launched without entering the code. However, if you have a secondary phone or iPad, it is not really worth to buy a second SIM just for the sake of using WhatsApp. Right? Don't worry.
You can easily install and use WhatsApp on another device without SIM or phone number. Let's see how to do that.
How to Install WhatsApp Without SIM or Phone Number?
Majority of the people (including me) will have at least 2 email addresses. For example, one email will be used to communicate with family/friends and another one to manage professional contacts. Likewise, you might need an additional WhatsApp account for some reason. However, WhatsApp won't allow you to create more than one account for the same mobile number. The alternative solution, you have to have another number to install WhatsApp.
Is buying a SIM card the only available option to get an additional phone number? Not at all. You can try any of the below options to get a second phone number without buying a new SIM card.
Solution 1: Using Google Voice Number
If you are residing in the US or Canada, then you can easily set up Google Voice to get a new phone number. As it is possible to send/receive text messages on Google Voice, you can use the Google Voice number to install WhatsApp on a second device. Read this article to get free Second phone number using Google Voice.
To activate the Google Voice Number, you need to provide a phone number for getting the verification code. Either you can use your primary mobile number or landline number to get the code and set up Google Voice.
Solution 2: Using TextFree app
For some reason, if Google Voice doesn't work out for you, you can try this TextFree app. TextFree is a free calling and SMS app (available for both iOS and Android) which can be used to get a real US phone number.
Of course, the number will be reserved for you once you create the account and can be used for the free text message. You can use this as a secondary number to receive the WhatsApp verification code within that time interval. Otherwise, the number will be lost and you need to reserve a new number.
Download TextFree: iOS | Android
Solution 3: Using Landline Number
Both the above options didn't work out for you? No need to worry. Have you got a landline at your home like Vonage/ooma? Then, you can use that number for the new WhatsApp account. Instead of selecting the text option to get the code, you need to choose the call verification option. When you request verification for WhatsApp, you will get a voice call on your landline number with a verification number. Make a note of the verification code from that call and enter the same to activate your new WhatsApp account.
WhatsApp Business app allows users to create an account using a landline number. Even though it is intended for small business owners, you can give it a try.
Also Read: How to Register & Setup WhatsApp Business
Can You Install WhatsApp on Tablets Without SIM?
Let's assume that you need to install WhatsApp on a second device. Unfortunately, you don't have a spare phone. Instead, you have only one Android Tablet which doesn't have a SIM card slot. Is it possible to install WhatsApp? Even though there is no official app of WhatsApp for tablets, still, you can install WhatsApp on the tablet using the .apk file. For that, you need to turn on the option Settings->Security->Unknown Sources to allow installation from unknown sources.
You can download the WhatsApp apk file here. As you know, APK files are not from Google play store and not advised to install on Android device. Please use the APK files at your own risk, and we would not recommend that. However, if you want to use WhatsApp on your Android tablet, these APK files are the quick solution.
Download WhatsApp APK: Apps APK | APK Monk
How to Use WhatsApp on PC?
Can you use WhatsApp on your Windows laptop or Mac? Yes, Of course. Just open WhatsApp Web from the messenger app on your phone. And, scan the QR code for from your phone to sync with PC to send/receive messages. If the cookies are not deleted on your PC, then you don't need to sync the devices everytime you open the WhatsApp on your laptop or desktop.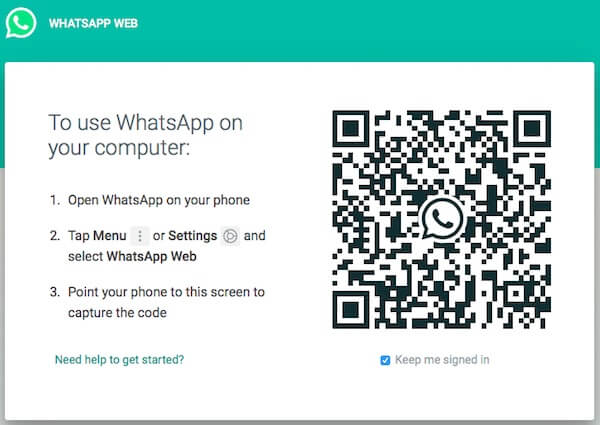 Alternatively, you can also download the WhatsApp desktop app which is compatible with both Windows and Mac OS. Of course, you need to sync the computer and your mobile phone to start using WhatsApp on your PC. From PC, you can do almost all the things you will do with the WhatsApp mobile app. Like, sending & receiving messages, photos, documents etc. You can also enable notifications as well.
Is it possible to Install WhatsApp on iPad?
Officially, there is no WhatsApp version available for iPad. Apple iOS is isolated secured than Android OS. You can't install WhatsApp on iPad using the .apk file (like for Android tablets). There are solutions to jailbreak iOS, and we wouldn't recommend and don't want to go further details either. However, there is a workaround to see WhatsApp messages on your iPad.
First, navigate to WhatsApp Web from the Safari browser.
Next, tap on the option 'Load Desktop site' on the right side of the page. If you don't see that option, tap the Refresh button.
Now, you will see the WhatsApp web interface on your screen. Then, open the WhatsApp messenger on your iPhone and sync the two devices using the QR code.
That's it. You will see the exact replica of your messenger on your iPad. However, there are some limitations to use WhatsApp with Safari as the browser is not officially supported by the messaging platform. Like, you cannot enable notifications as you can do on your mobile or PC. Also, you cannot send voice notes using the Safari browser.
Related: How to Send & Receive WhatsApp Messages from Windows/Mac?
Pick the Best Alternatives for WhatsApp
Instead of getting a second phone number, you can think of using apps which are similar to WhatsApp Alternatives like Telegram or Line. These apps let you use your existing phone number itself. Of course, the look & feel and list of features vary with every app. However, some of these apps are coming with dedicated apps for iPad and Android tablet. There is no workaround required like WhatsApp, you can install and use these app direct on tablets.
Use WhatsApp on Tablet and iPad.
It is possible to have a second WhatsApp account without SIM on your phone. You can use the workarounds to activate WhatsApp account on your second phone. However, if you want to use WhatsApp on your second tablet, the things are not easy as the phone. Depends on the OS system (iOS or Android) the workaround is different for the tablet. For Android, APK would be better and iPads, you can use the web version of WhatsApp.