Let's start by saying I love using Linux, Ubuntu Linux to be exact. And thus, you are here, looking for the best Windows software alternatives for Linux. Most people new on Linux look for an Adobe Photoshop alternative or an MS Office alternative. Even in 2020, the platform lacks professional apps like Adobe Photoshop. Even Microsoft does not have its popular MS Office suite available on Linux. However, you can have the most popular MS Office alternative, Libre Office.
The Windows alternative for Adobe Photoshop or I would say, the next best thing match to Adobe, called GIMP. Here are the best Windows software alternatives for Linux.
Best Windows Apps Alternatives for Linux
GIMP: Adobe Photoshop Alternative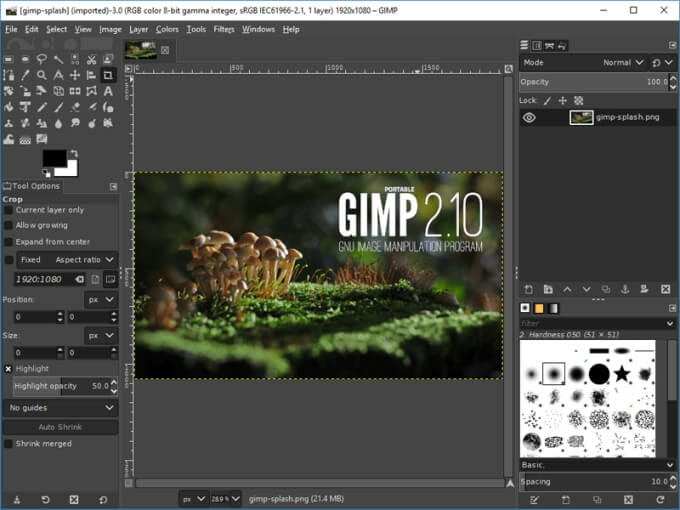 Adobe Photoshop is the most popular graphic editing tool. There are good reasons for that and no other alternative comes close to it either. But most regular people only buy Photoshop because they've heard its the best. Not everyone using Photoshop needs Photoshop.
GIMP (short for GNU Image Manipulation Program) is a very worthy alternative to Adobe Photoshop. That's why it is the first on this list of open-source alternatives to Windows Software. GIMP cannot do everything that Photoshop does. Yet, it can do most things and it is completely free. GIMP is also very light-weight when compared to the sluggish Photoshop.
This free open-source alternative to Photoshop lets you do plenty of thins. These include creating icons, graphical design elements, color management features, and more. There are plenty of customization options as well as third-party plugins. If you're using Linux, there's a good chance GIMP is already installed on your system.
Key Features:
Allows you to customize the view and behavior the way you like it.
Numerous digital photo imperfections can be easily compensated for using GIMP.
Ideal for advanced photo retouching techniques.
Graphic design elements.
Basic PDF file editor.
Support for various input devices out of the box.
Download: GIMP
Inkscape: Adobe Illustrator Alternative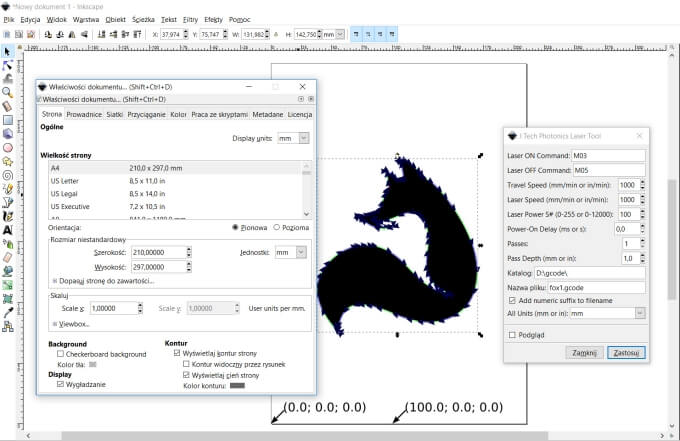 Photoshop isn't the only graphic design tool from Adobe. It's more popular because more people edit photos. But if you're into vector graphics editing, you've heard of Adobe Illustrator as well. What GIMP is to Photoshop, Inkspace is to Adobe Illustrator.
Inkscape is a very competitive, open-source, and free Adobe Illustrator alternative. It's a powerful vector editor with flexible drawing tools. It features various file format compatibility and powerful text tools. Inkscape also has support for Bezier and spiro curves. Advanced scalable vector graphics features like markets, clones, and blending are also supported.
The app natively supports opening or importing a range of formats, including SVG, PDF, EPS, AI, and CDR. At times Inkscape can be a little laggy but it does a lot of things for free. For a student, someone wanting to learn, or the budget-conscious, this is a perfect choice.
Key Features:
Various Drawing, Shape, Calligraphy, Pencil, and Pen tools.
Path Simplification with Variable Threshold.
Bitmap tracing.
Fully anti-aliased display.
SVG file format generation and editing.
"As you drag" rendering of objects during interactive transformations.
Object creation and manipulation.
Download: Inskscape
Master PDF: Adobe Acrobat Reader Alternative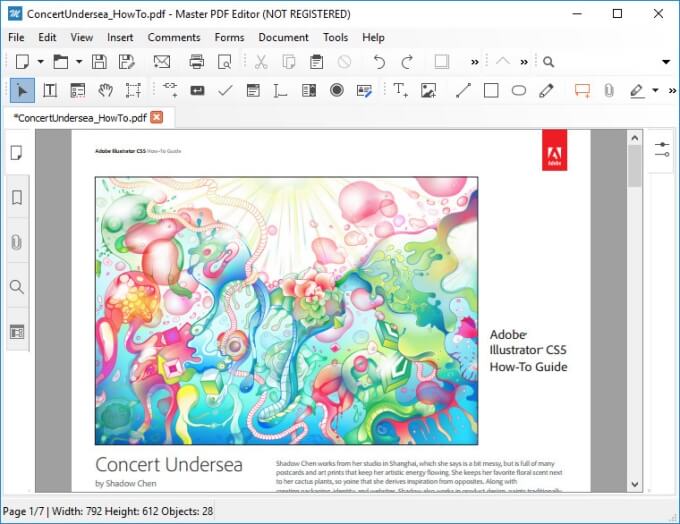 Adobe Acrobat Reader is another very popular tool from Adobe. Adobe Reader is a free tool used to view, print, and annotate PDF files. But Adobe Acrobat Reader is a paid software. It lets you create, edit, convert, digital sign, encrypt, and export PDF files.
The open-source universe has plenty of alternatives for Adobe Reader. Even LibreOffice, Inkscape, or GIMP can be used to do those simple tasks to an extent. But if you need to fill a PDF form, sign a document, etc. you have limited options. Master PDF is one of the very few and free alternatives to Adobe Acrobat Reader.
It is a proprietary software though and not open-source. But it does support all the features required for editing a PDF file. Master PDF allows creating, editing, encryption, and signing the PDF documents. All this happens with relative ease. You can also comment on PDFs with stamps, notes, text underlining. Filling PDF forms is also supported. There is also a commercial version if you want to pay for it.
Key Features:
Edit PDF text, images, and pages with full editing features.
Create a new PDF or edit existing ones.
Add and/or edit bookmarks in PDF files.
Encrypt and/or protect PDF files using 128-bit encryption.
Convert XPS files into PDF.
Add PDF controls (like buttons, checkboxes, lists, etc.) into your PDFs.
Import/export PDF pages into common graphical formats including BMP, JPG, PNG, and TIFF.
Split and merge PDF files.
Download: Master PDF
Openshot: Adobe Premiere Alternative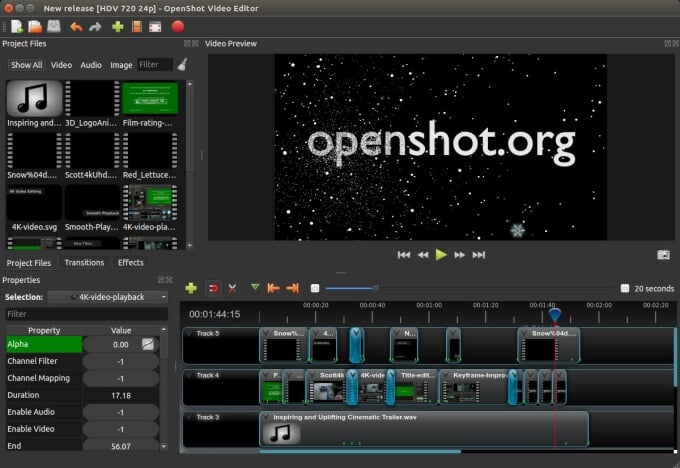 Professional Video Editors often use Adobe Premiere. It is exclusively a Windows and Mac software. Like most Adobe products, it also costs quite a bit. If you're looking to get started, there's a great alternative to this Windows Software.
It's a powerful yet easy to use video editor with a timeline interface. When it comes to free video editors there's nothing nearly quite as good as the paid options. Openshot manages to strike a better balance between features, performance, and ease of use. It allows you to manipulate video, audio, and images in a non-linear fashion.
The transitions tab packs in enough video effects to please the target audience for such an app. You won't find the fancy things you get with Adobe Premiere. The transitions and fades are easier to apply between clips as well.
Key Features:
Cross-platform video editing software (Linux, Mac, and Windows).
Based on the powerful FFmpeg library, OpenShot can read and write most video and image formats.
The powerful keyframe animation framework.
Capable of an unlimited number of keyframes and animation possibilities.
Native file browsers, window borders, and full drag and drop support with the native file system.
Built-in audio editing features.
Speed up and slow down clips.
The advanced video editing timeline has a ton of great features.
Download: Openshot
Natron: Adobe After Effects Alternative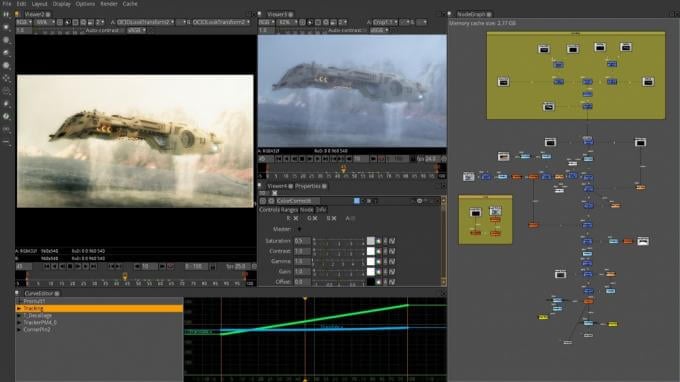 Adobe After Effects is another paid professional software by the company. It is used for film-making and television production to add visual effects and motion graphics. Natron is a free and open-source alternative to After Effects also available on Windows as well as Linux.
It's a perfect alternative to the popular Windows Software and provides motion editing and multi-view workflow. The interface is intuitive and rendering is quick. This lets you work with keyframes with a very accurate curve editor.
Natron can also be used from the command line if you're into that. Smooth zooming and panning are also supported for large images. The app also includes a full-featured dope-sheet to quickly edit clips and keyframes in time-space.
Key Features:
32-bit floating-point linear color processing pipeline.
Colorspace management handled by OpenColorIO.
Plenty of supported file formats including but not limited to EXR, DPX, TIFF, PSD, SVG, RAW, JPG, PNG, etc.
Support for OpenFX v1.4 and many free, open-source, and commercial plugins.
Ability to render multiple graphs at the same time.
Real-time feedback.
Low hardware requirements.
Download: Natron
darktable: Adobe Lightroom Alternative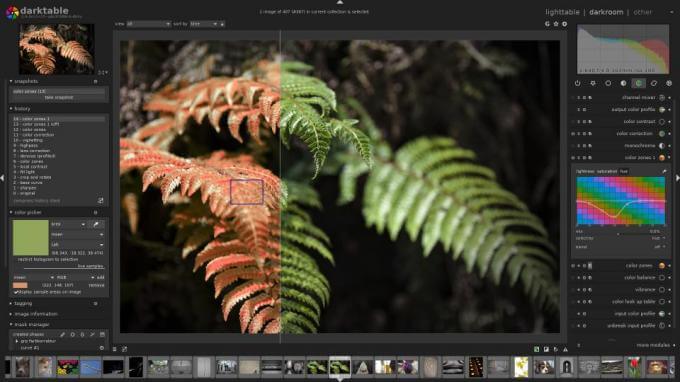 Adobe Photoshop can work magic with images but if you just need a simple photo processor and organizer, Adobe Lightroom is the app to have. It lets you enhance your photographs, punch up colors, straighten skewed shots, etc.
The darktable is a similar photography work-flow application and raw developer. It lets you manage digital negatives and RAW images. Users can not only view RAW images but the app also offers tools to enhance them. Basic image operations include crop and rotation, highlight reconstructions, white balance, invert operation, and exposure control.
Modification to the exposure, level adjustments, changing lightness, recreating contrast for HDR images, etc. are also here. The darktable also includes color operations including correcting overexposure and color, contrast, enhancing saturation, and manipulation of RGB channels.
Key Features:
Non-destructive editing throughout the complete workflow.
All core functions operate on 4×32-bit floating point pixel buffers, speeding up operations.
GPU accelerated image processing.
Professional color management.
Cross-platform support.
Zero-latency, zoomable user interface.
Currently comes with 21 translations.
Many aspects of darktable can be scripted in Lua to automate repetitive tasks.
Download: darktable
Libre Office: MS Office Alternative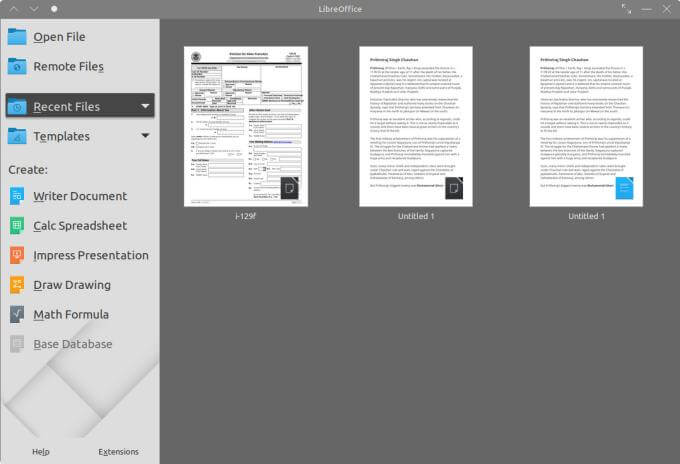 LibreOffice is widely considered the best MS Office alternative on Linux. It's the default office suite that many Linux desktops and distros ship with. Some of that has to do with the fact that it's open-source and free. Some of that is because it is just that good. Of course, it's not Microsoft Office but an alternative to the Windows Software. If you're used to Microsoft's product, getting used to Libre Office can be a challenge at first.
As you use it though and get comfortable, you'll find Libre Office to be just as feature-rich if not more. LibreOffice essentially is a fork of OpenOffice which used to be well known before LibreOffice happened. Being an open-source software also gives it the advantage of a huge developer pool. Basically, anyone can contribute to the project. In order to make things easier for those developers, LibreOffice supports extensions.
Therefore, if there is something you think it needs, look around and maybe you'll find an extension that adds the feature/function you need. It's available for all three major desktop operating systems, including Linux.
Key Features:
Support for MS Office document formats.
Save projects as ePUB books.
Create, edit, and enhance all kinds of documents.
A user-friendly formula editor is included.
Automatic document analysis and processing.
"Embed OpenDocument file" option creates hybrid PDF files that can be edited as a separate copy.
Supports XForms.
Download: LibreOffice
OpenSCAD: AutoCAD Alternative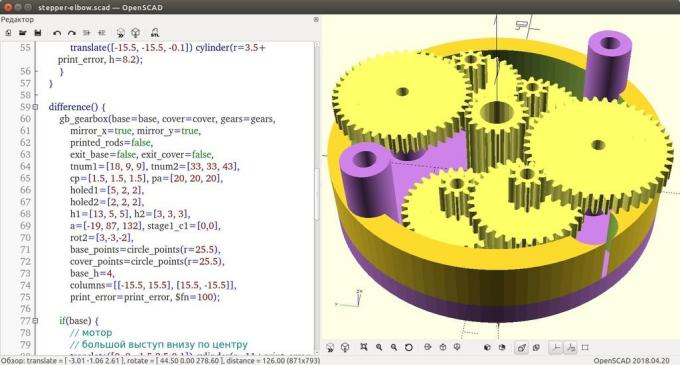 AutoCAD by Autodesk is the most popular CAD software and it's not available on Linux. However, Linux does have OpenSCAD which is the next best thing. OpenSCAD is a free, script only-based 3D modeling suite. It is designed to help engineers create solid 3D CAD objects.
If you're a budget conscious professional OpenSCAD can prove to be a reliable tool for your needs. OpenSCAD is the only free tool of its kind designed for engineers not artists. It features constructive solid geometry (CSG) and extrusion of 2D outlines.
This free alternative to the popular Windows software is also available on Windows itself, as well as Mac. OpenSCAD does not offer interactive modeling like AutoCAD. But it leverages configurable parameters and script files to put the user in complete control over the design process.
Key Features:
Create 3D models.
The parametric design process provides users with full control over the design.
CSG geometry engine.
GUI interface.
Supports importing and exporting files.
Designed with Engineers in mind.
Download: OpenSCAD
qBitTorrent: BitTorrent Alternative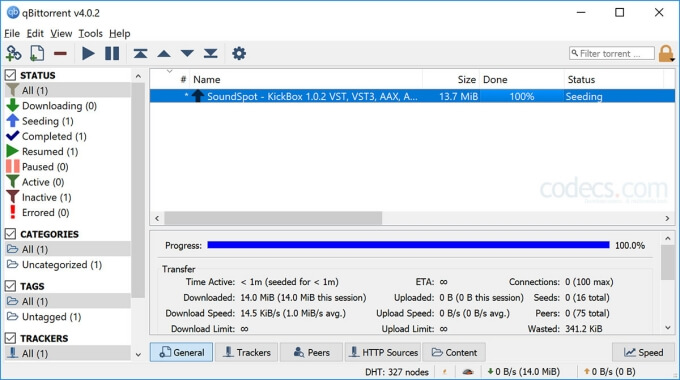 BitTorrent and uTorrent are the most popular torrent clients. They're as easy to use as a torrent client can be yet pack in plenty of features. qBitTorrent is an alternative to the Windows Software BitTorrent. Generally, another torrent client called Transmission is more popular on Linux.
However, it's quite basic and lacks features. Then there are others that are packed with features but also get a little more complicated than one would want. If you want all the features and simplicity of BitTorrent, qBitTorrent is your best bet. It sits right in the middle with just enough features and a simple UI.
qBitTorrent aims to "meet the needs of most users while using as little CPU and memory as possible." Moreover, it has integrated torrent search engine, media player, encryption, prioritization of torrents, and the files within those torrents, IP filtering, and torrent creation features. It's also one of the fewer torrent clients with easy auto-shutdown features. Moreover, it's ad-free.
Key Features:
Cross-platform: Windows, Linux, macOS, FreeBSD, OS/2.
Bandwidth scheduler.
Bind all traffic to a specific interface.
Torrents queueing and prioritizing.
Torrent content selection and prioritizing.
Integrated RSS feed reader (with advanced download filters) and downloader.
Integrated torrent search engine.
Sequential downloading.
Automatic PC shutdown options.
Download: qBitTorrent
VirtualBox: VMWare Alternative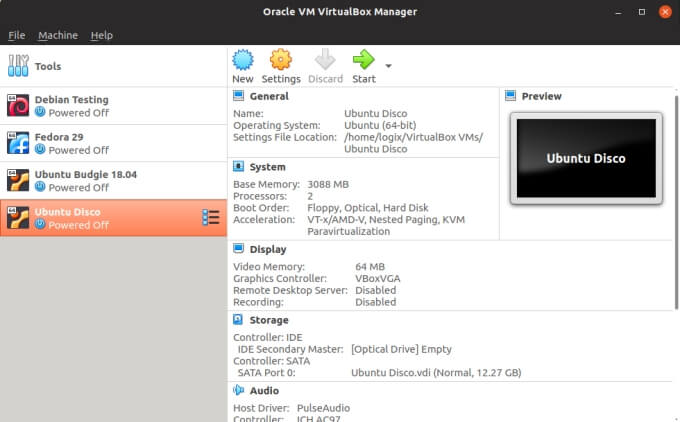 VMWare is another Windows software that's pretty popular amongst software of its kind. Essentially, VMWare lets you run another operating system on top of your existing OS. It does this by utilizing a technology called virtualization.
VirtualBox is a great alternative to this Windows software and perhaps actually more popular too. Much of that is because Virtual Box is open source and free. Although some features such as virtual USB 2.0, VirtualBox RDP & PXE boot support are only available under a commercial license.
The one downside can be the complexity. Virtual Box can be a learning experience for beginners. VMs can be easily created by importing or using ISO images. Virtual Box can run most 32-bit and 64-bit operating systems as virtual machines.
Key Features:
Runs on a large number of 64-bit host operating systems.
Automatic adjustment of video resolutions, seamless windows, accelerated 3D graphics and more.
Great hardware support.
Can save arbitrary snapshots of the state of the virtual machine.
Clean architecture and unprecedented modularity.
Enables the user to organize and control virtual machines collectively, as well as individually.
VirtualBox Remote Desktop Extension (VRDE) enables high-performance remote access to any running virtual machine.
Download: Virtual Box
Bluefish: Dreamweaver Alternative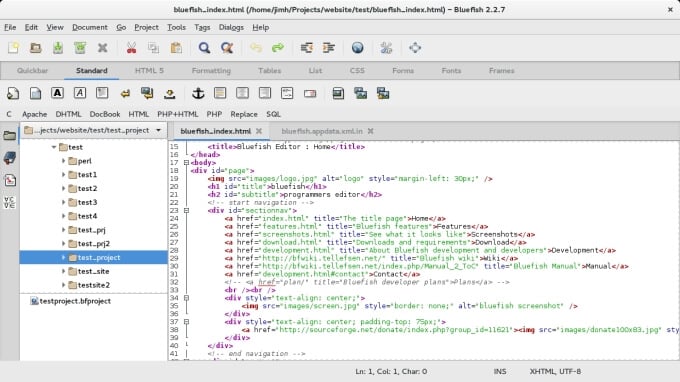 Dreamweaver is a popular Windows and Mac software for web development by Adobe. As is with most Adobe software, Dreamweaver isn't available for Linux. Fortunately, it has plenty of other alternatives that are. Some like Brackets, also by Adobe, are excellent tools for web developers.
Bluefish is more of a Dreamweaver alternative, however, since it looks and feels similar. It lacks a WYSIWYG feature though and also shared editing. It is similar to Dreamweaver's support for HTML, XHTML, CSS, etc. In addition, it also supports Google Go, Vala, ColdFusion, Ruby, and Shell.
Bluefish Editor has plenty of other features as well such as FTP upload, server-side scripting, spell checker, and page preview. It can also automatically recover unsaved changes in the event of a crash.
Key Features:
Lightweight and fast even on low-end hardware.
Easily opens 500+ documents (tested >10000 documents simultaneously).
Project support enables you to work efficiently on multiple projects.
Automatically restores settings for each project.
Open files recursively based on filename patterns and/or content patterns.
Integration support for external programs such as make, lint, weblint, xmllint, tidy, and javac.
In-line spell checker which is programing language aware.
Auto-recovery of changes in modified documents after a crash, kill or shutdown.
More than 30 programming languages supported.
Download: Bluefish Editor
XPad: Sticky Notes Alternative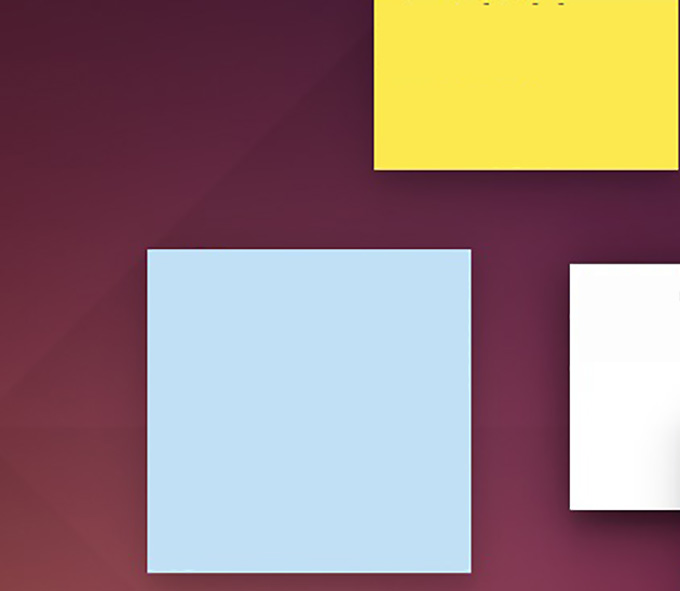 Sticky Notes is one of the most utility tools available for Windows users. This helps every user, from students to full-time developers, to instantly note down things and plan your upcoming schedule of work easily. Though being a developer-friendly Operating System, Linux distros like Ubuntu usually do not have the Sticky Notes or similar apps.
You can still make use of the same Sticky Notes like feature on Linux using the XPad app. Whether you are designing or developing, the XPad on your Linux system can help you keep track of things and schedules.
Key Features:
Simple and nice design.
Can create sticky notes in different colors.
Can use multiple fonts to different notes.
Can stick to the top of the screen.
Download: XPad
How to Share Clipboard Data Between Android and Ubuntu (Linux)
While Linux lacks many professional paid software, it has plenty of alternatives for just about anything. Most of the time these are free, open-sourced projects. These are usually not backed by a big corporation but simply the work of a few talented individuals. Therefore, it would be unjust to try and compare something like GIMP to Photoshop. However, these open-source alternatives to Windows software are so good that they invite comparisons.
You can also use many other free and open-source apps on Linux that are alternative to the powerful proprietary tools in Windows. or example, use Audacity instead of Adobe Audition or Logic Pro and Gnome Paint instead of the classic MS Paint software.
Granted, they're not nearly as good in most cases. But if you're not into a professional photographer, for instance, there's a good chance GIMP is all you need. The same applies to most of the free software alternatives on this list as well.
Yet, if you are somewhat of a tech enthusiast giving Linux a try is easier than ever. The only reason I wouldn't suggest Linux to someone would be when they're not that into tech. Or are otherwise already used to Windows apps such as Photoshop. But if you're someone that's willing to learn a few things, you can save quite a few bucks using Linux.