Encrypting emails becomes even more important when you are dealing with sensitive information. Most people use Gmail as their default inbox. But just how safe is Gmail? Are the emails that you are sending or receiving encrypted? Yes, they are but only when you are using the official apps. What about third-party apps?
Let's see how you can encrypt Gmails on desktop and Android when you are using third-party email apps.
How to Encrypt Gmail Email on Outlook (Desktop)?
Outlook is a Microsoft app that you can use as a central hub to send/receive emails from any email service provider like Gmail, Yahoo, and Hotmail. This makes it very easy, and hence popular, with the masses. When you are using Gmail with MS Outlook, there is an option to encrypt Gmail with outlook.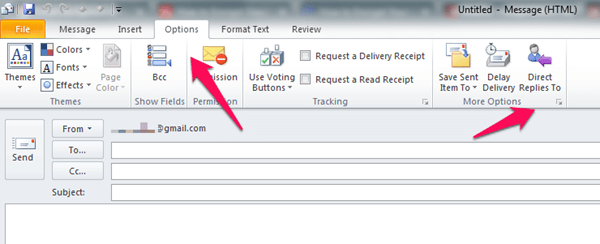 Launch Outlook if it is not already open. You will begin by clicking on the New Email option. You can also use the shortcut CTRL+N here. When the window open, click on Options tab and select More Options.
You will now see a new popup with the heading Properties. There you will see the Security Settings option. Select it.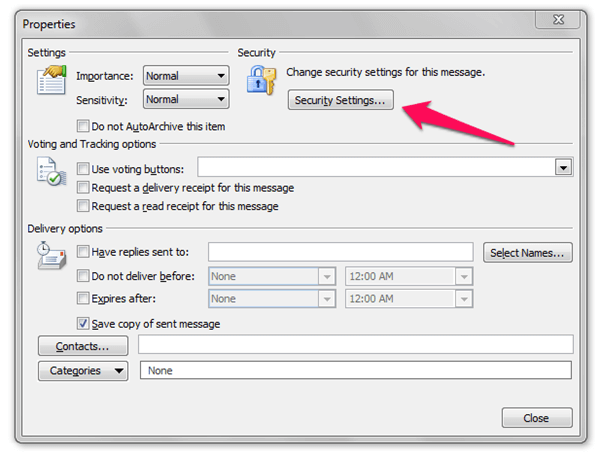 This will launch another popup, this time a little smaller. This is where you can manage the security of your outgoing and incoming emails for the ID that you have chosen in the From column. So make sure you have chosen a Gmail ID in From at the time of clicking New Email.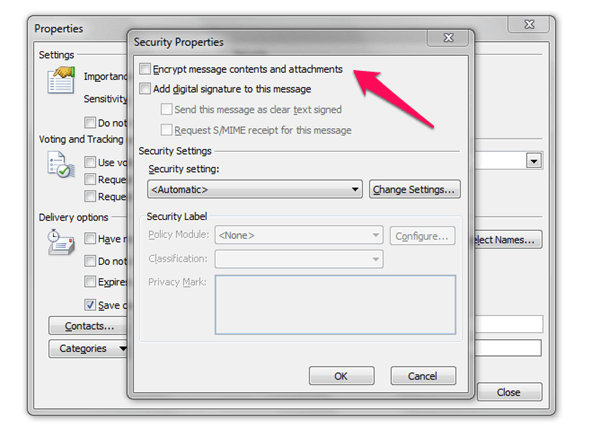 Check the Encrypt message contents and attachments checkbox and hit OK when you are done. There is no need to mess around with other options here.
Now you can begin writing secured emails knowing that Gmail email is encrypted. Whether you are typing out a sensitive message or attaching some important files, you are much better off than when you began.
Also Read: How to Use Confidential Mode to Set Expiry and Password in Gmail?
In addition to securing emails, setting up a secure ID will also help you protect your data that originates from your end. To do this, go back to the main window, go to the File tab and click on Options.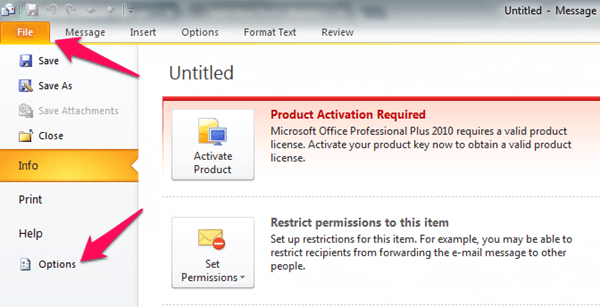 This will open a popup. You are looking for Trust Center here in the left pane and when you find it, click on Trust Center Settings on the right bottom corner of the popup.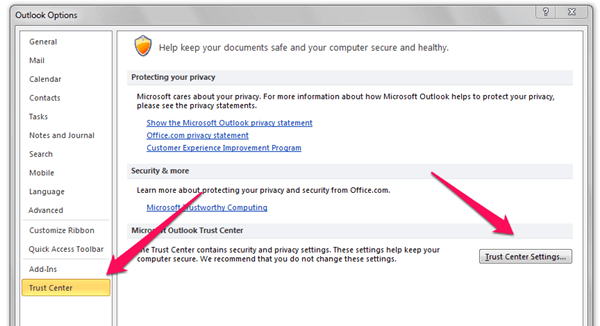 In the new popup, look for Email Security in the window pane. Under that, you will find an option labeled Get a Digital ID. Click on that button to create a new digital ID that will protect your data.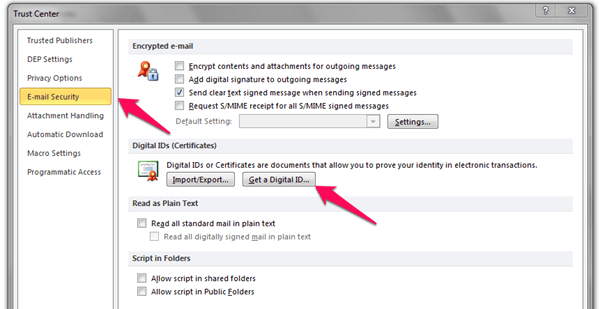 This will open a Microsoft page in a new tab in your default web browser. Microsoft will explain to you what digital IDs are and help you create one. When you are done, you will receive an email with your digital ID.
Also Read: 7 Best Internet Security for Windows, Mac & Android
Outlook is not the only way people access Gmail emails. While Outlook is good, a lot of times, we also use browsers like Firefox and Chrome, to access Gmail.
How to Encrypt Gmail on Chrome Browser?
There are a few ways to encrypt Gmails emails. One of them is FlowCrypt. Install the addon as you would normally do and give the addon necessary permissions. You will see three options in a new tab. Choose New Encryption if this is your first time.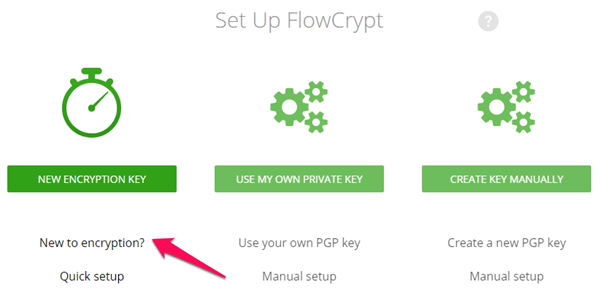 In the next screen, you will be asked to create a passphrase. You cannot recover it if lost so make sure you note it down somewhere offline. Once you are done, go back to Gmail and you will see a new option above Compose – Secure Compose.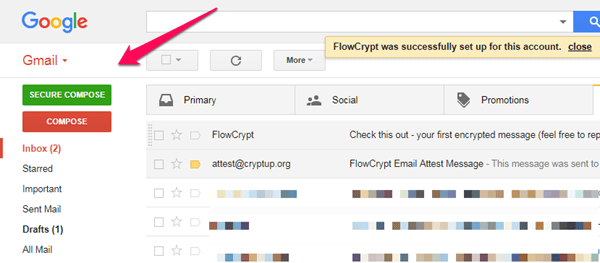 All your Gmail emails will be encrypted and secured even if you are using a public computer and don't have the Chrome extension installed. Just remember the key to use there.
Another popular option for the Chrome browser is Secure Mail for Gmail. You can give it a try by adding the Chrome Extension of Secure Mail for Gmail by Streak. Secure email used symmetric encryption to secure Gmail and use the password key to decrypt at the recipient end.
Also read: How to Send Encrypted or Password Protected Emails for Free?
How to Secure Gmail on Firefox Browser?
Likewise, Firefox has some addons that will help you encrypt and secure your Gmail emails. The process is simpler in this case. Simply install the addon in Firefox browser called Mailvelope, an open-source technology that can also encrypt files on your hard drive before you send it via Gmail.
You will first generate your public encryption keys and then your private keys. When you have finished typing your message to the recipient, Mailvelope will look for the recipient's public key on the server. Upon finding the key, Mailvelope will encrypt the mail and send it.
Note that you and your recipient must have public keys in order for this to work. Not only Gmail, you can also use Mailvelope to post encrypted messages on social media and forums. Once again, the readers must have access to your public keys.
Mailvelope is not very easy to use but very very safe and secure. Note that you must never share your private keys with anyone. Otherwise, anyone will be able to access your Gmail emails and attachments.
Alternatively, you can go and try another Firefox extension CipherMail. CipherMail can encrypt both email messages and attachments with Gmail, Yahoo, Outlook etc. CipherMail is using S/MIME standard encryption, and it is based on certificates.
Also Read: 6 Best Android Private Browsing Apps to be Safe While Browsing
How to Encrypt Gmail Emails on Android?
When you depend on Android to send emails, you can depend on the Android Email Client called ProtonMail. ProtonMail was designed and developed by scientists working in CERN and MIT. Those are some pretty big credentials, to begin with. ProtonMail was built to offer end-to-end encryption and is compatible with OpenPGP.
Unlike some other apps, ProtonMail will handle the encryption automatically so you don't have to worry about anything at all. The messages are encrypted on your device itself which means even the developers can't read your emails.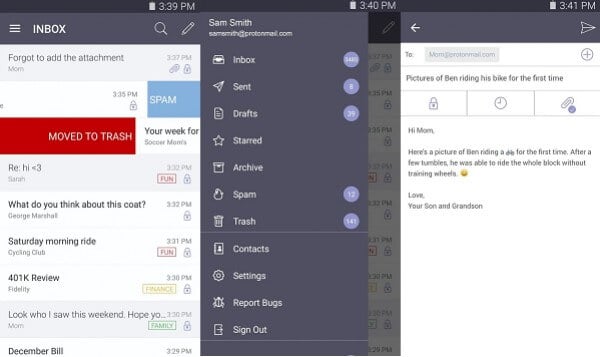 To make things even sweeter, the entire project is open source which means it has been scrutinized by the members of the community to make sure everything is working as intended. In addition to securing email, you can send self-destructing emails easily with ProtonMail. Just set a timer and the mail will be destroyed after the set time elapses from the time the mail was opened.
Download ProtonMail for Android
Also Read: 8 Most Secured Messaging Apps for Android Users to Stay Private
Encrypt Gmails on Desktop and Android
Cyber threats are on the rise with more and more cases being reported every year. If you have a digital presence, no matter where you live or how small your operation is, you are at risk. One of the most common features of the Internet is sending/receiving emails. Why? Because it is easy to use, is available to everyone, and is one of the oldest ways to communicate online.
With the number of high profile hacks on the rise, even big corporations are not safe from security threats. Gmail is no exception. It is important that you get yourself familiarize with the encryption technology and work with them to make a safer work environment. When you send Personal information or important attachments, always remember to encrypt the emails to secure your privacy and data.